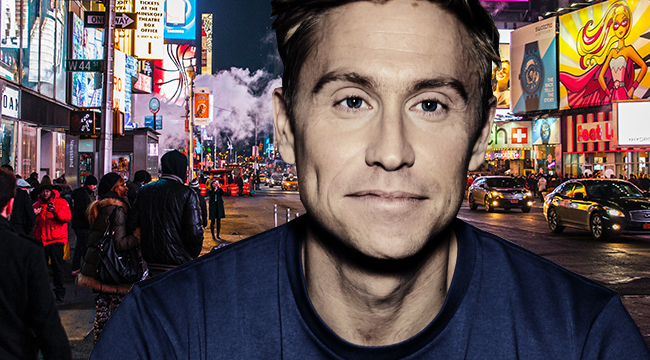 My Kinda Town returns! This week, we'll hear from English comedian — and self-professed Ellen DeGeneres lookalike — Russell Howard about New York City ahead of his headlining three-show gig at the Gramercy Theater this weekend, March 29-30. Howard is perhaps best known as the host of The Russell Howard Hour, a weekly comedy series on Sky 1 in which Howard brings his characteristic wit and observational humor to the stories dominating the cultural zeitgeist.
While Russell was light on the type of suggestions that would offer you actionable experiences to take part in while visiting New York city — unless you want to go fox poop hunting in Central Park, in which case, be our guest! — what the stand-up comedian did bring was a lot of personality and life to his answers, allowing us to catch a glimpse of New York City as filtered through the lens of one of the sharpest comics working today.
Here is everything that makes New York City great, according to comedian Russell Howard.
Favorite memory from New York City?
Being Told I Look Like Ellen DeGeneres
Probably the moment someone in an elevator said that I looked like Ellen. Instantly the other five people in the elevator started howling with laughter. I looked at myself in the mirror and it dawned on me, I do look like a charming lesbian.

What are the best meals you've ever had in New York City?
https://www.instagram.com/p/BsYkSNjg6Uj/
I had a superb meal at the Park Avenue Restaurant next to the Gramercy theatre last time I played there.
Park Avenue is a seasonal restaurant headed by chef Zene Flinn with a menu of New American cuisine that shifts with all four seasons. Check out what's on the menu for spring here.
Burger Joint At Parker New York
I remember having a great burger at a joint hidden behind a curtain in the Le Parker Meridian hotel.
Check out Burger Joint's menu here.
Hot Dogs Backstage At The Tonight Show
I had a hot dog backstage whilst watching Ms. Lauryn Hill perform when I did The Jimmy Fallon Show. What an incredible voice and the dog was splendid too.
Since we'll never truly know what exactly Russell ate backstage at the Tonight Show, we suggest hitting up Gray's Papaya, which isn't too far from Rockefeller Center where the Tonight Show is filmed.
Best place to watch comedy in the city
The Cellar. You never know who's gonna waltz in.
The Comedy Cellar in New York City is a legendary stand-up club that sees regular pop-in performances from comedy legends and rising stars alike. Comedians like Dave Chappelle, Dov Davidoff, Nikki Glaser, Michelle Wolf, Dave Attell, and countless others are known to frequent the club.
What do you love about New York City?
The Vibe
So many things. The food. The people. The noise. The energy. The aggression. The confidence. I saw a woman confidently walking down 14th street with a Chihuahua in a stroller. Like it was no big deal, just taking her tiny dog out in a baby's stroller and the dog had sass too.
From the glare in its eyes, you could tell it was thinking "problem, motherfucker?"

Best thing to do after a comedy set
Hang Out In The City
I like people watching and shooting the shit with my tour manager. I like going to places where I'm not known. A few years ago, I was walking back to my hotel in Ireland and happened upon a couple in an alley mid-blowjob who paused to say hello to me. That hasn't happened in New York.
God I hope people reading this don't take it on as a challenge. Poor Ellen won't know what's happening.
What is one thing everyone must experience in New York City?
Wandering around Central Park
I love parks. In a time where rampant nationalism is spreading around the world, you will still witness all nationalities playing every kind of sport you can imagine if you spend a few hours in any park. And Central Park on a sunny day is bursting full of such lunacy nobody judges you.
The last time I was I was there I was collecting some fox shit in a jar. I was on my way to Instagram-celebrity-dog Marnie's party — a Shitsu with two million followers — and wanted to bring something she would appreciate. In case you don't know DOGS LOVE FOX SHIT. They love it, they rub themselves in it like they are the luckiest creatures alive.
Anyway, I was doing that and nobody gave me a second glance. They were probably thinking "oh he must work for Goop."
What have you noticed about the comedy audience in New York City?
They are amazing. They whoop. Nobody in England whoops! I think if you are caught whooping, the queen arrives at your house the next day and slaps you. New Yorkers have no idea how good they are as audiences: they laugh, they applaud and they give standing ovations at the beginning of sets. The beginning! I've done tiny gigs in America that sound like arenas in the UK.
What do you hate about New York City?
Traffic
It's a cliché but the car horns man. Just chill out. "New York so good they named it twice" did they? Or did they have to repeat themselves 'cos you wouldn't shut the fuck up?
Honking a car horn in stationary traffic is the definition of insanity. It's like being in a queue and just shouting MOVE! MOVE! WHY WON'T ANYONE MOVE!
Best bit of Gossip
I can't claim ownership but my friend was at Soho House in Chelsea and Rod Stewart rocked up on a sunny day when all the sun loungers were taken. Stewart got one of his 'people' to wander up to every person on a sunbed to ask if they would give it up and every one of them told him – and I'm quoting here – to "get fucked."
Describe New York City In One Sentence?
A city where dogs walk in strollers, people laugh in elevators and tell Rod Stewart to fuck off and perhaps, most remarkably, if a man who looks like Ellen wants to collect fox excrement cos he's too tight to buy an actual present then that's absolutely fine!
***

Grab tickets to Russell's show at the Gramercy Theater on March 29-30.