The piña colada is one of the most beloved tropical drinks in the world. It's lush, fruity, sour, and full of rummy goodness. But as with all tropical drinks that have been heavily tied to tourism, the recipe has been commodified, simplified, and overly sweetened for the masses. For this recipe, we're going back to the start — making a classic piña colada that adheres to Old San Juan in the 1950s.
This version is shaken, not blended. It's served over crushed ice and leans way sourer than you'd probably expect from a modern, blended, and overly sweet colada. The original has a sweet edge, sure, but what you're getting with the original recipe is a nuanced balance of sweet, sour, silky, and rummy. It's more nuanced and layered than the swim-up bar iterations of the drink.
You don't need a huge amount of skill for this drink. It's a pretty straightforward shaker. That being said, the better your ingredients, the better the end result. If you want that lush original vibe, you have to go all-in and not cut corners, which is what we're doing below.
Here's a quick TikTok of me making the cocktail in case you want some more hands-on instruction. Otherwise, let's get shaking!
Classic Piña Colada
Ingredients:
2-oz. white rum
1.5-oz. pineapple puree
1.5-oz. coconut cream
0.5-oz. fresh lime juice (half a lime)
1 dash Angostura Bitters
Pineapple wedge
Pineapple leaves
Cocktail cherry
Ice cubes
Crushed ice
What really gives this cocktail a velvet texture and takes it up a notch is using pineapple puree and not just pineapple juice. Here's the good news: it's really easy to make pineapple puree. Slice up some fresh pineapple and blend it with a hand mixer or stand mixer for, like, ten seconds. You've made pineapple puree. You're going to be cutting up a fresh pineapple for the garnish anyway.
The coconut cream I'm using is the real-deal stuff that cocktail bars tend to use. It's just coconut and pure cane sugar. It's usually found in a bottle or squeeze bag and needs to be refrigerated. This is a close approximation to what I use.
The bitters aren't in the original recipe. I find it brings a little spicy/botanical x-factor to the mix. But use it sparingly or skip altogether.
Lastly, I'm using Diplomatico Planas because it's open and on my shelf. It's also an aged white rum that carries a light spicy edge that can stand up to the pretty big flavor swings from the coconut and pineapple.
What You'll Need:
Pre-chilled Hurricane or pint glass
Cocktail shaker
Cocktail strainer
Kitchen knife
Hand juicer
Jigger
Straw
Cocktail stick
Hand or stand mixer
Method:
Pre-chill your glass in a freezer (preferably overnight).
Pluck and spear the leaves. Cut a pineapple wedge and spear. Spear the cherry to hold the wedge against the leaves. Set aside.
Add the rum, pineapple puree, coconut, lime juice, and bitters to a shaker.
Half-fill with ice cubes. Affix the top and shake vigorously for 30 seconds.
Retrieve your glass from the freezer and fill it with crushed ice.
Slowly strain the drink into the glass.
Add the straw. Garnish. Serve.
Bottom Line: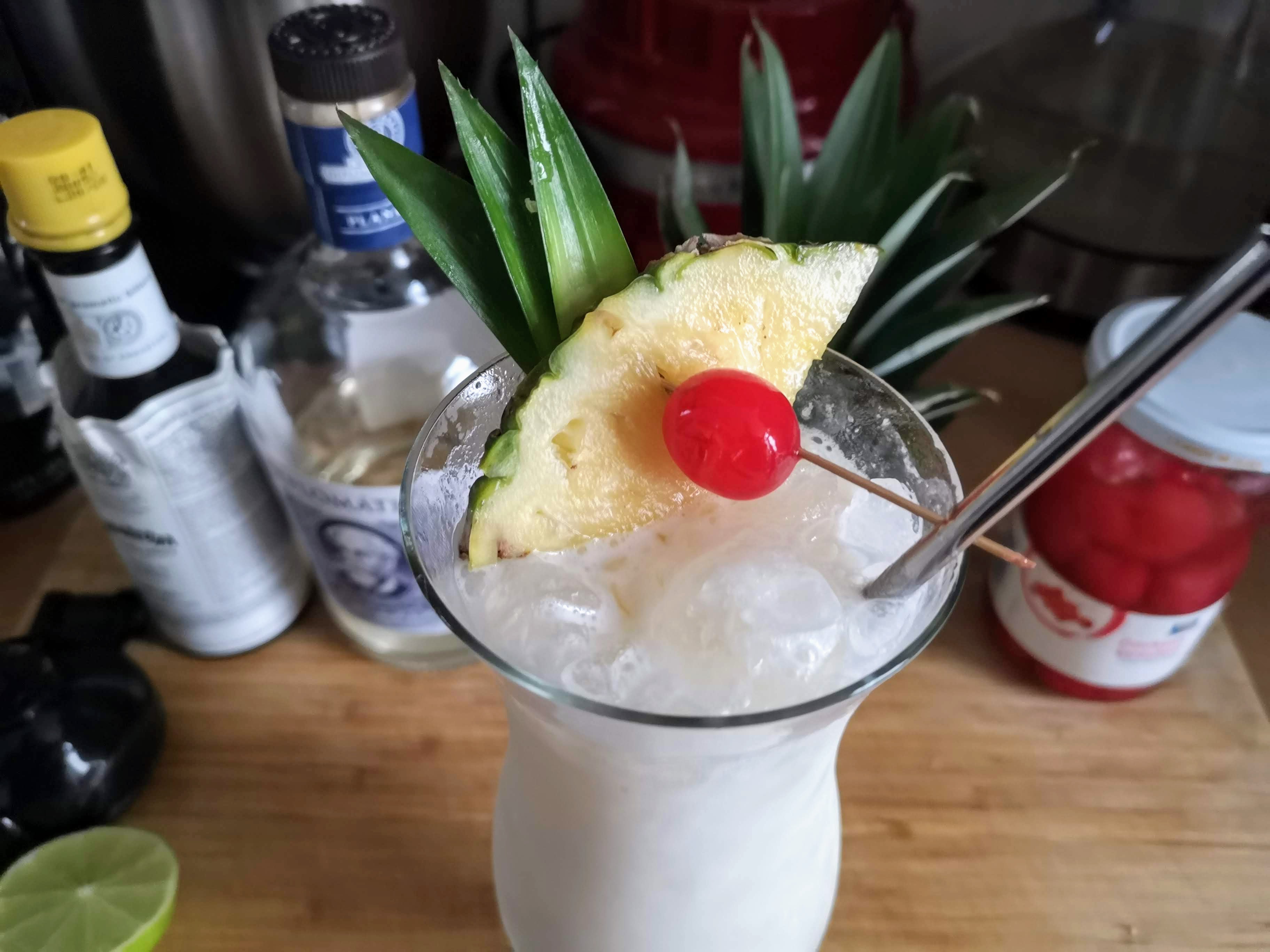 This is luscious. There's a silky nature that is counterpointed by the tartness, mild sweetness, and rummy backbone of the drink. It's super cold and has this light spice edge with a nod to molasses sugars and a hint of sweetness from the coconut cream.
What really helps this drink shine is that — while it's a lush drink — it's still fairly light. There's serious depth but it never weighs you down. I could easily drink a couple of these on a sunny beach somewhere before hitting up Old Town San Juan for some food and maybe one or two more piña coladas … and then a very long nap under the fading Caribbean sun.