The climate changes at least three times in the drive from San Francisco into Tomales Bay just north of the city, and not subtly so. When I made the trip at the beginning of July, San Francisco's famously foggy microclimate, barely hitting 60 and feeling much colder with a wet mist blotting out the sun, remained with us past the city and all along the grand red towers of the Golden Gate Bridge. Still shrouded in misty grey funk when we hit the south entrance of the Robin Williams tunnel (the tunnel's entrances painted in rainbow, like Mork's suspenders), the sun came out at some indeterminable point between entrance and exit, squirting us out into a bright sunny summer day almost like a switch had flipped.
The sun stayed with us all through east Marin County, further inland and on the bay side, where the 101 winds past Sausalito's houseboats (which aren't really "boats" at all, so much as floating houses on a pier, built by artist squatters after WWII) and up through Marin's million dollar real estate in Mill Valley, Tiburon, and Strawberry, where houses with tall windows have brilliant views of the bay from secluded hillsides, where their owners spend the weekends clad in biking spandex, hollering at motorists to share the road.
Our destination was across the strip of rugged, hilly land separating bay from breakers, all the way over in rural west Marin, as distinct from tony east Marin culturally as it is meteorologically. East Marin's sunny warmth, in the high 80s that day, lasted until about the last 15 minutes, when, abruptly once again, the air turned cool and the landscape went from dried yellow weeds (the gold in "The Golden State" and "The Golden Gate Bridge") to verdant green moss. You lose cell service around the same time.
Even in a state as geographically diverse as California, Tomales Bay stands out as its own esoteric little pocket. Cows graze in fields and moss hangs from trees, a fecund patch in the heart of the otherwise dry far West. One of the other van passengers noted "it looks like a French fishing village."
We'd all accepted an invite from Humboldt Distilling to come sample their wares with ideal pairings and situations at Hog Island Oyster Company in Marshall, California, right on the shoals of the aforementioned Tomales Bay. The hot topic on the ride over was "merroir." It's an industry-invented term, meant to explain why oysters, which almost always come from just a few different species, spawned in about 10 hatcheries serving all of North America, can still taste so distinct from each other.
The answer is that the oysters tend to take on the characteristics of the sea where they were farmed (and the vast majority of the oysters consumed in the world come from farms, only a tiny fraction are wild collected). Those sea conditions tend to vary wildly, from the muddy, shallow bays of the mid-Atlantic to Tomales Bay's frigid waters, frequently replenished by Pacific "upwelling," a process by which high winds off shore dredge up waters from the depths.
That cold water Tomales Bay oyster grow in is more sea than shore, and the abundance of cold, deep ocean water gives Hog Island's oysters a briny, salty, fresh character (as well as an interesting cucumber note). Wine, of course, has long been considered the finest expression of the combination of the geographical, geological, agricultural, and climatic conditions that produced its grapes, such that anyone with a decent palate can tell whether the wine came from limestone-rich or volcanic soil. Which gives the wine a "sense of place — for which the French coined the term "terroir," as the French are wont to do (see also: "mise en scene" for movies).
Oysters, of course, have much the same thing, a combination of all the particular local conditions that produced them. Only, they come from the sea — mer — rather than the ter of "terroir." Ergo… "merroir." It's a perfectly cromulent word!
We were welcomed to the foggy shores of Tomales Bay (one of three California bays healthy enough to support large-scale oyster production, along with Humboldt and Morro) with an oyster shooter — basically, a double shot-sized Bloody Mary served with a Hog Island Sweetwater oyster on top — mixed up by Hog Island's beverage director, Saul Ranella.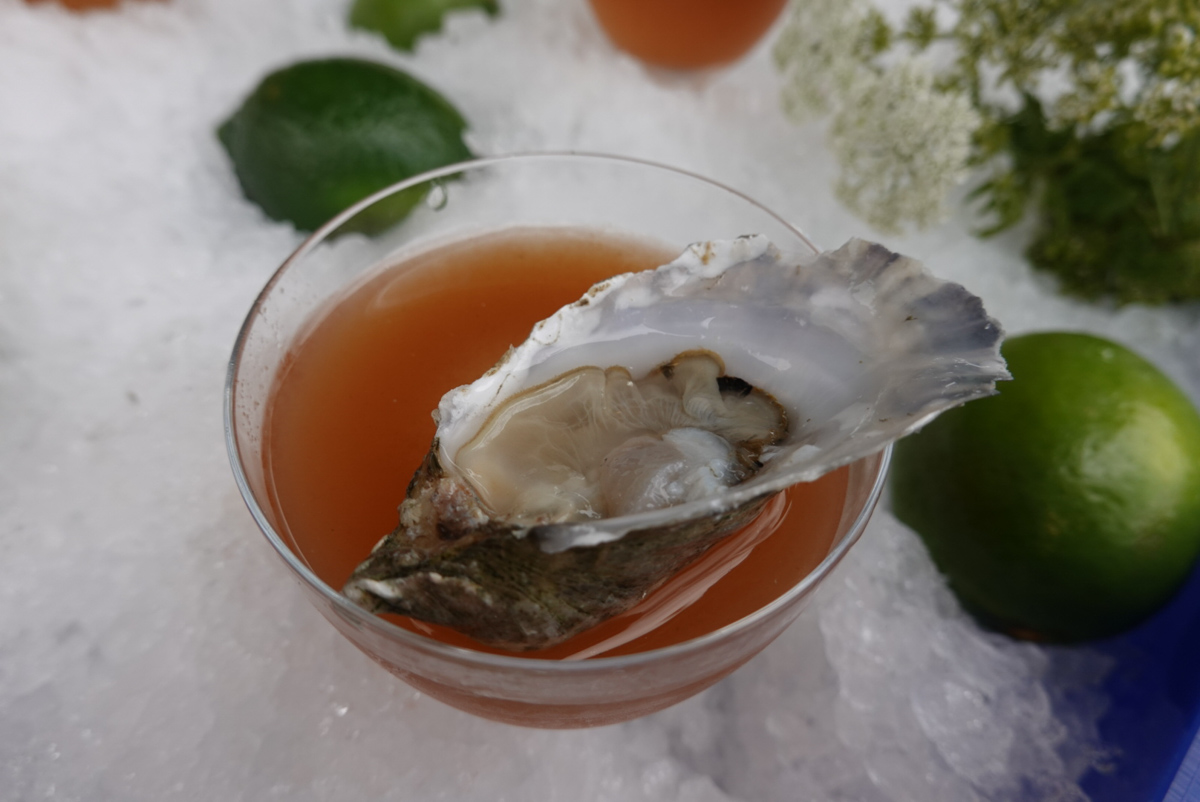 It may not shock you to learn that a cocktail prepared by a beverage director, specifically to highlight a liquor, made to pair with an oyster just pulled from the water of that oyster farm, and eaten in view of its habitat, was extremely good. This oyster shooter was like a further, brinier-but-wildly-fresh version of a Caesar — the Bloody Mary's Clamato-based cousin, which my in-laws converted me to a while back (it's not as thick as a Bloody Mary and clear liquors pair weirdly well with seafood brine).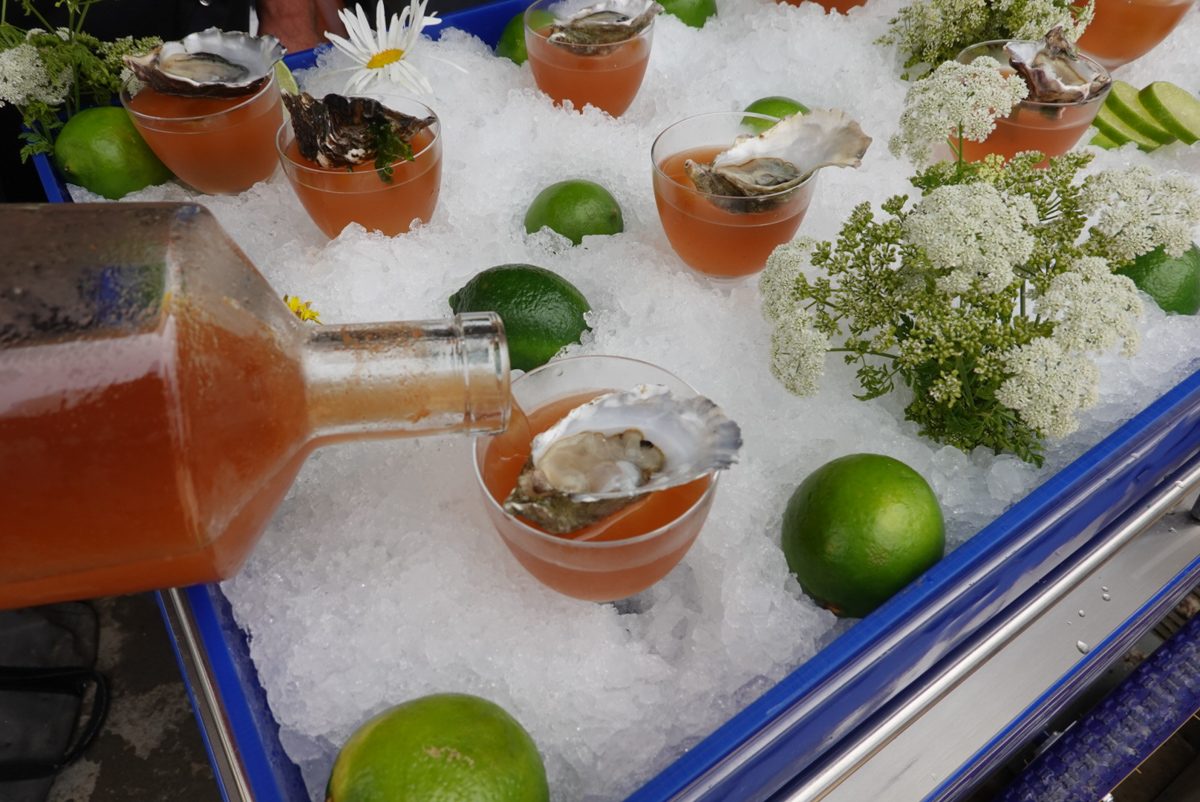 [Ranella's shooter ingredients: Humboldt Organic Vodka, Kummel, Hog Island Bloody Mary mix, lime, and Tapatio hot sauce.]
After that, we took a tour of Hog Island's oyster farm, founded in 1983 by three marine biologists. Oyster farms aren't the most terribly interesting places, seeing as how oysters tend to lead a sedentary lifestyle ensconced in their own shells, mostly sitting out in their baskets, eating food and waiting to fatten up enough to be plucked out and eaten (much like your mother). But whatever bivalves may lack in action photography potential they more than makeup for in sustainability.