This year, our official Mardi Gras cocktail is the classic Bloody Mary. It's spicy, full of umami, and has just the right hit of alcohol to be both an after-work sipper or an eye-opener during a late-morning brunch. And with Mardi Gras being an at-home celebration this year, you're going to need a cocktail or two ready to mix up for your own bacchanal.
The thing with the Bloody Mary is that it has about a million variations/recipes. While the main riffs are pretty straightforward (think a Canada's Caesar with Clamato or Mexico's Michelada with beer instead of vodka and Clamato in place of pure tomato juice), a lot of variations go out of their way to be over the top. Granted that's mostly with absurd garnishes but I've seen recipes that ask you to make garlic reductions and source random radishes only grown far, far away.
That feels like overkill. It's a drink, not a science experiment.
The Bloody Mary below leans towards classic flavors and keeps it simple. The important thing to remember with Bloody Mary preparation is to make this your own. I like mine fairly spicy, peppery, and full of a lot of celery salt (but not on the rim). I also like a touch of clam juice in there, to give a light nod to our mixing brethren up in Canada.
That's just me, though. Treat this recipe as a starting point and dial in your Bloody Mary based on your tastes and palate. Let's get mixing!
Bloody Mary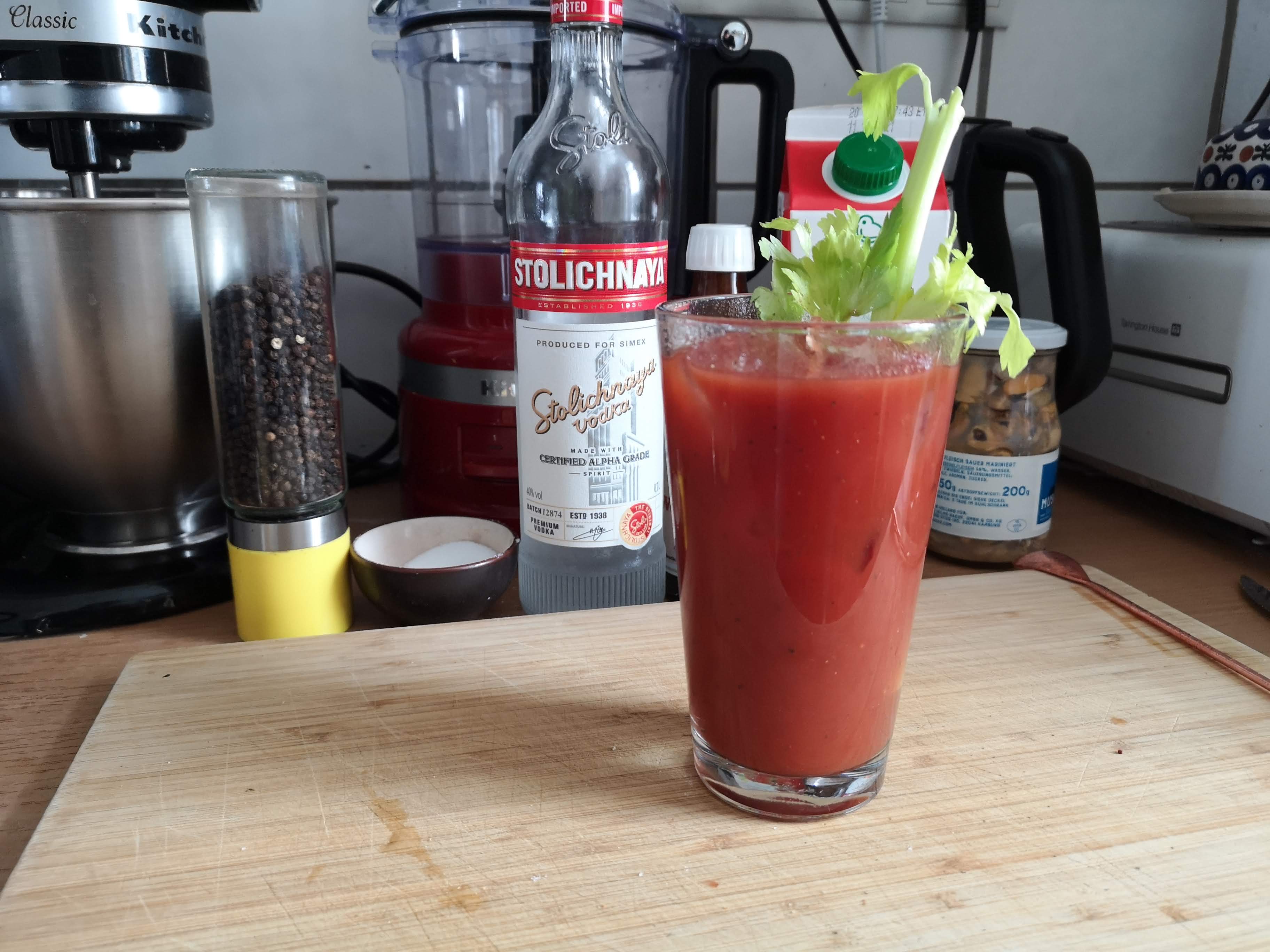 Ingredients:
2-oz. vodka
6-oz. tomato juice
1 barspoon clam juice from a jar of clams
4 dashes Worcestershire sauce
4 dashes Tabasco
2 dashes Habanero Tabasco
Lemon juice from 1/2 of a lemon
Salt
Black pepper
Celery salt
Celery stalk
Ice
A few quick notes. Always pre-chill your vodka. I always keep a bottle of Stoli in the freezer with my ice. You really want to start with an already ice-cold base of vodka. It brings a softer texture and blends with the drink much better.
Next, make sure your tomato juice has spent the night in the fridge. As with the vodka, you really want to start with already cold ingredients. This will help the texture of the drink hold and not get watered down. That is the ice will cool and mix the drink without severe melting (you'll see what I mean below).
Lastly, use whatever hot sauce you like. I like a vinegar forward hot sauce in the cocktail and a genuinely hot chili-forward hot sauce on the top that'll make my lips buzz when I take a sip. When I have it, I use Valentina's — usually with the standard hot sauce in the cocktail and their Extra-Hot on top.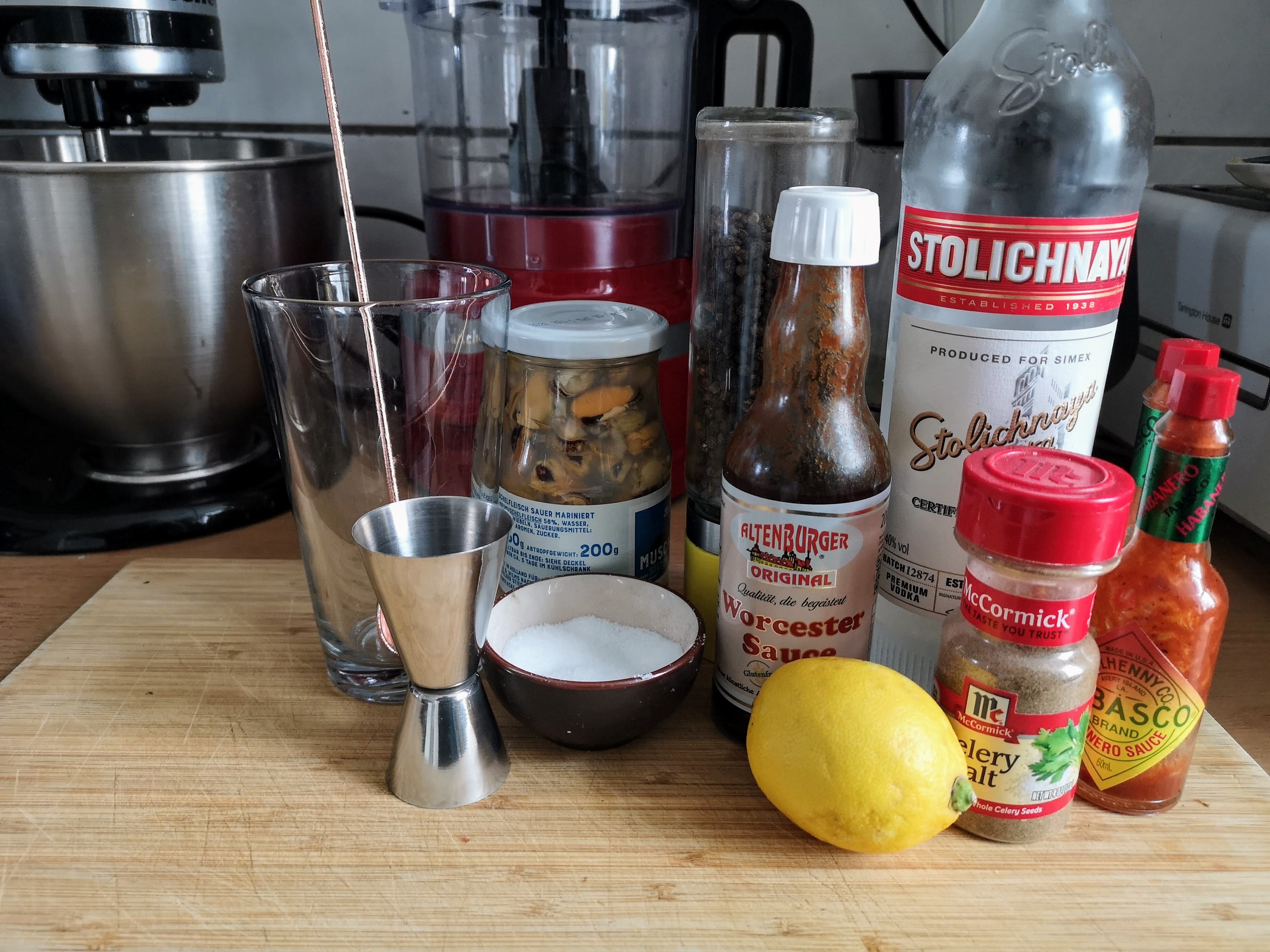 What You'll Need:
Pint glass
Barspoon
Pairing knife
Juicer
Jigger
Method:
Fill a pint glass with ice.
Add the vodka, clam juice, lemon juice, a large pinch of salt, two shakes of celery salt, a few cranks of black pepper from a mill, and four dashes of both Worcestershire and Tabasco.
Top with tomato juice and stir (from the bottom up, rotating the ice) until all ingredients are fully integrated and the glass starts to chill.
Top with ice if needed and add two dashes of Habanero Tabasco and two more shakes of celery salt.
Garnish with a celery stalk.
Serve.
Bottom Line:
This was a much-needed eye-opener during my day-off lunch. There's a beautifully silken texture to the cocktail that's counterpointed by sharp spice, pepperiness, and deep umami. The touches of lemon and clam lurk just beneath the surface. The suprise with a good bloody is always how refreshing it is, and this nailed that aspect.
If you look at the photo below, you'll see the look of the cocktail you want to aim for. The black pepper should be suspended in the body of the drink. That won't happen if you're using room temp vodka and juice. The drink will get too watered down and everything will drop to the bottom of your glass — no one wants that.
Since it's already Fat Tuesday, you better get your vodka in the freezer and tomato juice in the fridge ASAP.