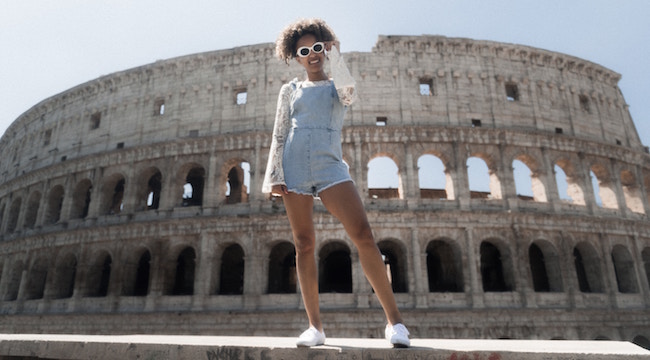 Italy is one place we all dream of spending time. The deeply local and delicious foods, the bitter drinks, copious wine, idyllic villages, bustling cities, rolling hills, alpine peaks, and sun-soaked islands make for one hell of a vacation destination. Plus, the country is about the size of Arizona. So it's big, but not so big that you can't pack a lot into a two-week trip.
Look, let's not pretend a trip to Italy isn't about eating and drinking first and foremost. Yes, there's great historical architecture, UNESCO sites, world-renowned art around every corner, and so much more. But come on, it's the food, wine, and Campari that draws us all to the streets of Bologna, Rome, Naples and beyond. The dining in Italy is legendary. Add in thousands of wine regions and a deep bar culture with local spirits and you have a unique food and drink experience that's second to none in this world.
Let's dive into some can't-miss spots if a first trip to Italy is on your travel radar.
Basic phrases:
Ciao (hello)
Grazie (thank you)
Quanto? (how much)
Mi scusi (excuse me)
Mi dispiace (sorry)
Per favore (please)
Non capisco (I don't understand)
Parla inglese? (Do you speak English?)
uno, due, tre, quattro, cinque, sei, sette, otto, nove, dieci (one through ten)
Average Exchange Rate: $1USD = 0.85€
GET TO ITALY
This is the easiest part — well, this and eating all the food. Budget airlines have flights to Rome from the U.S. for as little as $150 each way these days. Granted, that's a barebones ticket and you'll easily have to spend another 100 bucks if you want a seat, meal, carry on, and checked bag. Still, $250 each way isn't bad. Likewise, sites like Kayak or Skyscanner will automatically put together Hacker Fares that'll get you to Rome for around $200 each way.
If you're already in Europe and want to tack a trip to Italy on, check out EasyJet, RyanAir, and Eurowings for flights that can be as low as $10 each way. Overall, there's never been a better and cheaper time to fly to Europe.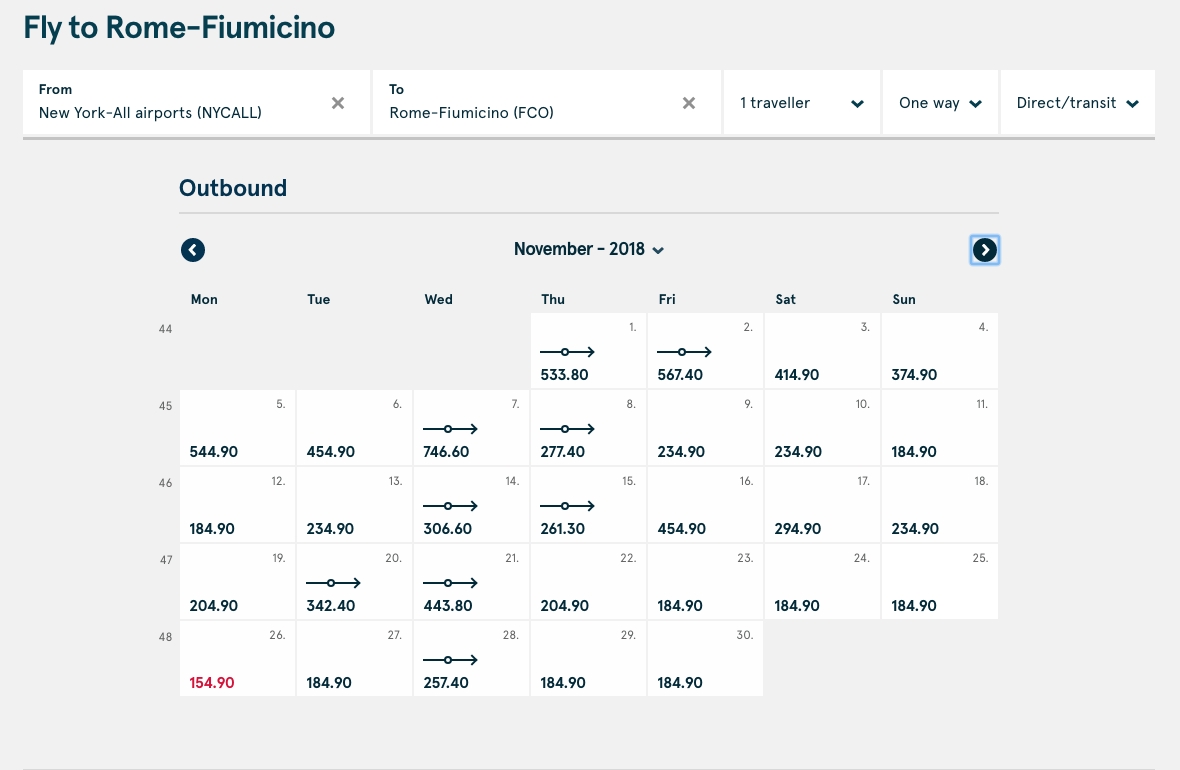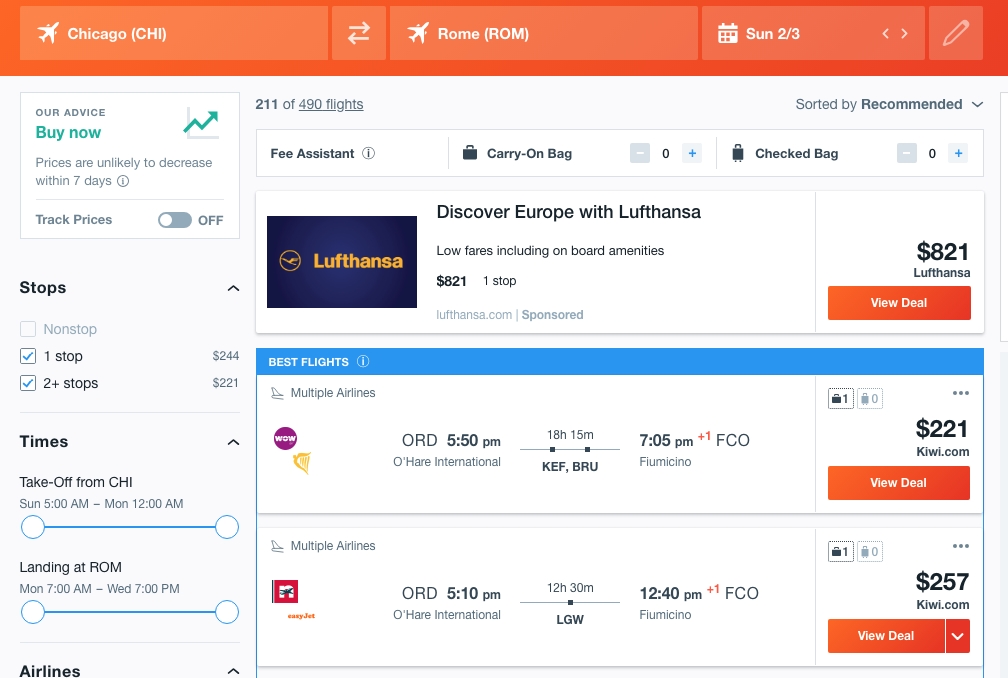 YOU'LL NEED AT LEAST THREE DAYS IN ROME
Once you arrive in Rome, stay there for a short spell. Rome is the best introduction to the food scene, the culture, and the overall vibe of the country.
Our advice is to post up in a neighborhood like Trastevere. It's narrow cobbled lanes, crumbling bohemian vibe, bar culture scene, farmer's markets, and restaurants are enough to keep you busy for a week. The neighborhood is well-connected to the rest of the city by tram or foot so you can get everywhere easily. Expect to pay between $50 and $150 a night for a room in hotel or an Airbnb. It really comes down to your comfort level and needs.
Once you have a lay of the land, hit the big sights. The Forum, Colosseum, Vatican, and Pantheon are doable in two days. Don't be a chump and wait on line for entrance to these places (it can take four hours to get into the Vatican). Use a local tour guide service like City Wonders to skip lines and get off hours tours. They also employ tour guides and sommeliers who are actual experts in their fields. So you'll likely be getting a tour of the Roman Forum from an actual doctorate of archaeology. You can't put a price tag on an experience like that.
When it comes to eating and drinking, follow your nose, eyes, and ears. Food is so deeply hewn into the Roman way of life that you'll be hard-pressed not to have an amazing time eating and drinking. One absolute can't-miss is Roscioli's Salumeria. You can drop in for a quick sandwich sliced fresh from their meats and cheese selection or stay for a home-cooked meal out of their kitchen in the back. There's a rad wine list and a killer atmosphere that's pure Roma.
PICK A REGION AND DIVE DEEP
Okay, you've seen Rome. Now it's time to get out of the city and see a little of that Instagram-ready Italian countryside. Try not to cram too much into a ten-day or two-week jaunt. You can city hop very easily with inexpensive Italian trains (they're also super fast). It's less than two hours from Rome to Florence or Rome to Naples by train. That's a great option.
Pick one and dive in deep. The more time you spend in the region, the more you'll get a feel for the food, wine, culture, and people. Here are four options for a week of revelry in Italy.
Emilia-Romagna:
https://www.instagram.com/p/BkyrbHZAGLi/
Emilia-Romagna is probably one of the best food regions on the planet. We don't say that lightly. The region between Parma, Modena, and Bologna is considered the food capital of Italy. This is where the best cured meats are hanging, the best cheese is cellaring, the best restaurants are operating, and the best bars are mixing it up.
Set up base in Bologna. There's a dope bar culture there with few tourists. It's more a university city than a touristy city — so it's young and vibrant. Eat mortadella sandwiches from salumerias, go bar hopping, and just stroll under the porticos. It's a magical place at night. One pro tip: almost every bar offers a wide-ranging food buffet with drinks from about eight PM through midnight. So order up a Negroni and then feast for free. Saving money on a meal in the evening means you can go hard for lunch the next day, take a long afternoon nap, and then hit the bars again all night. Fact: Bologna rules.
From there, jump on a train and snag a reservation at the world's best restaurant in Modena, Osteria Francescana. As you make your way to Parma, hit farms making parmesan and prosciutto according to the classic ways of umpteen previous generations. Just make sure to leave some space in your suitcase for a big chunk of parmesan and mortadella.
Chianti (Tuscany):
Tuscany is iconic for a reason. Every vista feels like a perfectly filtered Instagram post. The wine really is that good and, yes, so is the food.
The area between Florence and Siena is the prime region to deep dive into. Chianti is all castles perched on hills with rows of vines raining down verdant slopes in every direction. Little villages like Greve house some of the best butchers in the land. There are so many vineyards that you could easily spend a week and not hit half of them. That's a lot of wine, cheese, olive oil, and ham.
Our recommendation, find a chill agriturismo (more on that later) at a vineyard and really take it all in for a few days. Tour the ham cellars. Drink all the wine.
Campania:
Campania has a wholly different feel than the Italy north of Rome. There's an edgier vibe in the south that's, in part, due to the mafia still controlling much of daily life.
Organized crime aside, Naples, Sorrento, and the surrounding coast are some of the most rewarding and beautiful spots in all of Italy. Roll up to Naples and make sure to hit L'Antica Pizzeria da Michele for a Neapolitan pizza from the literal source of all pizza as we know it. Try to arrive between lunch and dinner to avoid the rush.
Mount Vesuvius towers over the city and offers a chance for a little hiking. Just past the volcano, you'll find the ruins of Pompeii. Yes, it'll be touristy but it's 100-percent worth the hour train ride from Naples. The ruins are a fascinating insight into Roman life and the brutality of nature.
Further down the road is Sorrento. This is a postcard-perfect Italian coastal town at its best. Order up some seafood risotto, pull a cork on a bottle Campania wine grown in the dark volcanic soil, and watch the fishing boats come and go all day.
Sicily:
Sicily is probably the most unique corner of Italy. It's a place that looks Italian but feels like another world. Yes, the Cosa Nostra runs the place. In Palermo you'll see signs on doors denoting that they don't pay the mafia for protection — if that's something important to you, eat there.
Outside of the main cities, like Palermo and Catania, you'll find idyllic valleys teeming with grape vines, rustic villages atop craggy peaks, and seemingly endless beaches with crystal clear waters. Sicily is straight up gorgeous.
You can climb Mount Etna in the east (as long as it's not erupting), wander through the best preserved Greek ruins in the south in Agrigento, and eat local foods that have been kissed by that bright Mediterranean sun. Don't sleep on the local seafood and pistachio ice cream either.

STAY AT AN AGRITURISMO
Okay, you've picked a region. But, where to stay? The best bet, by far, is to find an "Agriturismo." These are homestays at working farms, vineyards, and ranches around the entire country. You can search by region and amenities for the perfect place that'll suit your needs.
Agriturismos generally operate like bed-and-breakfasty sorts of places where meals are mostly included. Most will also offer chances to experience life on the farm or vineyard in a real, hands-on way. There are some that lean more like a farm resort and others that are straight-up just farms or vineyards with nonnas (grandmothers) making you pasta every night by hand.
Prices are going to vary from $50 a night for the more sparse and working joints to upwards of a couple hundred a night for the ritzier places. Check out Agriturismo.it. It's pretty much an Airbnb for Italian farms and vineyards that connects you directly to the people running the properties.
SKIP THE CROWDS AND HIT LESSER-KNOWN CORNERS INSTEAD
https://www.instagram.com/p/BpTyQTWn7gO/
It's easy to follow the well-trod tourism path from Rome to Cinque Terre to Venice. Unfortunately, too many people are doing that and locals in Cinque Terre and Venice are getting overwhelmed as local landmarks and natural wonders get worn out of existence. It's time to start looking at the less-trafficked corners of Italy.
You're in luck! We have a handy guide to the best Italian destinations that aren't overcrowded by selfie-snapping tourists falling over each other. Check out our ten favorite alternatives here.
TAKE A COOKING COURSE
This should be a no-brainer. Italy's food scene may feel tough to decipher for the newbie. Break down those barriers by taking a cooking course or two.
Naples and Sorrento have a long list of pizza making courses that'll teach you the finer points of flour, yeast, dough, San Marzano tomatoes, and buffalo mozzarella. That's just scratching the surface. Cooking courses that'll teach you how to master fresh pasta, tortellini, and even the arts of the prosciutto are available all over the country, from chefs in their private homes or pro kitchens to huge theme parks for food like Eataly World outside of Bologna. (At the very least, go to Eataly World for the full experience of pan-Italian cuisine in a park setting.)
Simply Google cooking courses with the city you're in and find the one that suits you. Expect to pay around $50.
EMBRACE THE NEGRONI
There's no cocktail more emblematic of Italy than the Negroni. The mix of Campari bitters, sweet vermouth, and gin is the one drink you'll find from the snowy Alpine peaks up north to the beaches of Sicily down south.
A good rule of thumb, hit up a cafe with a bar and order a Negroni there first. It'll cost between €3 and €4 and get you nice and tipsy. The bitterness of the Campari with the botanicals of the vermouth and gin are the perfect elements to open up your palate to all the delicious food you're eating while in Italy.
If that's a little too heavy for you, try a Campari Spritz. That's bubbly water, prosecco, and Campari. It's super refreshing and has about one-quarter the alcoholic punch.
HIT CARNEVALE DI VENEZIA FOR A KILLER PARTY
A trip anywhere should always end with a party. Carnevale di Venezia is Venice's equivalent to Mardi Gras. While Carnival in Venice doesn't hit the peaks of debauchery that New Orleans or Rio are so famous for, it's still a bash.
Around late February and into March, Venice transforms into a baroque party city with masked balls, flotillas, street festivals, and carnivals across the city. There's a sexiness to the whole affair that's unlike any other street party on the planet. The masks, the cloaks, the champagne, and feasts all feel primal and very carnal.
Next year's parties will be raging from February 16th to March 5th, so plan accordingly. Find a sexy mask and don your best cloak. Eat, drink, have sex, and be merry.
https://www.instagram.com/p/BBmswkbvL3c/
EDITOR'S PICKS — By Uproxx Travel Editor, Steve Bramucci
Cut open a wheel of Parmigiano Reggiano: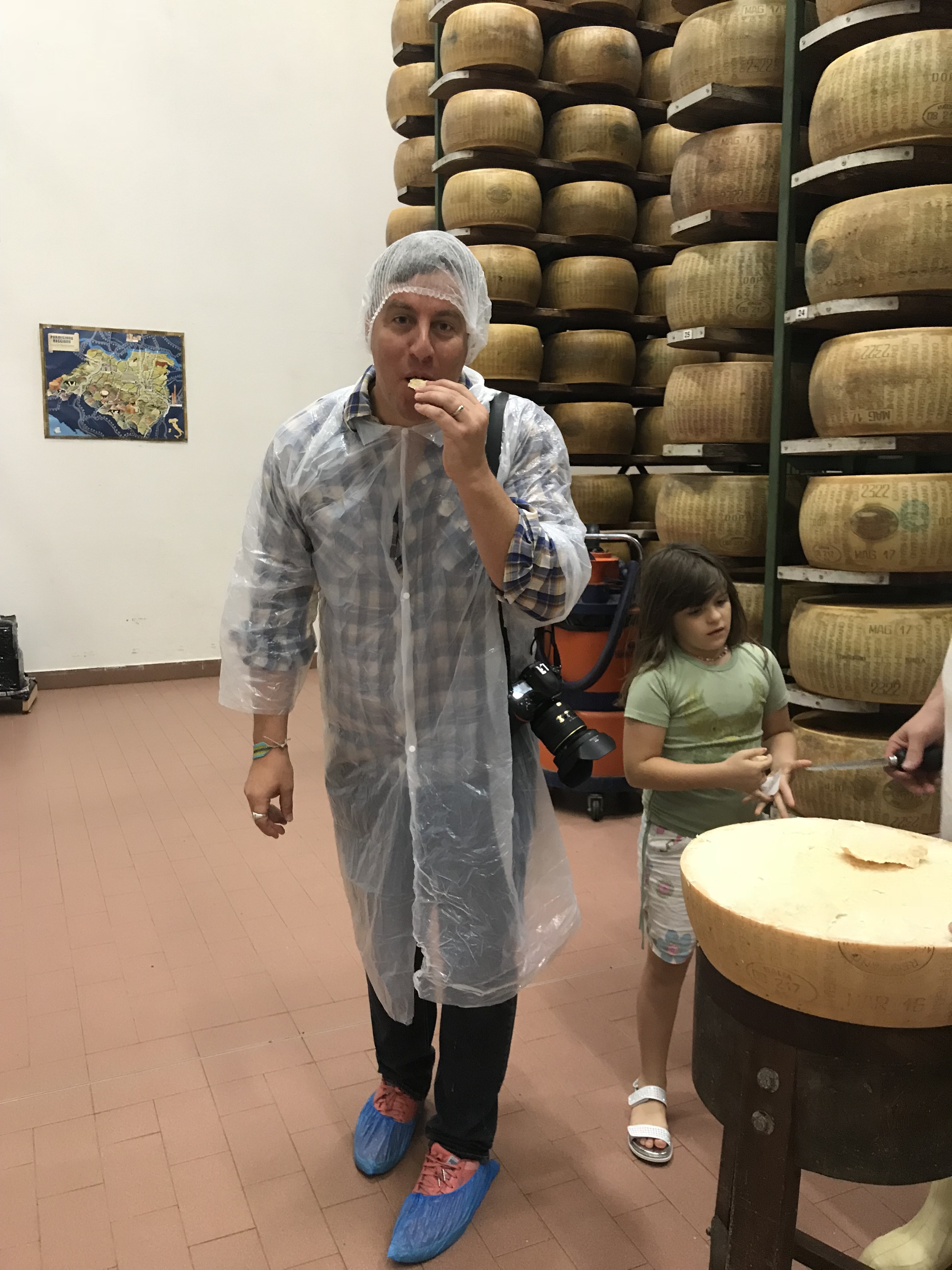 Question: Why did they dress me in full protective gear and the cheesemaker's daughter is just hanging in sandals? What does that say about ME?
Zach has already highlighted some of the joys of Emilia-Romagna, above. What the region is most known for are its DOP products. This stands for Denominazione Origine Protetta — referring to a product of protected origins, like the relationship champagne has with Champagne, France. This means that, when in Europe, true parmesan cheese can't be made outside of the Parma region and it must follow a very strict set of guidelines.
Head to a Parmigiano-Reggiano dairy early in the morning for a tour. The regimented nature of production means that the most exciting parts of the process occur in the morning hours — when the compacted cheese curd is scooped into a muslin cloth and fit into a metal mold. Later, split a finished wheel on your own. The smell alone is a bucket list-level sensory experience.
Upon your first bite, you'll find that the cheese tastes fresher and milkier than what you're used to. Even the best Parmigiano-Reggiano served in the states has typically been cut from a wheel that was opened months prior. All the sharpness is there but the milky flavor will feel like a surprise. Once you've literally cut the cheese, taste a few different varieties 24-month (this is the aging minimum), 30-month, and 36-month. See if you can tell the difference. After tasting a 36-month variety, the 24-month will seem almost soft and delicate by comparison. My personal favorite is 30 months — when the cheese is hard enough to grate over pasta but not so sharp that it hides the other flavor notes.
This is truly one of the great culinary experiences on the planet.
Get Intimate with ONE Dish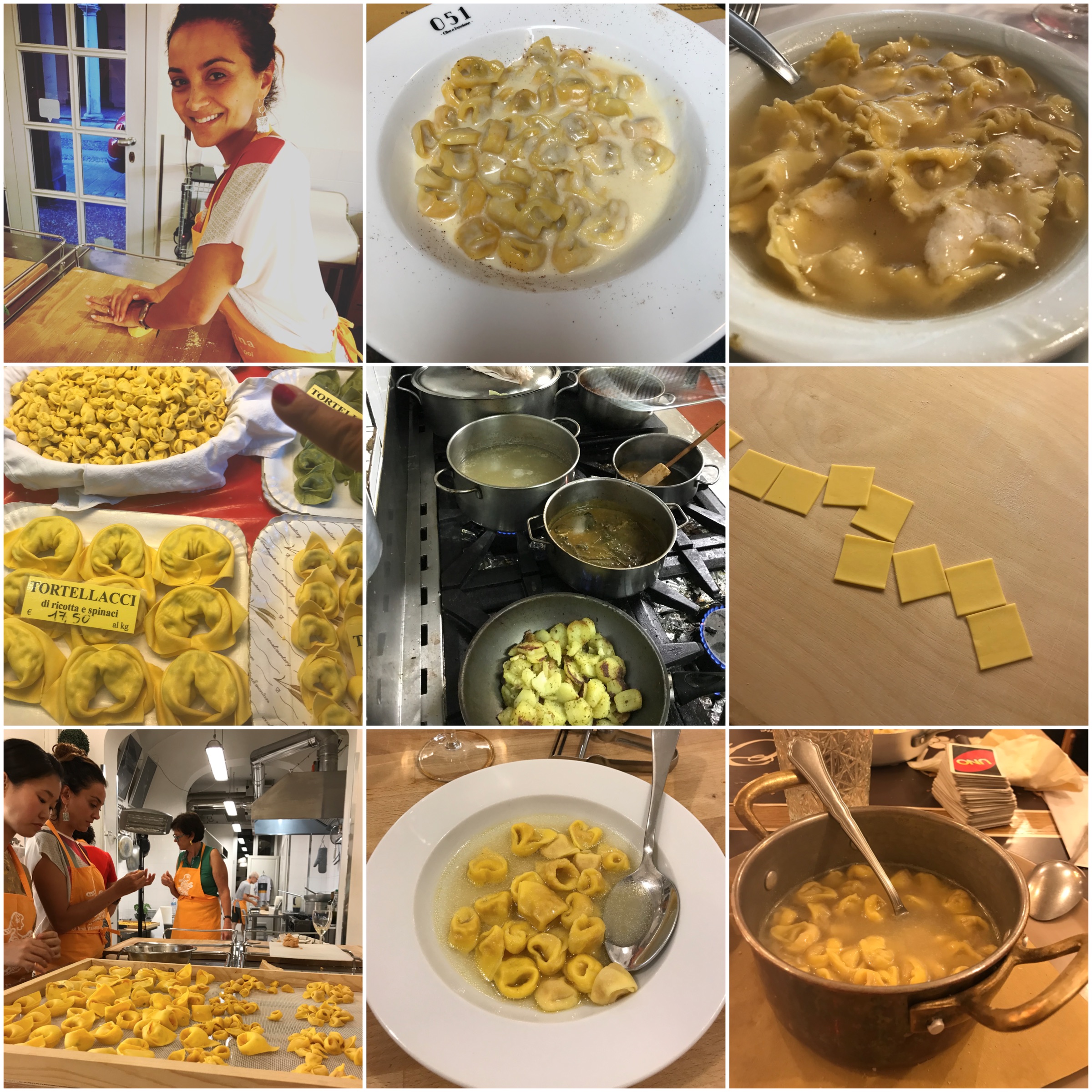 I visited Emilia-Romagna over the summer. The region is famous for tortellini en brodo — which are small pasta rings served in chicken broth. It's a very common first course around the holidays and I was in Italy in August, but this was my chance to dive deep into the dish and I leaped headfirst.
Over 10 days in the region, I ate tortellini en brodo 16 times. I had it for lunches and dinners every single time it appeared on a menu. I ordered it from takeout spots and at the Eataly World theme park. I took cooking classes specifically to learn how to make it. I wanted to know that I had absolutely experienced the very best of the dish.
Try this. It doesn't have to be the same dish, obviously, but try really studying one pasta or pizza type. If it's your first time in Italy, maybe don't go as crazy as I did. But do go on a cultural investigation. After my ten days of tortellini, I can tell you a few variants of the pasta. It's sometimes served with a parmesan cream rather than broth (technically a different dish but the two are often fused); other times, it's made with larger noodles, like tortelloni or tortelli. I can also tell you my absolute favorite in the region with some degree of authority.
Food is meant to be fun and there's nothing more fun that going from newbie to expert level on one single dish in the span of a few weeks.