A trip to Thailand is like a backpacker's rite of passage. Well over 30 million foreign tourists (farang) visit Thailand every year, a tradition that's been ongoing for decades now. This means there's a very good chance that your first big trip abroad will be to SE Asian nation (at the very least, it's on your list).
That's a good thing. Because you know what? Thailand is freaking awesome. The food, the weather, the people, the sights, the parties — they all add up to one hell of a good time. From the jungles of the north to the white sand beaches of the Bay of Thailand, the country has it all. You can trek, SCUBA, eat some of the best street food on earth, and attend one of the wildest parties on the planet in one 24-hours swing.
To help you prep, we thought we'd parse some of Thailand's highlights and hidden gems. Below are ten "must see" experiences that do a pretty solid job of sharing Thailand in a nutshell. Of course, there's always more to see and do depending on what you're into. At the very least, consider these places and activities as a place to dive in and get a feel for the country.
Basic phrases:
Sa-wat dee (hello)
Khrop koon (thank you)
Gee baht? (how much)
Khor tort (sorry)
Neung, song, saam, see, haa, hook, jet, baat, gow, sip (one through ten)
Tuk tuk (small, three-wheeled auto rickshaw taxi)
Average Exchange Rate: $1USD = 30 Baht
GET TO THAILAND
Getting to Southeast Asia is easier and cheaper than ever. Budget carriers like AirAsia have deals from America (Honolulu) to Thailand for as little as $250 each way. It's worth noting that these are bare bones tickets and you'll have to pay for extras like checked bags, meals, and seat reservations.
If budget air travel isn't your jam, it's still fairly inexpensive to get from the U.S. to Thailand. Check out Kayak or Skyscanner for dates that are cheapest to fly and book when the price hits your budget. It's also worth keeping an eye on Secret Flying just in case a deal pops up (that can happen literally any time). In the end, a flight to Bangkok generally hovers around $600 to $700 roundtrip. If you keep an eye on the prices, you may get lucky and score a ticket for $400-$500.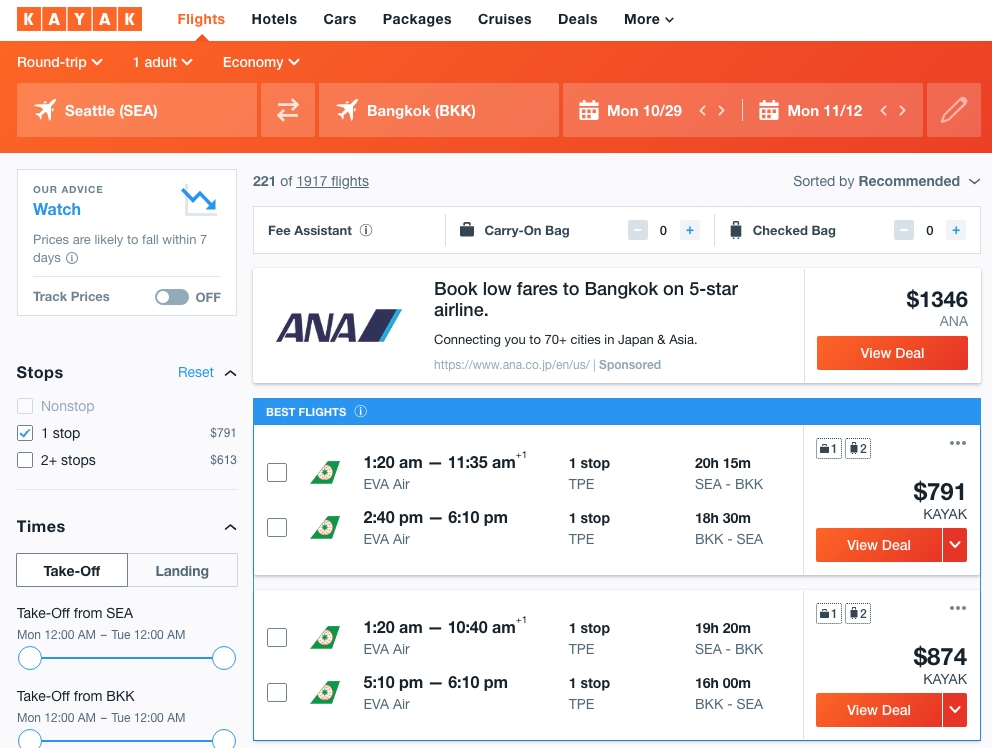 PICK A PLACE TO STAY IN BANGKOK
Picking a place to stay in Bangkok can feel overwhelming. It's a massive city that moves at a brisk pace. The city is broken up into neighborhoods that are defined by main roads where all the action is — from massive street food markets to entire roads devoted to the sex trade.
Most of the big international hotels are clustered around the river between Bang Rak and Khlong Ton Sai heading south towards Wat Phraya Krai. These are the general areas where a lot of the main attractions are and everything is very walkable or accessible via the MRT and BTS (subway and elevated trains). As you head away from the river in any direction, you'll find cheaper and cheaper (and often sketchier) hotels and guesthouses in those neighborhoods. Khao San Road is where many of the backpackers hang. The best advice is to be honest with yourself about your comfort level and go with it.
Notably, Bangkok is never going to break the bank for accommodation. Higher end joints like the Millennium Hilton are only $80-$90 per night. A bed in a perfectly hip hostel will set you back no more than $12 per night. A baller Airbnb will set you back less than $50 a night. With those prices, the city's your oyster.
EXPLORE BANGKOK'S FOOD SCENE
Bangkok is world-famous for its street food scene. As the sun starts to set, thousands of people flock onto the streets and sidewalks to cook and eat all night long. Four can't miss spots are the Train Market in Ratchada, Yarowat Road in Chinatown, Khao San Road, and Sukhumvit Road. If you hit those four spots, you'll have done Bangkok street food right. Our recommendation is to pace yourself, follow your nose and eyes, and be adventurous. Try small dishes and try a lot of them. Then, maybe on the last night, go all out.
A good sign: if there's a huge line for something, it's probably amazing.
One tip for your health: a good rule of thumb is to only eat food you see cooked over a flame. Generally, shy away from food sitting out in chaffing dishes. It's not that they aren't safe (or probably delicious) but fire means heat and heat kills bad bacteria.
Finally, hit Gaggan. Gaggan Anand is one of the best chefs in the world and a trailblazer of South and Southeast Asian cuisines. You need to plan ahead and book a table one month in advance here. Then brace yourself for one of the best meals of your life.
https://www.instagram.com/p/Bd7CZVajbul/
DON'T SKIP THE TEMPLES
This is probably the most touristy thing to do in Bangkok and Thailand in general. But damn if the Buddhist temples of Bangkok aren't a beautiful sight to behold. The massive golden structures make for one of the more uniquely Thai experiences you can have.
Wat Pho and the Grand Palace — where you'll find temples like Wat Phra Kaew — are the two major stops with plenty of moments for amazing Instagrammable moments. By night, Wat Arun is a must stop as lights bring a glistening wonder to the golden spires. Don't skip out on walking up Wat Saket in the Old Town either. It'll give you a decent view and a little exercise to work off all that Pad Thai and creamy curry you've been eating.
EAT YOUR WAY THROUGH THE FLOATING MARKET
About 90 minutes west of Bangkok you'll find one of the most beautiful food spots in the whole damn world. The Floating Market at Damnoen Saduak is everything you want an Instagram-filtered travel experience to be. Old ladies float down an over-stuffed canal with whole kitchens and pantries stuffed into their longboats, each of them fighting for position and customers. It really is the right kind of magical.
There's really not much else to say besides go, eat, take photos, and then eat more. You can get there fairly easily from Bangkok. If you're staying at a hotel or hostel, they'll have information and sometimes even in-house tours that'll take you there. Otherwise, you can take a taxi. It'll cost you but get you there. Of course, you can be adventurous and find your own way via a train to Bang Krabun and then tuk tuk your way to the market. There's always a budget option in Thailand. You do you.
https://www.instagram.com/p/BogLNFGA-n7/

GO TO CHIANG MAI
Chiang Mai sits in the Thai highlands leading into Myanmar. There's a distinct rural Thai feel to the place that's wholly unique from the dirty bustle of Bangkok. The air is cleaner and thinner. The food is richer. The people are more chilled out. The nature is abundant and lush. Chiang Mai is the Thailand of your dreams.
Getting to Chiang Mai is very easy. You can take a very short and very cheap flight, bus, rent a bike, or even hire a car. It really comes down to what you're comfortable with. Though, we have to admit, riding a motorcycle through Thailand is a badass way to travel that country. Once you're there, expect accommodations to cost only half of what they do in Bangkok. That's a big win.
TAKE A COOKING COURSE
Chiang Mai is all about the food. Take a cooking course. We know. We know. It's going to be a bunch of tourists cringing behind fire-y woks trying their best to cobble together a curry or Pad Thai. For us, spending the time to make a curry paste, process fresh prawns, work rice, and make a superb meal is always worth it. You're not going to master it but you will get a foundational experience you can carry with you for the rest of your life.
Look at the geotags in this section. Go there. Or, just ask about cooking courses wherever you're staying. Expect to pay around 1,000 Baht, or 30 bucks, for an afternoon course which, of course, you get to eat afterward.
VISIT AN ELEPHANT RESCUE PARK
Elephants are an integral part of Thai culture to the point where the pachyderm is almost a cross between a beloved family dog and a farm horse. Reserves like the Elephant Rescue Park take at-risk elephants and give them a sanctuary to just be.
You can go and chill with elephants all day if you want. This isn't the sort of place you ride them like a tourist. These elephants are living their best lives and you can be part of that by helping with baths, feedings, and romping. It's also the perfect spot for that Insta-shot.
HEAD TO THE BEACH — BUT CHOOSE WISELY
Okay, you've done Bangkok. You've done the highlands and learned a recipe or two. Now, it's time to hit the postcard perfect beaches to dip your toe in bathwater warm, crystal clear waters in paradise.
Please, think about this before you go. Thai beaches and islands have been over-taxed by tourists and some of them are, now, indefinitely closed. So do a little research and travel sustainability. Your best bet is to fly or bus to Phuket or Krabi and go from there. Post up on a beach like Kata (Phuket) or Ao Nang (Krabi). From there, observe, integrate into the community, and flourish. Don't forget to have fun.
Insider tip: Don't be afraid to go into a 7-Eleven. You can buy cheap and tasty Thai whisky and rum along with coolers and bags of ice without breaking the bank and then go and chill on the beach. Just make sure you buy fruit juices and sodas from the locals selling drinks on the beach too. Swim. Drink. Make love. Play with monkeys. Get a beachside massage. Then, once the sun goes down, wander back into the town and buy some Pad Thai or barbecued catfish or Thai fried chicken from the street vendors before hitting the bars. It'll be a perfect day.
https://www.instagram.com/p/BogSdlZjmTT/
END YOUR TRIP STRONG AT A MASSIVE PARTY
Every trip should end with a once-in-a-lifetime party where all inhibitions are left at the immigration desk when you enter the country. Look, you do what's comfortable for you and make sure to respect the people around you at all times. Still, a fantastic trip to Thailand should end with a great party and there are two rad chances to do that in Thailand.
Songkran is a dope way to go out with a bang. The massive water fight through the streets of Bangkok is one of the most fun ways to end any trip. The streets of Bangkok literally erupt in a bacchanal unlike any other in the world as water is thrown, shot, and sprayed on, literally, everyone. It's insanely fun if you give into the concept. The only thing, this only happens in April over a weekend. So you'd have to plan your trip accordingly.
Another option is to stay in Phuket or Haad Rin to attend a Full Moon or Half Moon beach party and just let it all go. The EDM, booze, and fire soaked beach parties are the stuff of legend and the perfect way to end a journey to Thailand. It's love, music, and paradise all rolled into one glorious night. You may not remember every detail as you board your plane back home, but you'll definitely have a big smile on your face, knowing you had the time of your life.
EDITOR'S SECRETS — by Uproxx Travel editor Steve Bramucci
Go see Ti Lo Su.
Hey, that's me up there ☝?. When I first went to Ti Lo Su, a Thai tourism official told me that 10,000 people visit per year (shockingly low for a site like this) and that more than 9,000 of those were Thai nationals. Point being, this spot — which quite resembles the famed Havasupai Falls in Arizona — is off the tourist radar… for the moment.
Hang at Ti Lo Su for a day, jump off falls and Insta to your heart's delight. Then head downriver on a bamboo raft (treks can be booked through most hostels) for five days of jungle adventuring in the Kayin State (the border region that separates Thailand and Burma). I promise, all your travel heroes will be talking about this area soon enough.
Camp on the beach in Ang Thong.
https://www.instagram.com/p/BoY2w5fHl6j/?taken-at=271154939663035
I've written about Ang Thong before and I'm not going to twist your arm about it. Let me just put it like this: You can camp in all of Thailand's marine parks for roughly 25 cents a night. That means you could hop off an Ang Thong Marine Park boat tour, hang with the park's staff eating curry and drinking moonshine for a week, have the idyllic white sand beaches all to yourself in the hours when the day trippers disappear, and then hop back on your boat to the mainland on whatever day you decide you've had enough.
My first time at Ang Thong, I stayed for two weeks. It was the closest I've ever been to paradise. No wonder we ranked this experience #1 on our best islands list.
Get Off The Banana Pancake Trail
Thailand is thoroughly touristed. No doubts about that. But I'd like to encourage you to get off the "Banana Pancake Trail" — where they serve banana pancakes and mango smoothies to satiate wester travelers — at least a few times during your trip. Visit a remote national park. Or let a bus drop you at a village that isn't in your guidebook. That may seem intimidating, but if you want to connect with people and see things outside of the tourist network, this is the way to go. What do you have to lose?