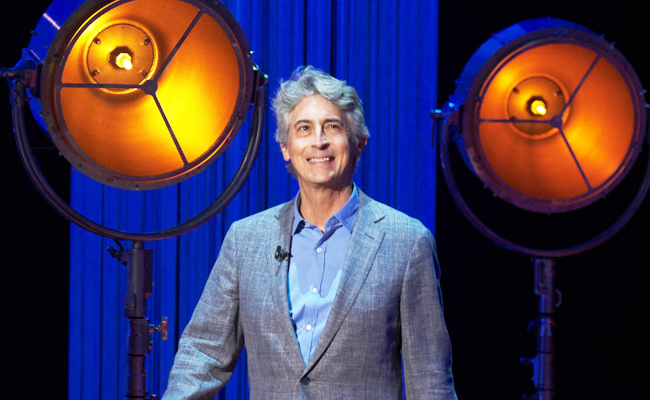 One of my all-time favorite movies, Election, turned 20 this week. I got to chat briefly about it via email with director Alexander Payne, who in 1999 was the relatively unknown director of Citizen Ruth, but who would go on (usually with his writing partner, Jim Taylor) to make About Schmidt, Sideways, The Descendants, Nebraska, and Downsizing.
I quoted him liberally in the retrospective we published earlier today, but here is the longer version.
On the development and eventual reception:
"The novel came to Jim Taylor and me as a job — MTV Films, under the aegis of Paramount, had optioned this book and two recent friends of mine, Ron Yerxa and Albert Berger, were producing. I put off reading it for a couple of months, because the last thing in the world I wanted to do was a high school movie. Finally I read it and saw it was much more, and Jim agreed. I liked the humor, the banality, and the formal challenge of doing multiple voice-over.

Shooting was great, but editing took a long time — we had two Christmas parties in the cutting room on Larchmont Boulevard. It was the first and only time that Jim and I have re-written and I re-shot an ending, and it helped the picture a lot. The original ending you can read in the novel, but the movie turned out a lot funnier than the novel, so that first, more melancholy ending, felt out of whack. Jim and I asked ourselves what ending we might have written had it been an original script, and it worked.

The movie came out in April, was not marketed very aggressively, and didn't make much money at the box office — just double what its $8 million budget was. But the reviews were terrific, months later the movie won a bunch of awards, and Jim and I got our first Oscar nomination."
On the funniest moments coming when the characters are the most sad:
"I think that comment applies to almost all of the pictures I've directed. Hell, Chaplin played a homeless guy."
On it being initially received as a character piece on Tracy Flick, even though it really isn't:
"Well, you can't forget Reese Witherspoon's performance, at once real and splashy, venomous and heartbreaking. And she hadn't been in a lot of movies by that point. The movie also has a dangerous thematic bite in its portrayal of a student-teacher relationship — I wonder how that would fly today — and how her character soars above that was skillfully managed by the actresss. And I could have never forseen that the name "Tracy Flick" would enter popular culture."
On the differences between the Tracy Flick we see in the movie and Tracy Flick in Tom Perrotta's book:
"We hid her sexuality much more — in Perrotta's book she's more of a hottie. In a movie we wanted to see at once ambition and innocence, not a young sexual predator."
On the nostril freeze frame and the "angry Tracy" music:
"Kevin Tent and I just found that unflattering freeze frame one day in editing, and it cracked us up. I said, "Let's go with it," and Kevin said, "Wait till you get a call from her manager." It wasn't just funny; it was thematic, it was how her teacher saw her. As for the "angry Tracy" music, I listen to a lot of Ennio Morricone, and that one comes from "Navajo Joe." We were editing one day, and I spontaneously screamed it out myself. I brought it in the next day, and it stuck."
On the legacy of Election:
"It's still the movie I get the most compliments on from film nerds, and I think it's the only movie I've ever made that's not too long somehow. That year we spent editing led to quite good — and musical — pacing, I think. And just imagine how flattering it is to do an interview about it twenty years later!"
Vince Mancini is on Twitter. You can access his archive of reviews here.