Even in 2018, Christmas tends to be treated as a sacred holiday, so audiences can get touchy about movies in that context. For example, plenty of people don't even like thinking of Die Hard, in which bloody events transpire over Christmas Eve, as a Christmas movie. Maybe that's why there aren't a ton of horror movies set around December 25, as though they were only for the naughty among us. But there are exceptions and plenty of them. Every now and then, someone dares to disturb the tranquility of the season, whether it's defiling Kris Kringle himself or simply wishing ill will to men and women alike. Here are the 10 best when it comes to Christmas horror.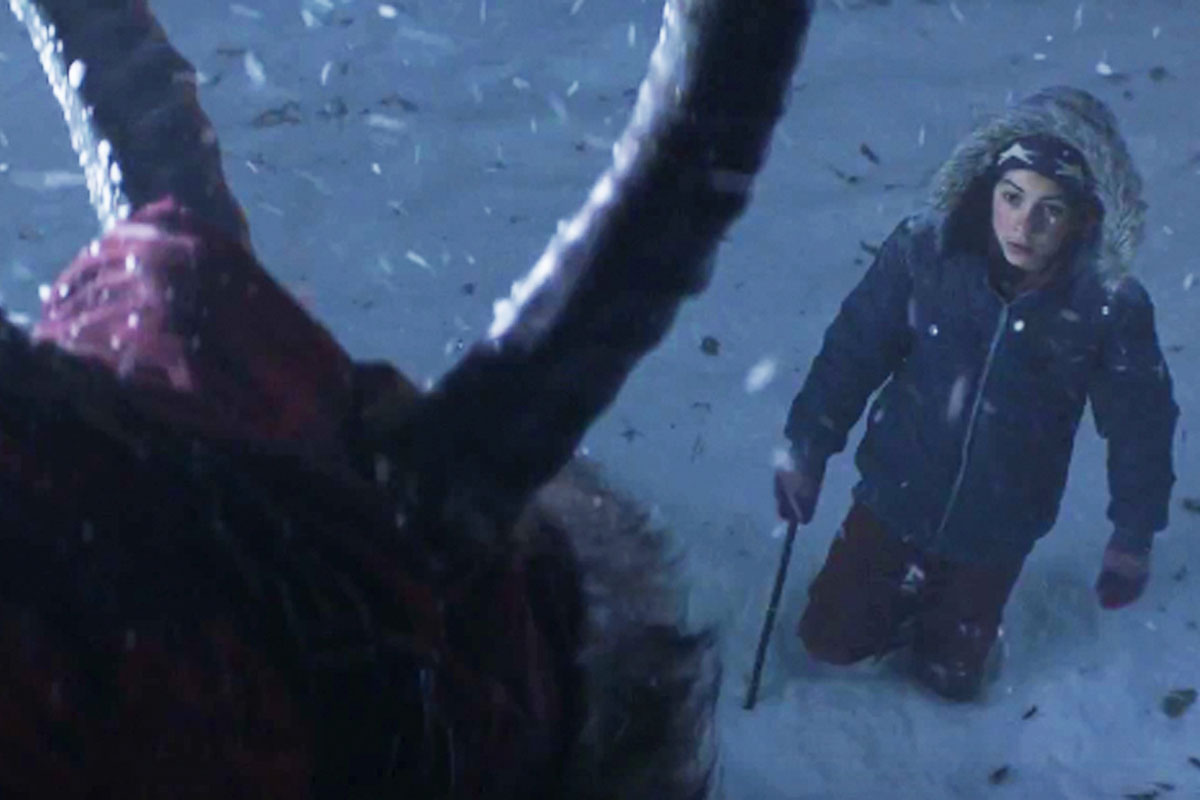 10. Krampus (2015)
Hollywood has largely steered clear of Christmas horror, but every now and then, they go dark. One example: This moderately budgeted nasty piece of work from Legendary Pictures, the company currently busy rebooting Godzilla and King Kong. (Krampus director Michael Dougherty is the one behind the wheel for Godzilla: King of the Monsters.) They tapped another monster for this hunk of Christmas coal: Central Europe's favorite Yuletide boogeyman — a half-goat, half-demon who preys on misbehaving children. Here, the beast descends upon modern day snowcapped suburbia, lurking after a top-shelf cast that includes Toni Collette, Adam Scott, and David Koechner. Though occasionally comedic (see: Koechner, David), Krampus is more intense and eerie than one would expect from studio horror targeting the holidays.
9. Jack Frost (1997)
Not to be confused with the other, arguably more horrifying Jack Frost — a heart-warming CGI-fest released one year later that starred Michael Keaton as the voice of a well-meaning snowman — this winking-yet-gory campfest finds a serial killer resurrected inside three balls of snow, laying waste to small town types, the most famous of them being a pre-American Pie Shannon Elizabeth.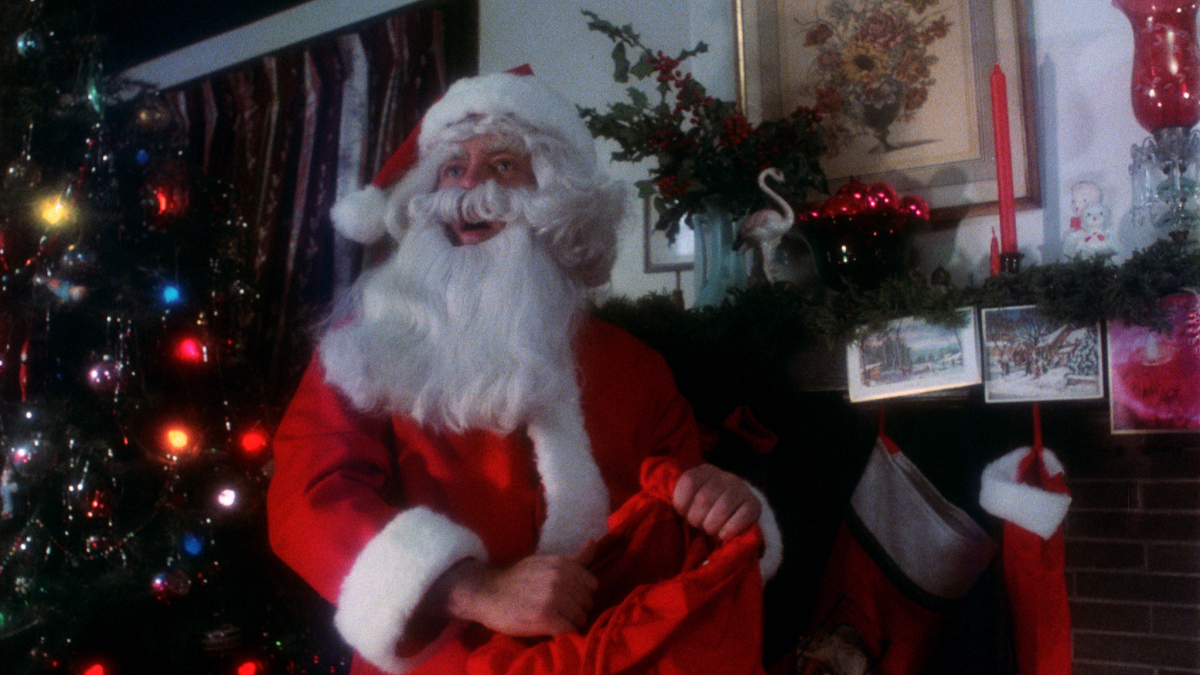 8. Christmas Evil (1980)
There's discovering there's no Santa Claus, then there's discovering it the way the anti-hero of this low-budget cult item does: Catching his father, dressed as St. Nick, groping his mother. That does a number on him, and when he grows up to be played by actor Brandon Maggart (aka Fiona Apple's dad) he's a loner who works at a toy factory, and decorates his bachelor pad in a troubling sea of Christmas tchotchkes. Though advertised as though it was a pre-Silent Night, Deadly Night slasher (more on that one later), Christmas Evil is really more of a Taxi Driver character study — a slow-burn, building to a climax where our budding psycho finally, tragically snaps.
7. Santa Claus (1959)
Mystery Science Theater 3000 has always doubled as a first-rate archivists, digging up diamonds in the rough that likely would have been permanently burned out of the collective memory. Of the hundreds of oddities they've dredged up over the years, among the finest is this Mexican nightmare machine, in which Santa is, for some reason, engaged in a holy war with Lucifer, which includes children being forced to commit evil deeds and even a space battle. You can watch it with Mike, Servo, and Crow yammering on top of it, but it's just as rewarding and mind-boggling when watched straight.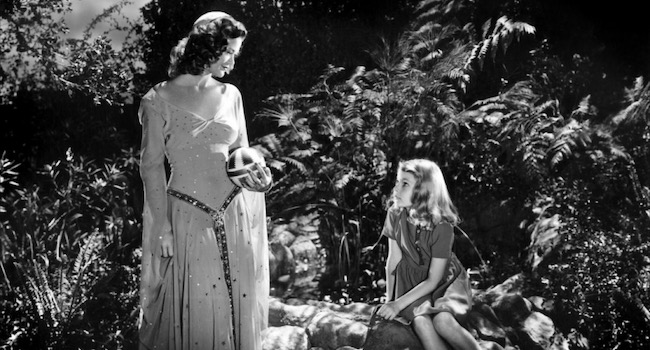 6. The Curse of the Cat People (1944)
Disclaimer: Though it was sold as one, including via the sinister title, this isn't really a horror movie. In fact, it's one of the strangest sequels ever made. It's the follow-up to 1942's Cat People, the peerlessly creepy classic from legendary RKO producer Val Lewton about a woman named Irena (Simone Simon), who is very sure that, when sexually aroused, she turns into a murderous black panther. (Paul Schrader's 1980 remake is, shall we say, very R-rated.) Spoiler: Irena died at the end. How do you bring her back? By making her a ghost. But Ghost Irena doesn't return to haunt people. She's there simply to comfort the lonely six-year-old daughter of the first film's male hero (Kent Smith). And guess what? This gentle and lovely yet still vaguely spooky great is set during Christmas. So it makes this list.
5. Tales from the Crypt (1972)
Long before the EC Comics' infamously grisly books — not just Tales from the Crypt, but also The Vault of Horror, and The Haunt of Fear — became fodder for the '90s HBO staple, they were milked for a pair of English '70s anthology movies. Both Tales from the Crypt and the next year's The Vault of Horror are delightfully nasty, but it's the first that features an adaptation of "…And All Through the House," the story of a murderous woman (Joan Collins) whose home is invaded by a homicidal maniac dressed as St. Nick. Their mordant game of cat-and-mouse was so good it was, nearly two decades later, turned into the second-ever episode of the HBO version, in an episode expertly helmed by Robert Zemeckis.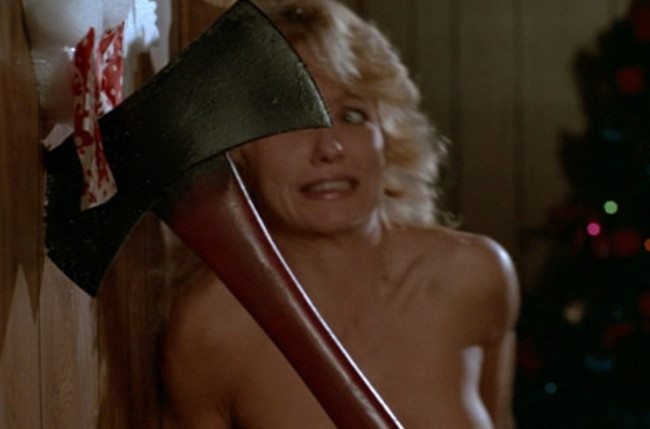 4. Silent Night, Dead Night (1984)
It's the movie that so enraged parents that it was pulled from release, and not with good reason: Far as defiling holiday iconography, it's even sleazier and slimier than Bad Santa. Santa Claus isn't just a murderer: He's a repeatedly traumatized orphan who grows into a ticking time bomb. He goes off during a Christmas Eve party, spending the rest of the movie lurking about in dressed as Kris Kringle, wielding a revolving door cast of weaponry. Despite its instant infamy, it birthed one of the more disreputable and weirder horror franchises. The second one devotes the entire first half to simply re-airing the first one, before getting to the part enshrined as a classic Bad Movie Moment. The third was inexplicably directed by esteemed filmmaker Monte Hellman (of the '70s existentialist masterpieces Two-Lane Blacktop and Cockfighter). The fifth stars Mickey Rooney. A most strange series.
3. The Nightmare Before Christmas (1993)
Just a reminder: Tim Burton merely produced and slipped his name into the poster title for this stop-motion classic. The real authors are screenwriter Caroline Thompson (recently of Welcome to Marwen) and director Henry Selick (Coraline). The vibe is very Burton, with our hero Jack Skellington, the "King of Halloween," creeping up Christmas, just for kicks. But it's Thompson and Selick you should be thanking for the darkest Christmas movie that isn't Tim Burton's Batman Returns.
2. Black Christmas (1974)
Horror historians generally tag this Canadian shocker with creating the slasher movie, which would be perfected four years later by John Carpenter's first Halloween. Here, a mystery killer is targeting a sorority house on the cusp of holiday break. Unlike most slashers that followed in its wake, the cast is overqualified, the characters are actual characters, and the vibe is energetic and genuinely fun. The cast includes Olivia Hussey, of the 1968 Romeo and Juliet, as well as 2001: A Space Odyssey's Keir Dullea, but it's really Margot Kidder (post-Sisters, pre-Superman) who keeps things lively. As does director Bob Clark, later of Porky's and certain other Yuletide fave, A Christmas Story. Show this one for 24 hours straight on Christmas Day instead!
1. Gremlins (1984)
Like Die Hard, Gremlins is often left off most Best Christmas Movies round-ups, and for the same reason: There's a body count. And yet few Christmas movies are so Christmas-y. Director Joe Dante even blasts tracks from the Phil Spector Christmas album as cute Mogwis turn into slimy, murderous yet wisecracking beasties. It hails from one of producer Steven Spielberg's darkest periods — both this and Indiana Jones and the Temple of Doom were instrumental in inspiring the PG-13 rating — and he was in such a foul mood thathe didn't cut the film's arguably grimmest moment: The monologue Phoebe Cates delivers about why she doesn't celebrate Christmas. And boy is it darker than anything a Gremlin could do.