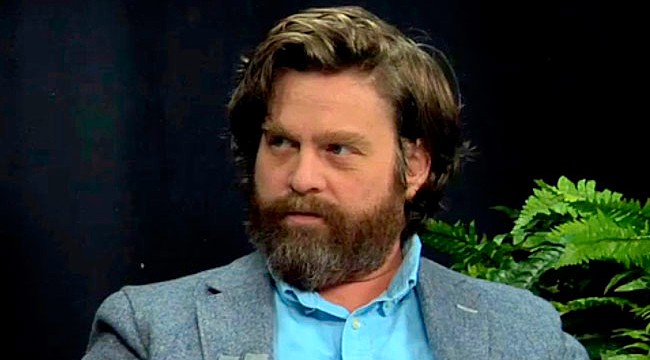 The last time we heard from comedian Zach Galifianakis's hugely awkward talk show Between Two Ferns, the Funny Or Die web series had paired comic Jerry Seinfeld with rapper Cardi B to great comedic effect. Seinfeld later revisited the bit in the new season of his talk show Comedians in Cars Getting Coffee, in which his episode with Galifianakis slowly transformed into the Between Two Ferns episode. Now and according to The Hollywood Reporter, the purposely cringe-worthy show is becoming a movie.
Per THR's report, the Netflix "production is already (and secretly) underway on a feature version of the popular and barb-filled show." Comedy Bang! Bang! luminary Scott Aukerman is directing the film, which will feature Galifianakis playing "the inappropriate host of a low-budget talk show" that Between Two Ferns has endeared (or frightened) audiences with for years. As for the film's format:
[It] looks to continue in some form as all-star lineup has shot, or is slated to shoot, appearances. Peter Dinklage, David Letterman, Keanu Reeves and Galifianakis' Hangover cohorts Ed Helms and Bradley Cooper are on the docket, according to sources
A reunion of The Hangover's original trio sounds like fun, but this still doesn't completely answer a very important question: What will a Between Two Ferns film adaptation look like? Will it just be a series of increasingly odd interviews? Or will Aukerman, Galifianakis, and company be bridging these with scripted or improvised segments of some sort? Hell, will Netflix's ballooning budget for original content finally let them buy a third fern? Hopefully, we'll find out more soon.
(Via The Hollywood Reporter)