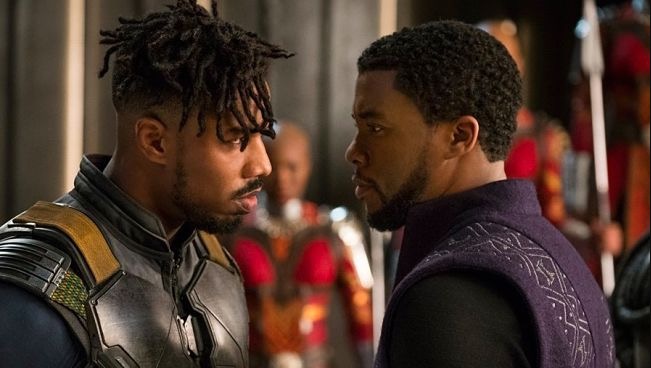 Black Panther continues to shred the box office in its third weekend, amassing what looks like $66 million on an Oscar weekend, which is typically a quieter weekend at the box office. Not this year. With another huge haul, the film looks like it will end the weekend with around $502 million, the third fastest movie to ever to cross the $500 million mark. It is now tracking ahead of Marvel's The Avengers, previously the highest grossing MCU film (with $623 million, overall) and has a very decent chance of taking that crown. It's already the second highest grossing MCU film ever and it's only three weeks into its run. It is also now the highest grossing non-sequel superhero film and should surpass The Dark Knight for second biggest superhero film ever by next weekend. It is worth noting, too, that it's also earned over $800 million worldwide and should have no problem breaking into the $1 billion club.
Not bad. Not bad at all.
Meanwhile, Jennifer Lawrence's Red Sparrow failed to impress this weekend. It looks like it will open with around a $17 million weekend, which actually isn't that bad for a spy movie targetted toward adults. However, this one cost $70 million, and it is unlikely to recoup that stateside, although, with Jennifer Lawrence, it should eke out a profit worldwide. On one hand, a $17 million opening is not great for Jennifer Lawrence; on the other hand, it's arguably a lot more than the same movie would have earned with anyone other than Jennifer Lawrence. She is basically the only draw here. It certainly wasn't the reviews (51 percent) or the word of mouth (it gets a middling B on Cinemascore). This is also the second disappointment in a row for Lawrence after last fall's mother!, and Passengers ($100 million domestic on a $110 million budget) didn't exactly burn up the box office, either. She's up next with X-Men: Dark Phoenix later this year, but other than an Adam McKay movie called Bad Blood, she doesn't have a lot on her docket right now, as she takes the year off.

Third place this weekend went to Eli Roth's unnecessary remake of Death Wish, an ill-timed movie that celebrates gun culture only two weeks after the Parkland shooting (Death Wish had already had its release date pushed back after the Vegas mass shooting). I saw a lot of gun enthusiasts on my social media timelines this weekend suggesting they would see it twice out of spite for the reviews (15 percent on Rotten Tomatoes), but the box office failed to bear that out, as it landed with a $13 million thud. Granted, the film only cost $30 million to make, and like the male-targeted Den of Thieves and 12 Strong earlier this year, it's a movie likely to turn a profit with digital rentals and television/streaming rights. It also continues Bruce Willis' run of bad luck, although most of his movies since 2013 have gone straight to Redbox/iTunes.
The rest of the top ten were all holdovers, with special shout outs to Jumanji: Welcome to the Jungle and The Greatest Showman (seventh place and ninth place, respectively), which refuse to exit the top 10, even after 11 weeks. The two films have now earned $393 million and $164 million, respectively. Both films are still in the top ten in spite of being only weeks away from their DVD releases (March 20th for Jumanji and April 10th for Showman). Impressive runs.
Elsewhere, Game Night took the four spot with $10 million; it's now earned $33 million on a $37 million budget (it's also a fun movie). Peter Rabbit continues to hang in there, adding $9.5 million in its fourth week, crossing the $80 million mark. Annihilation took a tumble in its second weekend, earning $5.3 million to bring its total to $20 million (and it won't cross its $40 million budget domestically or worldwide since it has already sold international distribution rights to Netflix). Fifty Shades Freed continues its trek toward $100 million, earning $3.2 million to bring its total to $95 million, and Every Day rounds out the top ten with $1.5 million and $5.2 million overall.
Next weekend, Ava Duvernay's A Wrinkle in Time looks to slow down Black Panther, while three other new wide release will probably end the weekend as afterthoughts: Gringo, The Hurricane Heist and the Strangers sequel, Prey at Night.
(Via Deadline/ Box Office Mojo)