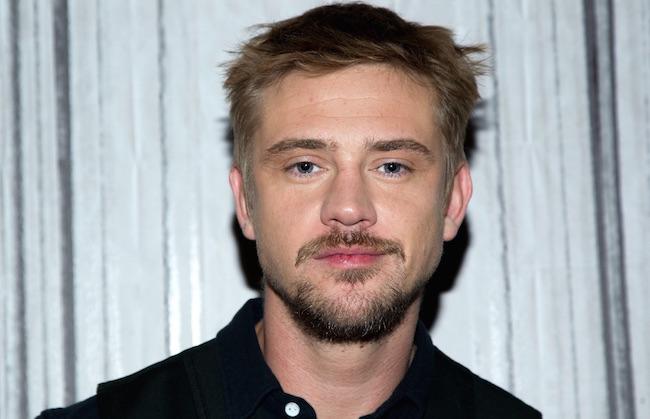 Olivia Munn has been through a lot in the last few months. Over the summer, she discovered that an actor with whom she shared a brief scene in the forthcoming reboot The Predator was a convicted sex offender. She alerted Fox and they eventually cut the footage from the film. While promoting the film this weekend, the actress said she felt like her co-stars and her director were shunning her, as none had reached out to her. Indeed, she and young Jacob Tremblay (Room) were the only cast members to show up for a press day in Toronto.
Since then, some of her co-stars have spoken up. Sterling K. Brown has publicly stood up for Munn, while Keegan Michael Key explained he wasn't able to attend the junket due to travel plans. Now Boyd Holbrook, the film's top-billed actor, has released a statement, according to The Hollywood Reporter.
"I want to start by apologizing for this statement coming late in the current conversation. I do not take any of what has gone on lightly, and I want to speak from the most honest and genuine place possible," Holbrook said.
He then went onto throw his support behind his co-star. "I have stated before, and I will state it again, I am proud of Olivia for the way that she handled a difficult and alarming situation, and I am grateful that Fox took the information seriously and took action swiftly."
The fact that actor, Steven Wilder Striegel, was a sex offender who served jail time was kept from the cast and crew by director Shane Black. Striegel and Black are longtime friends and Black, in a public apology, said he had simply wanted to help him out but that his actions, he realized, were misjudged. When his film bowed at the Toronto International Film Festival, Black opted out entirely.
Other cast members — including Holbrook, Trevante Rhodes, Thomas Jane, and Augusto Aguilera — were present at the festival but opted out of the junket after the story surfaced, leaving Munn and Tremblay alone.
"It is true that I pulled out of a small amount of press on Saturday, as this type of social commentary is new to me and given the nature of the originating crime, I felt further discussion could cause unwanted trauma and pain, neither of which I wanted to incite to the anonymous young woman," Holbrook said, referring to the victim of Striegel's crime. "I now realize that my understanding of the situation was not the full picture and the last thing I want is for Olivia to ever feel abandoned or alone. We are in the midst of a very crucial and important time and it is imperative that we keep listening."
(Via THR)