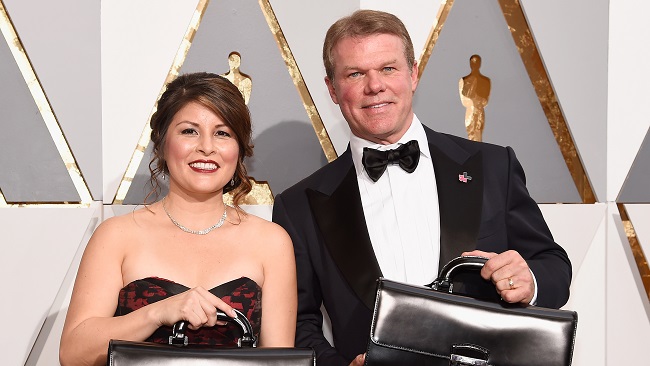 Despite the Academy's official apology a day after PricewaterhouseCooper took full responsibility for the mix-up that temporarily awarded the Best Picture Oscar to La La Land, #EnvelopeGate shows no signs of stopping. Especially since PwC accountant Brian Cullinan, one of two officials charged with handling the winning envelopes, was caught tweeting about Best Actress winner Emma Stone right before Faye Dunaway and Warren Beatty's ill-fated presentation. According to a new report from People, Cullinan was warned against using social media before the ceremony officially began. Oops.
"Brian was asked not to tweet or use social media during the show," an anonymous source told the magazine. "He was fine to tweet before he arrived at the red carpet but once he was under the auspices of the Oscar night job, that was to be his only focus." To illustrate just how serious the matter was, People's source added: "Tweeting right before the Best Picture category was announced was not something that should have happened."
Minutes before Dunaway took the envelope from a confused Beatty and announced La La Land instead of Moonlight as the Best Picture Oscar winner, Cullinan tweeted a photo of Stone holding her Best Actress Oscar from backstage. Along with several other behind-the-scenes tweets from the evening, however, it has since been deleted.
Whether or not Cullinan's social media usage is directly responsible for the botched presentation remains to be seen. Even so, People's source indicated "the Academy has launched a full-scale review of its relationship with PwC," which is a rather complex affair. Why? Because "vote-tallying and the Oscar night job is just one part of what PwC does with the Academy."
(Via People)