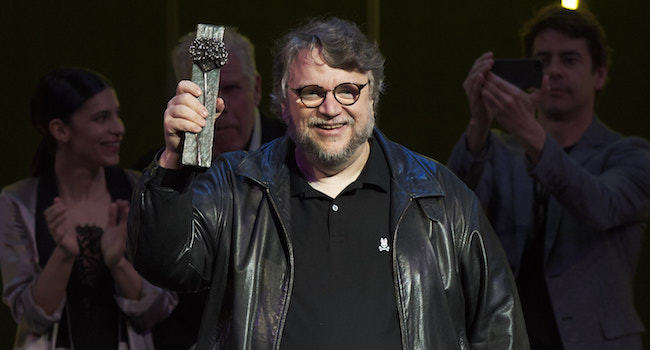 Guillermo del Toro is an Oscar-winning director of a movie that also won Best Picture, so he's not going to be personally helming something with a title like Scary Stories to Tell in the Dark. But he will happily put his name and newfound mega-influence behind it.
The Shape of Water filmmaker and modern-day horror god will be producing and co-writing an adaptation of Alvin Schwartz's beloved trilogy of creepy books, which have freaked out children since they were published between 1981 and 1991. According to The A.V. Club, he's ready to reveal his cast, director and general premise.
André Øvredal (Trollhunter) will be directing Austin Abrams (The Walking Dead), Austin Zajur (Fist Fight), Michael Garza (Wayward Pines), Gabriel Rush (Moonrise Kingdom), and Natalie Ganzhorn (The Stanley Dynamic). The script — which centers around a group of teens who, as per the press release, "must solve the mystery surrounding a wave of spectacularly horrific deaths in their small town." Presumably it will be hodgepodge of the best stories — some drawn from folklore, others created whole-cloth — told in Schwartz's three collections.
Del Toro's co-writers are Kevin Hageman and Dan Hageman, who penned the early versions of The Lego Movie, when it was more of an action-adventure movie. In other words, don't worry: This almost certainly won't be a tongue-in-cheek adaptation à la the Jack Black-starring Goosebumps. Indeed, with del Toro's name attached, we're all but assured of images at least as blood-curdling as the books' illustrations, by Stephen Gammell, that have traumatized kids going on four decades now.