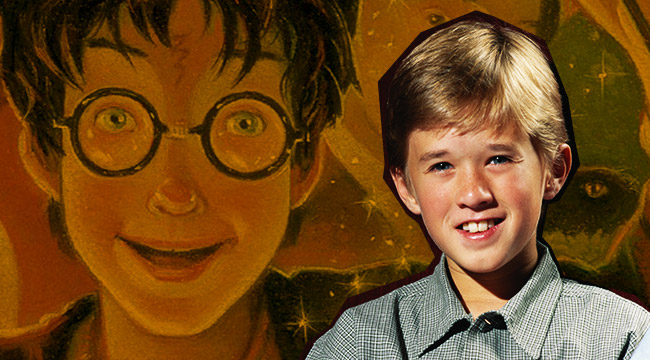 The world changed on June 26, 1997, the day that J.K. Rowling published Harry Potter and the Sorcerer's Stone in the UK. Wizards, witches and the fantasy they inhabited would go on to inspire six more books, seven films, theme parks, a play in London's West End and a spin-off book and film adaptation that will more than likely produce an entirely new series. Today's parents, many of whom grew up reading the Harry Potter books as kids, are passing on Rowling's words to their children, a process that will doubtlessly lead to a new generation of fans. In a way, they and other Potter fans have actor Haley Joel Osment's vocal distaste for the movies to thank. If The Sixth Sense star had been picked for the titular role instead of newcomer Daniel Radcliffe, the cultural impact of Rowling's novels would have looked much different.
After Rowling sold the rights to Warner Bros. in 1998 for a healthy amount of money, the studio began scouring the ranks of known Hollywood talent. This made sense, as a project as big as Harry Potter was sure to attract a lot of attention (and box office returns), so executives preferred experience. Hence, one of the first names to enter consideration for the director's chair was Steven Spielberg.
Yet as Alan Horn, current Walt Disney Studios chairman and former Warner Bros. president and COO, told the Los Angeles Times in 2010, Spielberg and Harry Potter weren't meant for each other. Why? Because the director's ideas for the adaptation weren't agreeable to what the studio had in mind:
"I did think it would be worthwhile for Steven Spielberg to direct," Horn said. "We offered it to him. But one of the notions of Dreamworks' and Steven's was, 'Let's combine a couple of the books, let's make it animated,' and that was because of the [visual effects and] Pixar had demonstrated that animated movies could be extremely successful. Because of the wizardry involved, they were very effects-laden. So I don't blame them. But I did not want to combine the movie and I wanted it to be live action."
What's more, Rowling — who'd been given full access to the studio's handling of her intellectual property — had stipulations that didn't mesh well with Spielberg. When asked about the possible pressures Hollywood was exerting on her in a 2000 interview, the author scoffed at the idea:
"At the moment, in all honesty, they don't. Maybe they did in the beginning but then they saw the popularity of the books as they are. At the moment they are giving me a huge amount of influence. It will be filmed in Britain, with an all-British cast."
Rowling's insistence that the principal cast be "all-British" was something that both Spielberg and eventual director Chris Columbus didn't agree with at first. The filmmakers had child actors in mind for the role of Harry when they began developing the project, and both choices were well-known at the time. Columbus wanted native New Yorker named Liam Aiken, who'd previously starred in Stepmom with Julia Roberts and Susan Sarandon, and Spielberg wanted Haley Joel Osment, who scored an Oscar nomination for Best Supporting Actor for The Sixth Sense. Yes, Spielberg latter wanted the kid most famous for saying "I see dead people" to, as is the next logical step, see Thestrals in an animated Harry Potter film.
Even if the tried-and-true performer could pull off a convincing English accent, it wouldn't have been enough for Rowling. So Spielberg departed the movie altogether, and when Columbus came on with a greater willingness to work with Rowling and the studio's demands, Aiken was dropped in favor of casting a brand new, and decidedly British face.
Tabloids at the time painted the split between Rowling and Spielberg with typical dramatic flare, but she dismissed these claims in an interview with The Times:
"I have spoken to Steven Spielberg. Did I have a fight with him? No, I definitely did not. I read that in an article and was mystified. There were things he said that I didn't agree with, there were things he said that I did agree with. Let's just put it this way: I am very happy with the director we've got."
A decade later, Spielberg spoke only with fondness about the whole process when interviewed about his involvement in the first film's development phase. Though as he told the BBC Breakfast anchors, his kids thought he was "crazy" to drop out:
"I just felt that I wasn't ready to make an all-kids movie and my kids thought I was crazy. And the books were by that time popular, so when I dropped out, I knew it was going to be a phenomenon."

On the record, everything about the split between Spielberg and Rowling/Warner Bros. sounds like an amicable separation, and it paved the way for Columbus to kick-start the highly successful Harry Potter films while allowing Spielberg to pursue other projects.
Then there's Osment, the then-12-year-old acting phenomenon whose voice had almost become synonymous with "the boy who lived." Spielberg was the one who'd advocated for Osment getting the part in his pitched animated film, but what about the actor himself? Was the future star of the director's A.I. Artificial Intelligence game for mastering his Defense Against the Dark Arts lessons and becoming an Auror in the service of the Ministry?
Not according to public comments he made at the A.I. premiere a year later, mere months before Harry Potter and the Sorcerer's Stone hit theaters in November 2001. Osment told the Guardian at the time that he never would have taken the role because he didn't want the films to be made:
"I really enjoy the books and it's one of those things that I think should stay as a book. I don't think the movie will even come close to the level of the book. I think it's going to ruin the book for a lot of kids who haven't read it, because it takes away the part of the book that's so important to its success — being able to imagine all the parts in the book and seeing it in your head."
Osment wasn't wrong to think this way, necessarily. The first movie (and the six that followed) could never equal what readers had imagined for themselves. Of course, this doesn't mean that one medium told the story better than the other. It just means that how kids imagined a game of Quidditch wouldn't pair up exactly with what Columbus and his team put together for Sorcerer's Stone.
This is why Spielberg wanted to make an animated Harry Potter film, why Osment didn't think a live action version of Rowling's story could do the books justice, and why, ultimately, anyone who thinks Osment-as-Harry Potter was a good idea will just have to use their imagination.