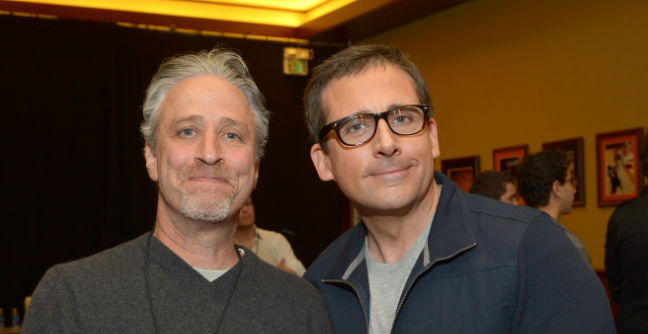 Jon Stewart is going to direct another movie, according to
Deadline
.
Irresistible
, an original political satire, will be written, directed, and produced by Stewart. Stewart reportedly wants Steve Carell to star in the film.
Carell, who plays Donald Rumsfeld in Adam McKay's Vice, may also be looking at some Oscar buzz for his role in the upcoming Beautiful Boy. While nothing is official and there's no way to be certain that Stewart will end up getting the wildly busy Carell, the word "satire" in this news item is encouraging. Stewart has been somewhat of a comedy vagabond since he left The Daily Show. Every now and then he shows up on The Late Show With Stephen Colbert and that kind of seems like it. (He's been a little busy heroically rescuing goats.)
So this is exciting news for his fans. Jon Stewart wants to do something that might make them laugh and he wants to reunite with Carell, who was a correspondent on The Daily Show from 1999 to 2005, during Stewart's early years as host. If they do reunite for this film, it won't be the first time the pair have been a part of the same movie. Who could forget that Stewart had a cameo in Evan Almighty?
Stewart made made his directorial debut with the 2014 political drama, Rosewater. While the movie was decently received (78% on Rotten Tomatoes), it only made $3.2 million at the box office.
(Deadline)