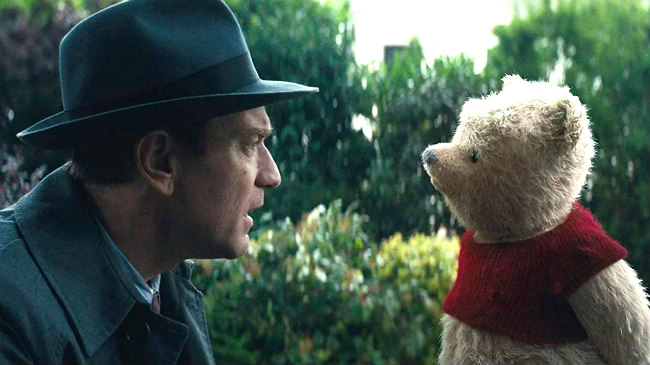 It's beginning to look like Tom Cruise's Mission Impossible — Fallout may be to this August what Christopher Nolan's Dunkirk was to last August: a July holdover that dominates much of the month, although Cruise's pic is faring even better. Fallout scored another $35 million in its second weekend, and after 10 days it's already sitting pretty at $124 million (compared to the $100 million of Dunkirk after 10 days). With little direct competition for the rest of the summer, Fallout should reach $200 million on the backs of repeat viewers and newcomers to the series trying to beat the heat — the franchise high $215 million scored by Mission Impossible II is not out of the question. Of course, when it comes to Mission Impossible, or really any Tom Cruise film, the international box-office is the difference maker. So far, Fallout is playing even better overseas even before its China release. If an aging Cruise can withstand the stunt-work, another MI sequel seems all but inevitable.
It's a mixed bag for Christopher Robin, which came in second this weekend with $26 million. On the one hand, that's a better opening than any Winnie the Pooh film ever (the $9.6 million opening of The Tigger Movie back in 2000 was the previous highest grosser), but on the other hand, this live-action version was designed to reach a much broader audience. It definitely achieved that, but $24.7 million is less than what tracking services had predicted (the lower to mid $30 million range). However, as the only viable option for younger kids in the foreseeable future, Robin should hold well throughout August as parents file in with their kids for lack of anything better to see. The 67 percent score on Rotten Tomatoes won't help much, but it's achieved an A on Cinemascore, so Robin should have decent legs throughout the month. (Alas, it will not be able to add to its profits in China, where the film has been banned.)
Things didn't work out as well for The Spy Who Dumped Me, the Mila Kunis/Kate McKinnon buddy action-comedy. Comedies have not been playing particularly well this year, although there is plenty of action in Spy to justify a trip to see it on the big screen. The film opened with only $12.3 million, less than what studios had hoped for. Reviews didn't help (37 percent on Rotten Tomatoes), and audiences aren't that enthused about it (a B Cinemascore is fairly tepid). It probably doesn't help that it's inviting a lot of comparisons to Paul Feig's Spy, which starred Melissa McCarthy and reached out to a similar demo (the audience for The Spy Who Dumped Me was 62 percent female and 70 percent 25 or older).

Holdovers landed in spots four through seven this weekend. Mamma Mia! Here We Go Again is quietly approaching $100 million, adding $8.9 million to bring its three-week total to $91 million. Denzel's Equalizer 2 is on the cusp of $80 million after scoring $8.4 million in its third week. Hotel Transylvania 3 has now earned $136 million after an $8 million tally in its fourth week. As for Ant Man and the Wasp, it should cross $200 million next weekend after amassing $6.2 million and $195 million overall.
In at number eight is The Darkest Minds. The YA adaptation followed in the trend of recent YA adaptations, which is to say that it barely registered any interest among filmgoers. It earned only $6 million, and reviews didn't help (18 percent on Rotten Tomatoes), with some arguing that the adaptation was too faithful to Alexandra Bracken's source material. The top ten closes out with Incredibles 2 ($4.8 million, $582 million cume) and Teen Titans Go to the Movies! with $4.6 million and $20 million overall. Apparently the latter could not catch fire in spite of one very dark superhero joke.
There is one other notable this weekend. Last week, I suggested that it was hard to predict how well a Dinesh D'Souza movie might do. They apparently generate more revenue when they are going against someone like President Obama or Hillary Clinton than they do when they are pulling for President Trump, as Death of the Nation — which draws similarities between the presidencies of Abraham Lincoln and Donald Trump — failed to break the top ten, earning about $2.6 million on 1,000 screens.
Next week should be an interesting one. The dog days of August kick off with Dog Days, a comedy that seems as though it is combining the sentimentality of This Is Us with dogs. I don't expect it will make much of a splash. Meanwhile, the horror movie The Slender Man and Jason Statham's shark-punching movie The Meg are likely to battle it out for number two, just behind the third week at number one for Fallout.
Sources: Deadline, Box Office Mojo