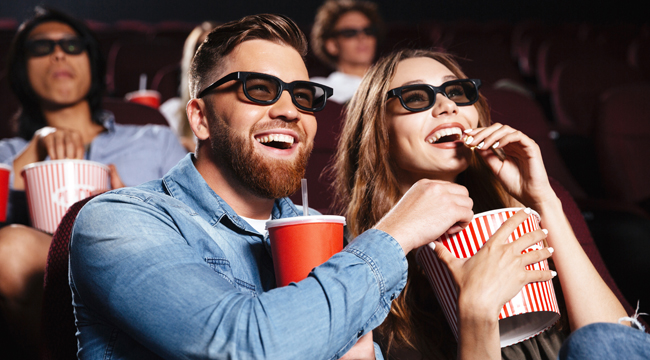 MoviePass' $10 movie-per-day unlimited plan causes the service to lose money through every subscriber who visits the multiplex more than once per month. That fact has never been in question, although MoviePass has explored partnerships and other ventures that it hopes will (eventually) balance out finances. Time may be running out, though. This week, AMC has not only announced a rival plan, but MoviePass has also determined that some action must be taken on their end to make a little extra cash.
That is, the service will roll out some new features for members, who will now be able to pay a few extra dollars for IMAX and Real 3D movies, and subscribers will also be able to purchase tickets for non-member friends though the MoviePass app. Both of those should be welcome developments, unlike the next one. Within weeks, as CEO Mitch Lowe told Business Insider, MoviePass will take a cue from Uber and introduce "surge pricing" for in-demand titles:
The added charge to members will range from $2 to higher for titles the app deems very popular with MoviePass subscribers, according to Lowe. "At certain times for certain films — on opening weekend — there could be an additional charge for films," Lowe told Business Insider.

Lowe said this decision was a way to have its theaters partners see more traffic for big blockbusters in the mid-week and less-crowded weekends following the movie's opening weekend. It was also to "make sure that we can continue to offer a valuable service and support the whole enterprise," Lowe added.
Lowe did mention that this "high-demand" pricing won't apply to users who pay for the annual plan, as opposed to monthly subscribers. Yet the practice of surge pricing has not been received well by Uber customers, some of whom have been surprised by outlandish charges, although it sounds like MoviePass is only tacking on around $2 for the movies in question.
Since MoviePass users are already getting a hell of a deal for unlimited films, maybe this won't cause too much controversy, and perhaps this will slow the current $20 million per month loss for the service's parent company. At this point, and with the Gotti debacle creating more of a bad look for MoviePass Ventures, the service could use all the dollars it can possibly rustle up. If subscribers wish for their too-good-to-be-true bounty to continue, then they won't protest over a few bucks. Right?
(Via Business Insider)