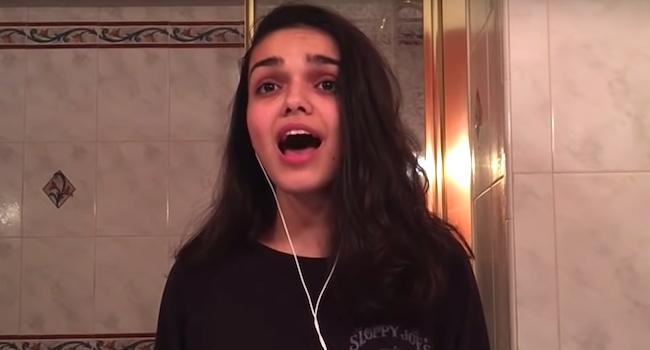 When he needed a Tony for his West Side Story remake, Steven Spielberg went with a name: young Ansel Elgort. For his Maria — the other half of the Romeo and Juliet-in-New York City pair — the legendary filmmaker decided to it work best with an unknown. Her name is Rachel Zegler, a 17-year-old from New Jersey who will be making her film debut under the tutelage of the guy who made Jaws over a quarter century before she was born.
Zegler was the end result of an old fashioned nation-wide casting call, with Spielberg and company searching the Latinx performance community to fill out the Sharks side of the musical's gangland war. (The Jets are the other.) According to Deadline, Zegler first saw the casting call notice in January 2018, and submitted a video of her singing two songs from the show: "Tonight" and "Me Siento Hermosa" ("I Feel Pretty").
Anyway, it worked:
Zegler has a YouTube channel, where she posts videos of her singing songs. Here's her nailing "Shallow" from A Star is Born.
It's still unclear how Spielberg will re-envision West Side Story, which was first mounted on Broadway in 1957 before being turned into the Best Picture Oscar winner of 1961. For one thing, it's about a gang war between Caucasians and Hispanics. For another, New York City is a bit wealthier than it was in 1961. But don't sweat it: The screenplay is by legendary Angels in America playwright Tony Kushner, who collaborated with Spielberg on Munich and Lincoln — two of his smartest, most ambitious films. They got this.
They're also dedicated to keeping the Hispanic roles Hispanic, unlike the classic film, which featured the Russian-descended Natalie Wood as Maria and the Greek-bred George Chakiris as her brother Bernardo. Original cast member (and Oscar-winner) Rita Moreno, meanwhile, will return in a role specifically written for her.
Three other new cast members were also named alongside Zegler, all of them stage vets: Ariana DeBose, of the recent musical version of A Bronx Tale, will play Anita, originally essayed by Moreno; Billy Elliot Tony winner David Alvarez will play Bernardo; and Josh Andrés Rivera, who appeared in Hamilton's first national tour, will play Bernardo best friend Chino.
Little piece of trivia: Did you know the original West Side Story film is the favorite movie of acclaimed auteur Michael Bay?
(Via Deadline)