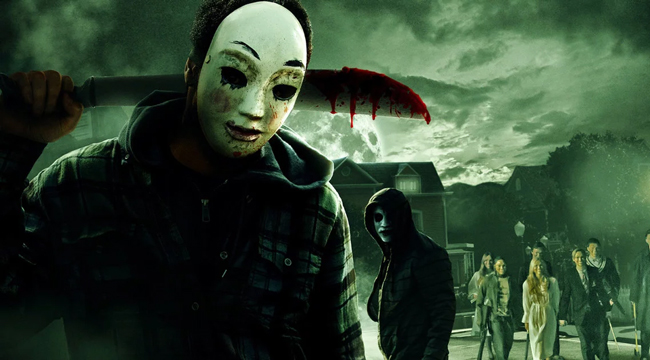 The Purge horror movie franchise imagines a United States where, one night a year, Americans are free to slaughter each other at will with no ramifications whatsoever. This seemed like a ridiculous concept when the series debuted 2013, less so in 2018, to the point where the poster for the upcoming fourth Purge movie, The First Purge, is sure to give some people a legitimate sense of disquiet.
Universal tweeted out the promotional image for the film, which will premiere on the 4th of July. It features one of Donald Trump's infamous campaign hats, with its 'Make America Great Again' slogan replaced by 'The First Purge.'
The First Purge is set to take us back before the earlier movies to show us the conditions that led to Purge nights becoming an accepted part of American society. And while established Purge canon has the totalitarian New Founding Fathers of America party establishing the Purge after a massive financial collapse, the poster's overt reference to our current political climate is a clear insinuation that we're already on that path.
Past Purge films have maintained an over-the-top atmosphere with horror mask-wearing maniacs making up the majority of the purgers. It's unclear whether The First Purge will take the iconography of this teaser poster any further, but replacing those masks with a "Make America Great Again" hat plays on the fears a lot of people have about a growing divide in America.