Tom.
Hey.
Tom Cruise.
Tom.
Are you doing okay, buddy? It seems like you are, mostly, most of the time, what with the still-ongoing success of Top Gun: Maverick and the new Mission: Impossible business and various other projects with colons in the title. These are both cool things and exciting reminders that it can be fun to see big wild-ass action movies in an actual theater instead of on a big screen television at home, just for the WHOOSHES of the planes and the BLAMMOS of the explosions and the collective excitement of seeing it all happen with a few dozen strangers in a dark room, the laughing and the gasping and all of it. You are doing fine, pal.
And I get that your… let's call it "weaponized intensity" is kind of hardwired into your DNA, and that having it there is one of the things that has made this all work for you. We all saw you hanging off that building in Ghost Protocol. We know that you love a big action scene in a blockbuster movie. We know that you love doing your own stunts. But I need you to know that it's okay if y-
TOM
WHAT ARE YOU DOING?
TOM
WHAT IS THIS?
GET OFF THE AIRPLANE, TOM
YOU DO NOT HAVE TO DO THIS
I WILL SEE YOUR MOVIES
I WILL SEE THEM IN THE THEATER
I PROMISE
I SAW MAVERICK IN IMAX ON OPENING WEEKEND
I WAS GOING TO SEE THE NEW MISSION: IMPOSSIBLE ANYWAY
YOU DO NOT HAVE TO PUT YOURSELF IN PHYSICAL PERIL TO CONVINCE ME
YOU DO NOT HAVE TO DO… THIS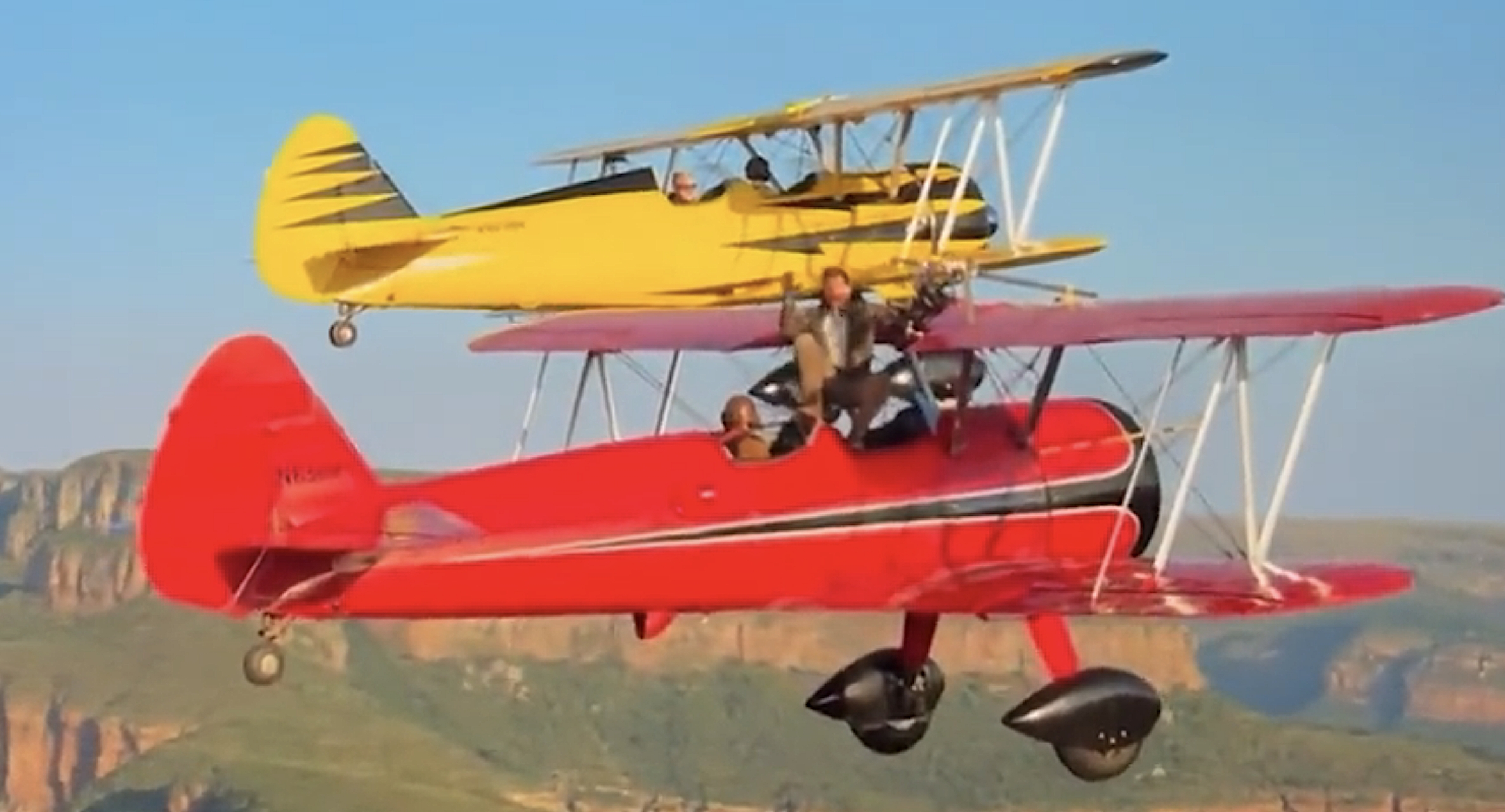 I think you are putting too much pressure on yourself, dude. It feels like you are trying to single-handedly save movie theaters right now. Which is, like, admirable, I guess. Movie theaters have had a tough go of it for a few years now between the pandemic wiping out a year of releases and grinding productions to a halt and the rise of a zillion streaming services making people around the globe much more comfortable with the idea of watching new release movies from their couches on a Saturday night. It's nice that you want to help. But…
Tom.
Dude.
This is a bit much.
I've been worried about you for a little while, actually. This has been bubbling up for years. Right around when I first saw this picture from the Mission: Impossible III press tour.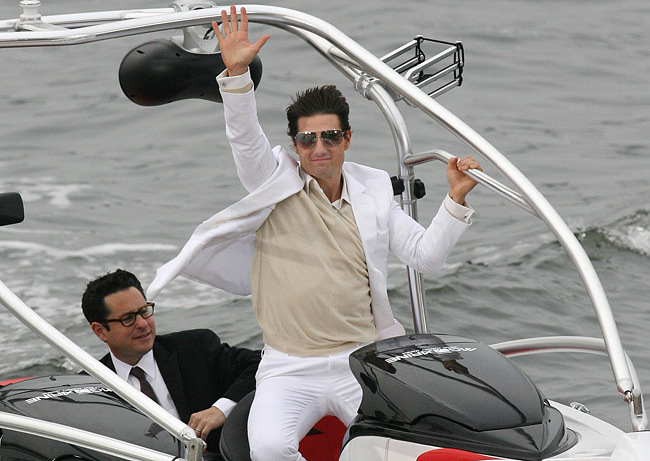 You see what I'm getting at here, right? The thing where you appear to be standing up on some sort of multiperson jet ski slash speedboat thing so you can wave to a group of photographers? You didn't have to do that either, Tom. You are very famous. They were going to take your picture anyway. You did not need to almost maim yourself on a body of water to get their attention. Look at poor JJ Abrams. He looks like he's cowering a little. You're scaring JJ Abrams, Tom!
I'm not saying you have to stop doing your own stunts in movies. You can keep doing that if you want. I would not do it if I were in your position because you are 60 years old and have many millions of dollars and have earned the right to let some 29-year-old maniac who grew up watching the Jackass movies jump off of or into things for you. You can just sit there and drink an iced tea while he does it. No one will even know. Special effects are wild now. They can CGI someone's entire face onto a different person's body and it looks real enough that no one will yell about it too much. The Fast & Furious franchise just sent Ludacris and Tyrese to outer space in a Pontiac and I assure you neither of them were more than 20 feet off the ground ever. It's fine. You can let the computers do some of this stuff for you. It's fine.
You can also let some of these younger dudes pick up the slack. Tell Ryan Gosling to get people back into the damn theaters. He has some charisma. Tell Paul Rudd. Tell Jason Momoa, who seems to be trying, actually, and is someone I think you would get along with. In fact, maybe make a movie with Jason Momoa and then you two can run around — ON THE GROUND, SAFELY — telling people to go see it in the theater. I bet that would work. You would still need to fly in some planes for the press tour, but notice the key word in that sentence. In. Fly in the plane. Not on it. Inside the airplane. They have snacks in there. It's much better.
You know who has the right idea? I'll tell you. Nicole Kidman has the right idea. You know her. You guys were married for like the entire 1990s. She wants people to see movies in the theater, too. But look how she is doing it, Tom.
Yes, sure, there is some excessive energy in this one, too, especially with the thing where she's talking about how "even heartbreak feels good in a place like this," which is madness, but still. Look how comfortable she is. And safe. And she's still being pretty effective! People love this weirdo advertisement! There's going to be a sequel to it and everything! You have options here. That's what I am getting at.
I don't know. I don't want you to stop being you, at least not to the degree that this is the same pile of energy you use to make the cool movies I like. But, and I need you to hear me on this one… you do not have to do all of this, man. You can relax a little. You've done a pretty incredible job getting people into theaters for almost 40 years now and it is okay if you want to sit in a comfortable chair between movies and just, like, tell us that movie theaters are cool. That will probably work, too. There's no reason for y-
Hey…
Wait…
TOM
NO
DO NOT GET ON ANOTHER PLANE
TOM
WE JUST TALKED ABOUT THIS
WERE YOU EVEN LISTENING TO ME AT ALL?
GET OFF THE PLANE, TOM
NO
WAIT
NOT WHILE IT IS IN THE AIR
DO NOT JUMP OFF THE PLANE
SIT DOWN IN THE SEAT
WITH YOUR SEATBELT ON
WAIT FOR IT TO LAND
THEN GET OFF THE PLANE
TOM
LISTEN TO ME
YOU DO NOT HAVE TO DO THIS
TOM