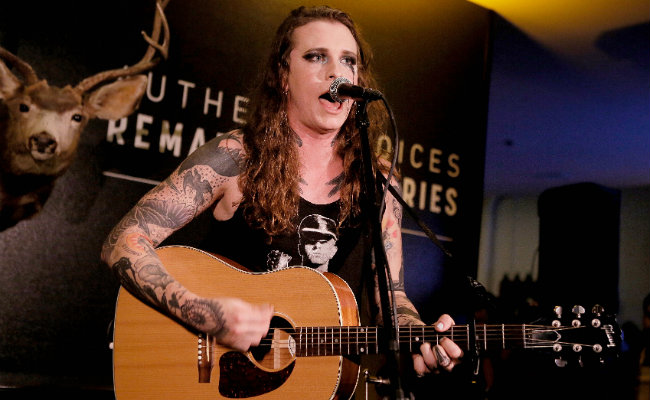 Let's be honest: if you're reading this, you're probably aware that North Carolina recently passed House Bill 2, which prohibits transgendered individuals from using the restroom of the gender they identify as and requires them to use the restroom corresponding with their original birth certificate. The bill has been controversial to say the least. Some more publicized protests have come in the form of boycotts of the state. Rock legend Bruce Springsteen cancelled a concert in Greensboro in April in an effort to show solidarity with those opposing the law. Similarly, the NBA recently expressed concerns over hosting the 2017 All-Star Game in Charlotte, NC due to the bill. The bill is prompting everyone from celebrities to corporate conglomerates to steer clear of North Carolina as a way of condemnation. However, one notable figure in the transgender community is taking a different route.
Laura Jane Grace of acclaimed punk band Against Me! penned an open letter addressing the bill and her refusal to keep her band and her business out of North Carolina today. It's a stirring piece, one that addresses both the issues with House Bill 2 and the importance of Grace bringing her music to the state. Just two weeks ago, Against Me! played a show in Durham, NC, a show at which Grace burned her birth certificate onstage in front of her audience as a symbolic gesture against the bill. In her letter, Grace addresses her actions, as well as her reasoning for not canceling the show to begin with.
"If you're a trans person living in North Carolina," she writes, "It's not like you have the option to be like, 'You know what? I'm gonna boycott my state. I'm not going to work today.'…So my solution was never gonna be 'I'm just not gonna play in North Carolina.'"
She goes on to describe the anxieties leading up to the show, specifically her concerns that by performing that night she'd be endangering others, fearing that someone might attempt harm upon people in the room. It's a sobering message, one that serves as an important reminder of how volatile an issue this is. For every person allied with the transgender community, there are others who condemn their very existence and would even do harm to transgender individuals and their allies.
The letter also explores Grace's songwriting and her gender identity's increasing prominence in the lyrics of Against Me!'s discography, as well as the fact that she believes the bill is a result of a lack of education and ignorance. Ultimately, Grace concludes that it's important that she play in North Carolina both to show support for the transgender community there and to educate those who may not be as familiar with it as others. Grace is in a position to make a difference and that's what she's setting out to do.
Punk is about challenging the norm, about tackling injustice head-on and providing a community for those who are marginalized. Make no mistake, artists like Bruce Springsteen announcing boycotts of North Carolina in protest of House Bill 2 is significant. Tremendously significant, even. But a transgender artist refusing to take her message elsewhere, refusing to stay out, and refusing to abandon her community there? That's punk.
(Via Vulture)