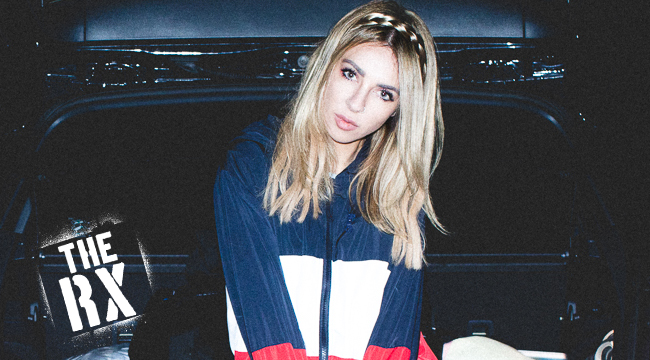 The RX is Uproxx Music's stamp of approval for the best albums, songs, and music stories throughout the year. Inclusion in this category is the highest distinction we can bestow, and signals the most important music being released throughout the year. The RX is the music you need, right now.
I just wanna make a grown man cry.
All week, this buzzy, tongue-in-cheek lyric from Alison Wonderland's "Cry" has been running through my head. I can't help but smile every time I hear it, relishing the jittery beat and sly misandry. The lyric strikes me as funny, since the myth that women are out to hurt men has endured in perpetuity, even though the facts about domestic violence, assault, rape, and murder tell a markedly different story.
Statistically, the most dangerous force in the lives of women are the men closest to them, who routinely abuse them, as an overwhelming outcry of stories within the #MeToo movement has recently highlighted. Comedian Louis C.K. had a popular bit about how the most dangerous thing a woman could do is go on a date with a man, after he was outed for sexual misconduct of his own, the joke was less funny — and even more true.
The subtext of "Cry" is positive and consensual, if a little toxic, and maybe not designed to get into anything as deep as I'm taking it, but while navigating the waves of sexism and stories of assault that keep rolling in throughout the news cycle, this tiny, sharp lyric stuck with me. It's a small rebellion, thick with sarcasm and light in tone, a pop weapon conjured up to fight a losing battle. Given the allusion in her artist name to Wonderland, or a dream world used to escape reality, it's not surprising that Alison is able to expertly wield this trope.
And it's the small and bright moments like that one that make Alison Wonderland — aka Alexandra Sholler — stand out in the overcrowded field of EDM. Her sophomore album, Awake, is among the best records I've heard all year, and I wouldn't at all be surprised if she's a household name by the end of 2018. Already a towering figure in the EDM world, this record offers plenty of moments for Alison to crossover into pop and hip-hop, and it'd be foolish to ignore the way she's expertly blended elements from all three on this record.
On Awake, Sholler is never overtly feminist per se, but given how the EDM world is a microcosm that mostly excludes women — at least onstage — the very presence of a woman's perspective tends to feel radical. Then, there's also the fact that the Australian-born producer actually sings and writes lyrics for her own songs, a technique that most of the biggest electronic producers forego. Her album kicks off with the brief, barely-two-minutes opener "Good Enough," on which the only recurring lyric after a massive build up is the repeated question: "Is it good enough?" It's a gauntlet thrown in banger form, and though the next track is cheekily titled "No" — that's not the correct answer to the question.
On one of the album's standout singles, "Church," Sholler flips the religious imagery of a cathedral and demands her man treat her feelings with that same kind of sacred reverence. It's a clever, smart lyrical twist buoyed by the smashing, crisp synth chorus that shifts the track into gear as an EDM hymn. For women who are sick of the toxic behavior of men around them, this song is now Bible.
After growing up studying classical music and the cello in Sydney — to the level that she was playing with the prestigious Sydney Youth Opera — Sholler later picked up bass and played in a couple indie rock bands before finally finding her way to electronic music. A self-taught DJ and producer, she cites hearing The Knife's "Silent Shout" for the first time as the inception of her interest in dance music.
Kicking off her career in 2012 by remixing artists like Sam Sparrow and Ladyhawke, and releasing her debut single "Get Ready" in 2013, Sholler quickly attracted the attention of EMI Australia who signed her in 2014. Her debut EP Calm Down came out that summer, followed up by her initial full-length, Run in early 2015. Both releases fared well on the Billboard charts, and Run even entered Billboard's Top Dance/Electronic Albums chart at an impressive No. 1.
As a woman who is credited as songwriter and producer on every track of her debut, and vocalist on the majority of them, Sholler is a standout in EDM, where women are generally relegated to the sole role of vocalist, if that. She quickly gained critical recognition after Run's success, including a couple of ARIA nominations — think the Grammys, but in Australia — and was also included on DJ Mag's Top 100 DJs list in 2017.
To follow up her breakout, Sholler took two years writing and working with disparate producers like Illangello, who is known for his work with The Weeknd, Joel Little, who basically helped discover Lorde, and Party Favor, a Mad Decent artist. And while these producers bring pop and dark R&B vibes to their contributions, another fascinating facet of Awake are the hip-hop features. Collaborating with Ohio emo rapper Trippie Red on "High," LA's Buddy on the aforementioned "Cry," and Chief Keef on the deep cut thriller "Dreamy Dragon," Sholler expands her sound to include rap, something her debut didn't really touch, even if it leaned heavily on trap sounds.

Even with so many disparate collaborators, the heart of Awake is clearly Sholler's — and it's a heart that's been through its own set of battles, and turned those experiences into polished, gripping dance-pop. And once again, she's credited as a writer and producer on every single song (save one) here. "I have to write what I'm feeling in extreme happiness or extreme sadness," Sholler told Billboard of the record earlier this year. "This album is about discovering self-value again. Being around things that were very toxic for me really brought me down for a long time, and I realized that I finally had the strength and the choice to get out of those environments."
"I really hope, when anyone hears this album, they take something from that," she continued. "And they hear that you're not alone, and you can bring the strength to bring yourself out of something." On Awake, she has certainly succeeded in creating an uplifting document, one that doesn't hammer you over the head with its strength, but instead flexes inside small rebellions. Who said self-care can't come in the form of a dance-floor banger?
Awake is out now via EMI Australia. Get it here or stream it below.
[protected-iframe id="70877130991e04f0f3f0a0bfb3127939-60970621-76566046″ info="https://open.spotify.com/embed?uri=spotify:album:6Jwpxghteb64iHg6ftMnNo" width="650″ height="380″ frameborder="0″]