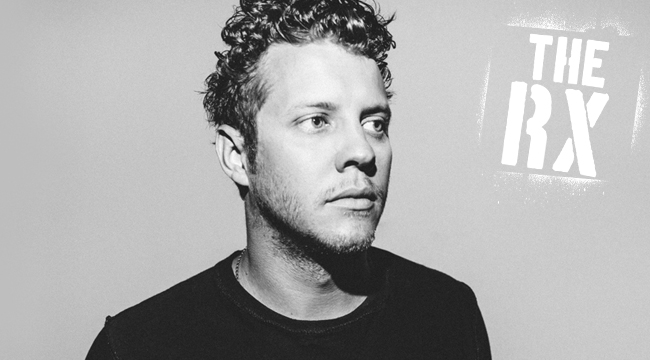 The RX is Uproxx Music's stamp of approval for the best albums, songs, and music stories throughout the year. Inclusion in this category is the highest distinction we can bestow, and signals the most important music being released throughout the year. The RX is the music you need, right now.
The genre known as blue-eyed soul — in which white singers put their spin on R&B templates now decades old — is evergreen. In the opening months of 2017 alone, you can find the James Hunter Six's new album Whatever It Takes, due out February 2nd on the New York label Daptone, Rhye's new LP Blood, out the same day on Loma Vista, and Anderson East's sophomore album Encore, out last Friday on Low Country Sound/Elektra Records.
East, Alabama-born and Nashville-based, has created a brassy, raspy love-letter to the soul of the late 1960s and the early 1970s. During that period, the sounds of genres had not yet been codified, and white singers in the south routinely recorded soul albums — this was the era of Bobbie Gentry's "He Made a Woman Out Pf Me," Tony Joe White's "They Caught The Devil And Put Him In Jail In Eudora, Arkansa" and Charlie Rich's "Midnight Blues." Intra-genre cross-pollination went both ways: Al Green turned Willie Nelson's "Funny How Time Slips Away" and Hank Williams' "I'm So Lonesome I Could Cry" into soul ballads; Glen Campbell had a country hit with Allen Toussaint's "Southern Nights."
After the disco revolution, the distance between the mainstreams in country and R&B grew. But there have been various acolytes of classic soul in country in the years since — think of Dolly Parton's "9 To 5," Dwight Yoakam's "If There Was a Way," Shelby Lynne's "Thought It Would Be Easier." And now comes East, polishing his retro soul until it glows in the dark.
Encore is impressively faithful: The timbre of the brass suggests the Stax trio known as the Memphis Horns, and the backup vocals, layered by Kristen Rogers, evoke the backing groups used during one of producer Billy Sherrill's sessions with Charlie Rich. The organ plays long, shivering lines, and in the tradition of Stax's Steve Cropper, guitarist/producer Dave Cobb lays out a bright, cyclical riff that intertwines with a ticking beat in 6/8 time ("If You Keep Leaving Me") or switches into percussive mode, clenching down on the second and fourth beat along with the drums ("All On My Mind," co-written by another blue-eyed soul devotee, Ed Sheeran).
East has the gravelly authority to grapple with these southern soul backdrops, and like many singers with textured voices, he gravitates to ballads. With the exception of a few barn-burners, Encore stays stately. On ballads, East can emote and combust at his own pace, working towards predictable, highly agreeable, ad-lib-filled climaxes. He applies himself to these duties with enthusiasm and diligence, scraping and wailing through a series of romantic tales. When his backing vocalists chime in, the effect is like sandpaper meeting silk. East gargles and corrodes his words and the women sweep in to pave over his jagged surfaces.
Since the formulas East reaches back to on Encore are tried, true and safely ensconced in the collective musical consciousness, you'll hear echoes of deeply familiar songs here. In East's "King For A Day," there's a whiff of Van Morrison's "Crazy Love;" in "This Too Shall Last" (co-written by Music Row stalwart Natalie Hemby), listen for distant echoes of Smokey Robinson's "The Tracks Of My Tears;" "If You Keep Leaving Me" draws lines to any Otis Redding ballad — "For Your Precious Love," "Waste Of Time" — or the Rolling Stones' "I Got the Blues."
That referentiality probably won't weigh on you too heavily: You've seen The Big Chill; you're a fan of "The Tracks Of My Tears." And historical fetishism is Cobb's specialty as a producer. He's spoken of his love for Roy Halee's production on Simon & Garfunkel's Bridge Over Troubled Water and Jimmy Miller's work on assorted Rolling Stones LPs; he helped Sturgill Simpson resurrect the ghost of Waylon Jennings on High Top Mountain. If you want to make your own version of "I Got the Blues," Cobb is your man.
With Encore, East is entering a crowded field. English singers are always pumping out retro soul variants; last year alone saw new albums from Sam Smith, Paloma Faith and Jessie Ware. Kelly Clarkson's latest record, out in October, was billed by her new label, Atlantic Records, as a modern homage to Aretha Franklin.
And in East's stomping grounds in Nashville, singers have also been recording soul at a steady clip in the last five years. For proof, queue up Toby Keith's "Little Miss Tear Stain," Miranda Lambert's "Holding On To You," Eric Church's "Like A Wrecking Ball," Garth Brooks' "Tacoma," Maren Morris' "I Wish I Was," Little Big Town's "When Someone Stops Loving You" and Carly Pearce's "Hide the Wine." Lady Antebellum even went the distance on "You Look Good" and hired a horn section.
But East appears to have the marketing savvy to stand out, even with the glut of blue-eyed soul floating around in the pop universe. He managed to place a song on the soundtrack for Fifty Shades Darker, which grossed $381 million worldwide. That look led, in turn, to performance opportunities for East on Jimmy Kimmel Live! and Late Night With Seth Meyers. If you watched a football game this weekend, you heard East singing a cover of Bob Dylan's "Forever Young" in a commercial for Ram trucks. And he's been embraced by Triple A radio (Adult Album Alternative), which sent "All On My Mind" to No. 1 in December. Triple A is famous for incubating vintage numbers: Adele's "Rolling In The Deep" started at Triple A before storming pop radio, and so did Portugal. the Man's "Feel It Still."
It's important to note that there's another place that listeners can find updates of the southern soul sound: within R&B, this strain is alive and well. If you turned on an R&B radio station last year, you'd have caught Leela James' "Don't Want You Back," La'Porsha Renae's "Good Woman," Anthony Hamilton's "What I'm Feelin'" and Tamar Braxton's "My Man." But those songs didn't end up in major movies and did not get the chance to cross over to pop radio. Hopefully, journalists and soundtrack sync-ers who enjoy Encore — those Cropper-like leads, those alluringly scratchy vocal peaks — will remember the origins of East's sound and offer similar opportunities to all those who honor it.
Encore is out now via Elektra Records. Get it here and stream it below.
[protected-iframe id="c8292268d09b735b418d418ea0462e9a-60970621-76566046″ info="https://open.spotify.com/embed/album/6EIlfHDKZxmDMjcaRbFj8d" width="650″ height="380″ frameborder="0″]