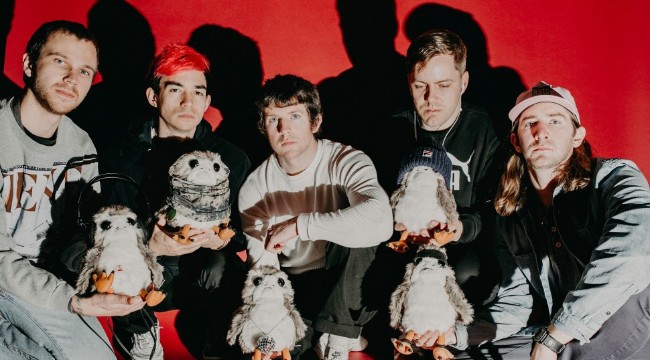 If you've read a story about Angel Du$t in 2019, it's probably discussed the band's massive sonic overhaul and resistance to genre classification. After a handful of records chock full of pummeling hardcore riffs anchored by striking melodies, the band opted to strip back the aggressiveness of the music and focus on the latter melodies for their latest effort Pretty Buff.
A typical band that's known for slam dancing and stage dives often doesn't even try to head down the road of alienating their fan base, understandably so. Some fans from the punk world — probably the same ones that criticized Against Me!'s transition out of the underground scene into the mainstream — quickly turned up their nose at the thought of a hardcore band going "acoustic."
But Angel Du$t isn't a typical band, and they somehow managed to pull it off, drawing the old school fans back in while also opening themselves up to new audiences and opportunities. It's easy to see the appeal for fans of all sides of the musical spectrum: Spanning thirteen tracks, Pretty Buff gives space for an undeniable cathartic singalong anthem "Bang My Drum" to exist alongside a song like "On My Way," which features the band going all-in on what I like to call an "acoustic breakdown." All told, Pretty Buff documents a band taking a massive step out of their comfort zone and into completely uncharted territory, with extremely impressive results.
After a month on the road supporting emo-rapper Wicca Phase Springs Eternal, which opened up the world of Angel Du$t to yet another demographic of awestruck fans, we caught up with frontman Justice Tripp over the phone to discuss the band's new album, dogs, and — perhaps most importantly — Detective Pikachu.
To start off, I was hoping that we could do something kind of easy… what are four words that you would use to describe Angel Du$t on previous records?
I guess fast, melodic, sexy for sure, and phat.
Did you say phat?
Phat, yeah.
With a "ph" or an "f"?
"Ph," always.
And what are four words that you would use to describe Angel Du$t today?
Can "less fast" be one word?
Sure.
Alright, less fast counts as one word… Melodic, sexy, phat.
Perfect. What sent you down the road toward the sonic shift that is immediately evident on Pretty Buff?
There's been a lot of steps in the past that have been headed in this direction. A lot of the instruments and most of the new concepts that appear on this record definitely appear on old records, but there's a difference in emphasis now where it's more acoustic. [It was] a really conscious decision for sure to make music that we like and that separates us from our peers a little bit.
Do you think that it's important to separate yourself from your peers?
Absolutely. I think there are too many bands that imitate one another, There are bands currently that stand out on their own and that's very inspiring to me. I think it's huge when you're in a car with your friends and someone puts on the radio and you know exactly who it is immediately. You don't have to ask who is that? I would hope that's the case with Angel Du$t.
Dogs are a big theme on the album. Besides dogs being cool and cute, is there a reason that you put that emphasis on dogs here?
I've been really focused on dogs. We're all dog fans and we have our own little dog that we follow on Instagram. Then for me personally during the time we were recording the record, I put my dog asleep, my dog I've had the last 14 years. The last two songs that I wrote, I think were influenced by that. It's just been at the forefront of my mind. Hopefully, this makes everybody appreciate their dogs and love them a little more. I just like dogs and I think a loss like that really brings it to the center of your focus.
I'm sorry to hear about your dog.
It's life, it happens. He was really old, he lived a really long life. I've been looking at dogs for adoption in my local area and keep my eye open for the right dog. Specifically for me, the right dog is very old and very little. I just want a really old dog that I know isn't gonna live long and I can just ball out on it for a little while.
I see on the band's Instagram there's a lot of Pokemon. What are your thoughts on Detective Pikachu?
I am ecstatic about Detective Pikachu. I think we all are.
I saw something today that when they were shooting test footage for Pikachu, they had Danny DeVito doing the voice instead of Ryan Reynolds.
Stop. I think that might actually be cooler. Holy sh*t.
Back to the music. What song on the album came easiest and hardest to you guys?
"Bang My Drum" was a long process writing-wise just because it is kind of uncharted territory. I wrote the foundation of the song and rewrote it a hundred times before I even showed anybody, then Will Yip had some cool takes on making it a better song. Building that song was definitely a little more work, which I like. All the effort pays off.
The last songs I wrote for the record were "Take Away The Pain" and "Park" which are about my dog. Just looking at the record and being like, 'Okay, what's like the most raw interpretation of what I feel.' I recorded a demo real quick of what I was feeling and I brought them to Will and the band. Those songs are very organic, came so naturally, and I think it's because it's honest about lyrically and just the actual music represents the actual mood I was in so clearly.
All the members of Angel Du$t are in and around other bands like Turnstile and Trapped Under Ice. What's your plan for balancing like all of the touring that everyone has to do all the time?
It's a lot of communicating. There's really no plan, just kind of wing it. People always wanna identify a band as a full time or side project. We are full time people and we play in bands together and that's it. We're here together right now. We just spend a lot of time together and it's not a problem for us. We have a schedule that we share to keep us all on the same page and it's actually insane. There's never a time when we're not together in some capacity. I like it. You only get so much time on earth, let alone time to be young and free and do what feels good. So I want to do as much of what feels good as possible.
You guys just signed with Roadrunner Records. Have you felt any sort of distinct changes since signing to a major label?
I think our whole team, since its inception, has a common vision. I don't think that vision's changed one bit. Everybody is just on board and down for that vision and I think that's cool. Just really cool creative people that appreciate what we do and want to help extend that vision.
What are you most excited for in this next phase of Angel Du$t?
An opportunity to stand out and influence people, hopefully creatively. Also the opportunity to do tours that we normally wouldn't get to do, meet people we wouldn't normally get to meet, expand my horizons. Just take us to a different place creatively and physically. I want to be everywhere I want to see the world. I like being in a band I like making music and I never want to be in a box and limit what that means. I just want to see everything. I want to do everything.
Pretty Buff is out now via Roadrunner Records.
Angel Du$t is a Warner Music artist. Uproxx is an independent subsidiary of Warner Music.