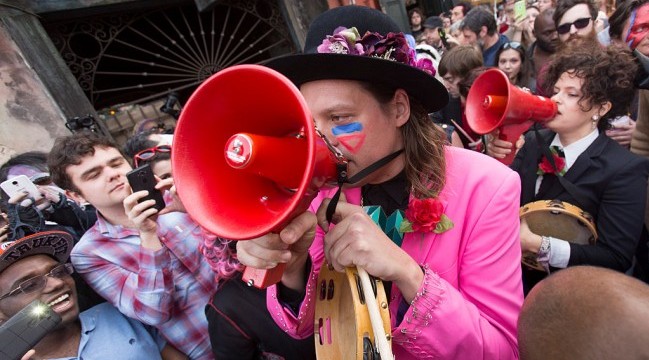 Update: Arcade Fire, Preservation Hall Horns, and RAM have released a theme song for Krewe du Kanaval, titled "Ann Ale! (Let's Go!)." You can listen to the song below.
After a rollout for their latest effort Everything Now that spread its wings wide in its attacks on media and technology, Arcade Fire's new project stays a little closer to home. As revealed in a recent New York Times feature, later this year, the band's co-founding couple Win Butler and Regine Chassagne will celebrate their adopted home of New Orleans — to which they moved three years ago — and Chassagne's Haitian heritage with a "raucous procession" by a Haitian-themed Mardi Gras troupe through the city's streets.
Founded in collaboration with the Preservation Hall, the troupe is called the Krewe du Kanaval and the parade will take place in the period of revelry before Lent. With plans to march through the French Quarter and Treme, the krewe is comprised of Butler, Chassagne and members of the Preservation Hall Jazz Band, alongside local and Hatian musicians, and will take place a week before Mardi Gras kicks off on 2/13.
Arcade Fire has long been a vocal supporter of promoting Haitian culture and music, with the country playing a large part in Chassagne's upbringing. "I'm the one pushing for it," she told the Times. "And I'm pushing for it because it's the story of my parents, and the culture. Their culture is what made me who I am."
For the Krewe procession, Chassagne, Butler, and Preservation Hall's creative director Ben Jaffe have been reaching out to New Orleans' local Haitian community to urge their participation in the festivities, with ad spots on Radio Gonbo Kreyol, which is a New Orleans internet radio station that serves Creole speakers. Of course, the band is no stranger to organizing large gatherings in the streets of New Orleans, as they put together a massive parade (also alongside the Preservation Hall Jazz Band) in January 2016 to honor the legacy of David Bowie, who had died earlier that month.
Krewe du Karnival will be taking to the streets of New Orleans later this week, in anticipation of the city's upcoming Mardi Gras celebration. Pick up tickets here, and check out the full schedule of the day's events below.
1:00-5:30PM
Kanaval at Congo Square: Soundsystem, food & drinks, musical performances and tributes. (free and open to the public)
2:00-3:00PM
Grand Procession through Treme (optional walking parade, free and open to the public)
5:30PM
Closing Procession to Toulouse & Chartres Block Party (free and open to the public)
5:30-9:00PM
Gonbo Kreyol Block Party with Haitian DJ's, food trucks, etc. (free and open to the public)
8:00PM Until
"Rhum and Drums" Kanaval Ball at One Eyed Jacks ($150 tickets benefiting KANPE and Preservation Hall Foundation)