The scarcity of ascending rock bands able to top festival lineups is not anything new, but it might be more evident in 2018 than ever. Earlier in this decade, we saw artists like The Black Keys, Arcade Fire, Florence And The Machine, and even Mumford & Sons rise to that level, but the last few years have felt particularly light on rock bands breaking through to the highest level, mostly because rock music, in general, has been waning in popularity. That's why so many events keep going back to the well with artists like Muse and Red Hot Chili Peppers, proven forces on the biggest stage that don't do much in terms of bolstering a festival's tastemaking credentials.
So, it felt particularly significant when Arctic Monkeys started appearing near the top of festival lineups in the last few months, once word began to spread that a new album from the Sheffield band was imminent. First they topped lineups for the likes of Firefly and Oheaga, but eventually, they also popped up as headliners for some of the biggest of North American festivals: Lollapalooza and Austin City Limits. Though the band had largely been drawing that sort of placement overseas, this album cycle, which officially commences this week with the release of Tranquility Base Hotel & Casino, seemed like a major breakthrough for the rockers. In a time where virtually no guitar bands were on the upswing, Arctic Monkeys were a trend all to themselves.
Last week, the British four-piece began touring in support of their soon-to-be-released sixth record, beginning with a pair of small shows in San Diego and then their first big date of this cycle at the Hollywood Forever Cemetery. In LA, events at the cemetery are a tradition for the warmer months, be it screening films on the weekends or the occasional big outdoor show that brings picnickers content to sit far away from the stage as well as enthusiastic standers pushed as close to the stage as possible. Even if the space feels massive, it's nothing compared to the two Hollywood Bowl shows that the Monkeys have already announced for the fall. If both of those dates sell out, that's more than 30,000 tickets to see the band, putting them in the same realm as the biggest bands in the industry.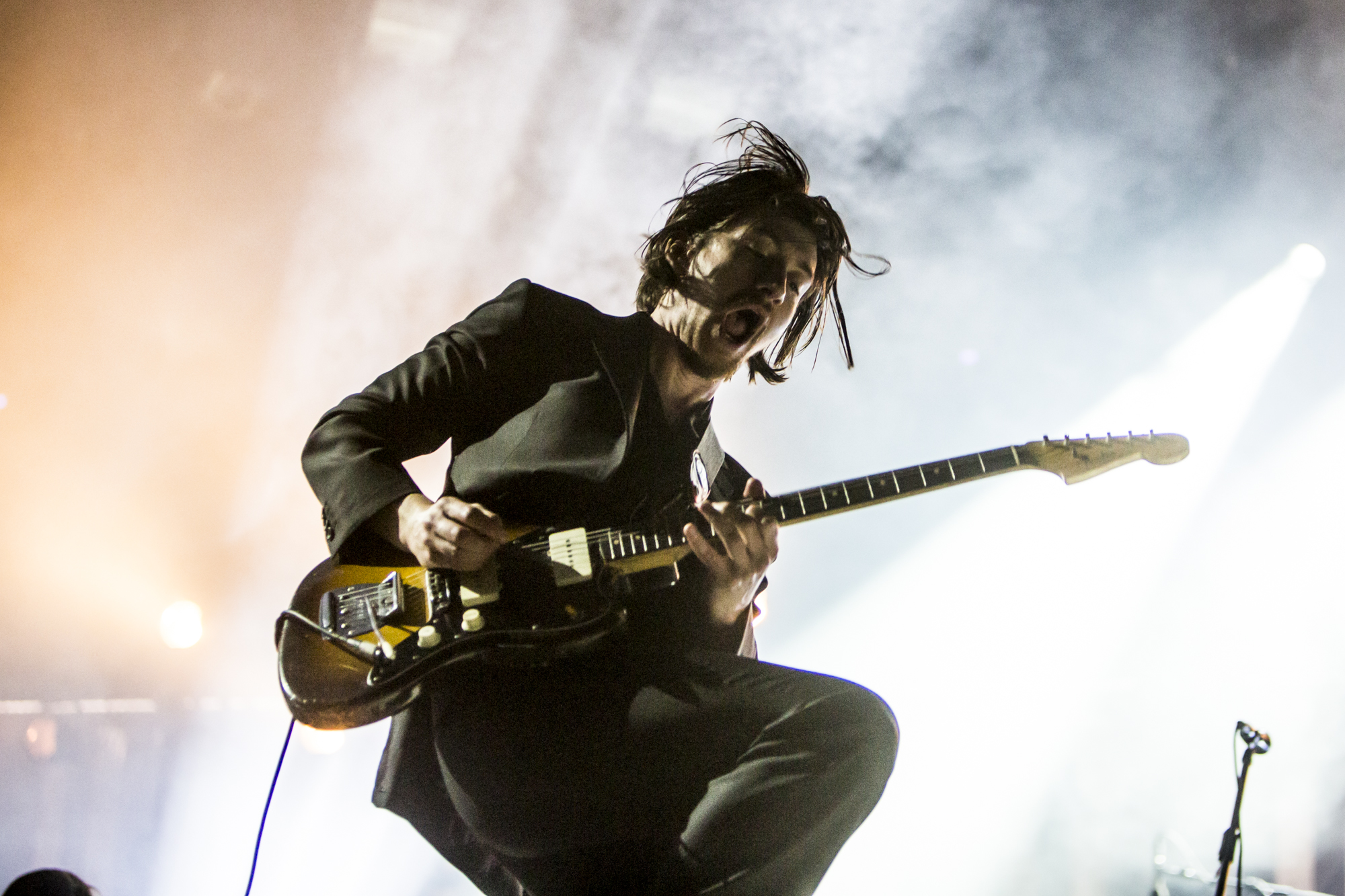 If you are from England, this isn't surprising at all. From the band's emergence in 2006 with the beloved debut Whatever People Say I Am, That's What I'm Not, they were treated like the second coming in their homeland. That album sold an unfathomable 360,000 copies in its first week, becoming the fastest-selling debut in British music history. And while America took notice, their popularity didn't really blossom with the ensuing albums, but in the UK, they became the defining British band of their generation.
It wasn't until their fifth album, 2013's AM, that the band seemed to bust through a wall domestically. It was their highest charting release yet (peaking at No. 6 on the Billboard 200) and offered up a pair of songs that broke through on the radio. "Do I Wanna Know?" in particular became something of a signature song, topping the alt charts and becoming their first song ever to place on the Hot 100. That their popularity as a live band has soared in its wake makes perfect sense.
Of course in their Saturday night cemetery concert, no song got quite the same reaction as "Do I Wanna Know?" The lead guitar riff that the track leans on throughout has secured a spot in the pantheon of great guitar riffs, so when those notes first ring out, any crowd will erupt, even one as dedicated as this one. When they play the final slot at some of the biggest events in North America this summer, this will be the moment that people wait for.
But elsewhere, Arctic Monkeys have other signature moments that make their rock and roll ascendence make sense. "Why'd You Only Call Me When You're High?", their second biggest radio hit, also plays like a singalong, while their first ever brush with mainstream success, "I Bet You Look Good On The Dancefloor," manages to be both a song that many people know and an all-out rager. When they are faced with winning over casual listeners, these will be the moments that will do it.
But what strikes me most about seeing the Arctic Monkeys in 2018, at the beginning of what will be one of the most important of their career, is how their fans treat nearly every song like it is a hit. At this weekend's show, they drew most heavily on AM, but sprinkled in at least a couple songs from every album, paying proper respect to the band's longevity — and felt like a reward to their faithful. Their current trajectory creates a perfect scenario, they're reaching their most popular point right when they have the back catalog to really support the audience sizes they're attracting. The same happened to The Black Keys, Modest Mouse, Kings Of Leon, and even Arcade Fire when they reached the point that they could headline a music festival, all of those bands they weren't just catapulted by newfound radio success; their reach was earned.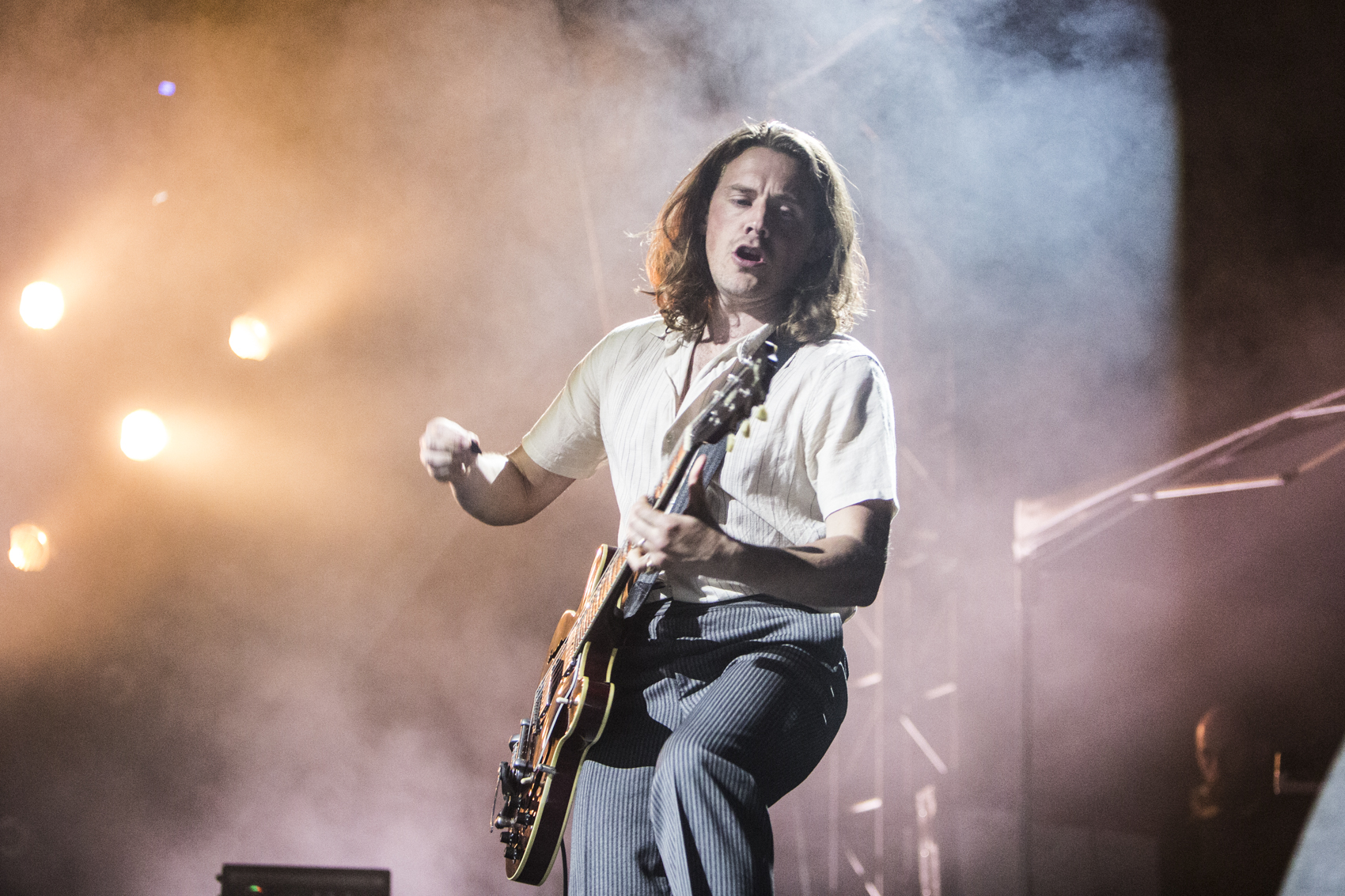 Of the handful of new songs they played, none stuck out as surefire commercial successes so far, though the opening track "Four Out Of Five" shimmers with glammy showmanship. Bandleader Alex Turner retreated to a piano more than ever on the songs, and, at least in this crowd of superfans, every note he played was eaten right up. Truthfully, if the band continues to play just a few new songs live when the album is actually released, it won't really matter if they are able to build off AM's success. This moment for the band isn't based on the new record, that's just the peg to honor it. Instead, this is a cumulative score, the end result of 12 years of hustle.
But the Arctic Monkeys do provide something that is sorely lacking in the current crop of ascending rock bands. There's a certain swagger to their performing style, an inherent conversation with sexiness that connects the band to some of the great success stories in rock history. Turner doesn't try to be Mick Jagger or Robert Plant — he's not nearly that much of a ham — but there is an awareness that our current age of shy, everyday rock stars is coming to an end.
Even as his Ponyboy style fades away to his current weary, bearded look, the band exists on stage with an awareness that everyone is there to see them. Without many tricks of lighting or projections, the group is still completely captivating to watch, just by virtue of being on stage and performing. When you are the preeminent rising rock band in the world, you have to know it. Humility isn't going to save rock and roll, but maybe the Arctic Monkeys can.