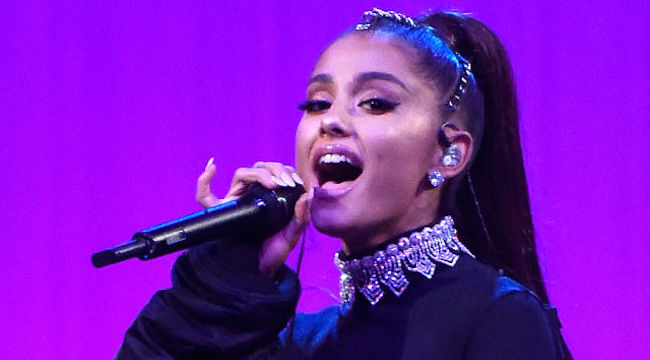 Almost everyone showed up for Ariana Grande's benefit concert for the victims of the Manchester bombing. That's true of stars — including Grande and Katy Perry — as well as fans. In spite of a warning that another attack might occur at the benefit, fans turned out in droves and brought their money with them. According to TMZ, the concert has already raised $12 million and that number is expected to grow.
Outside of the concert, the internet was enjoying the show just as much as the fans. Thanks to a live-stream of the show, Perry's emotional speech calling for people to connect and love one another spread well outside of the cricket grounds where the show was staged. And footage of a local policeman playing Ring Around The Rosie with a group of Mancunian kids during the show warmed the hearts of people on Twitter. But few moments had more power than Grande's performance, which found her returning to the city where her concert was attacked less than two weeks after it happened.
Grande's set included a performance with a local high school choir, some of whom were at the Grande's concert on the night of the attack.
All proceeds from the concert went to the We Love Manchester emergency fund, which will support people injured in the attack and their families.