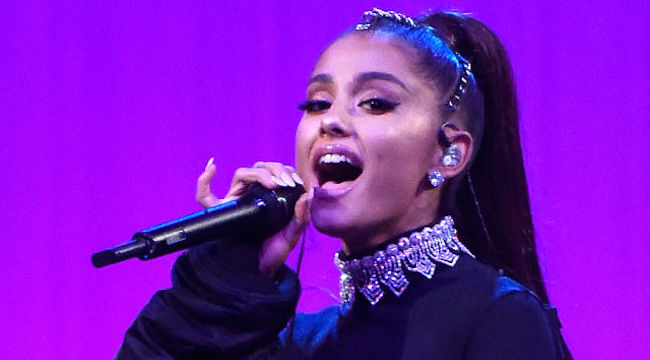 Ariana Grande has officially canceled some tour dates after the Manchester Arena terrorist attack outside her concert on Monday took the lives of 22 fans and injured many more. After rumblings of a cancelation, her reps put out a statement on Wednesday explaining that the Dangerous Woman Tour will be off until June 5.
"Due to the tragic events in Manchester, the Dangerous Woman Tour with Ariana Grande has been suspended until we can further assess the situation and pay our proper respects to those lost," Grande's team said in a new statement to Entertainment Weekly. "The London O2 shows this week have been canceled as well as all shows through June 5 in Switzerland. We ask at this time that we all continue to support the city of Manchester and all those families affected by this cowardice and senseless act of violence. Our way of life has once again been threatened but we will overcome this together."
The canceled shows include London, Antwerp, Łódź, Frankfurt and Zürich. They will not be rescheduled. However, Grande will be back starting June 7, when she's planning on bringing her concert to Paris at the Accorhotels Arena. She finishes her European dates on June 17, and then she's off to the Latin American jaunt of the tour.
ISIS have claimed responsibility for the terror attack, and police have taken multiple people into custody in connection with the bombing. U.K. Prime Minister Theresa May has called the act "appalling," while President Donald Trump called out the "evil losers" who did it. Millions of people have poured out their thoughts and condolences on social media, including celebrities like Taylor Swift, John Legend and Harry Styles, who altered his entire concert to pay tribute to his hometown of Manchester.