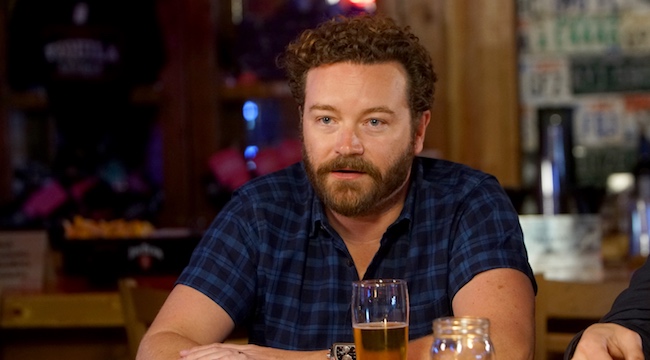 The accusations against Harvey Weinstein have of course led to a torrent of other stories about celebrities being accused of sexual assault and/or harassment. Before that all came to light, though, it was reported earlier this year that former That 70's Show star Danny Masterson is being investigated by the LAPD for "violently raping" four women, as the department put it.
One of these women is Chrissie Carnell Bixler, who's married to At The Drive-In frontman Cedric Bixler-Zavala. Now, Bixler-Zavala is speaking out against Masterson and the Church of Scientology, of which Masterson is a member. In an impassioned series of tweets, the singer wrote that he and his wife are being harassed by the church, that the only apology his wife got was "a letter from him that would make your skin crawl," and that the allegations against Masterson are referenced in At The Drive-In's music:
"My wife is one of Danny Masterson's rape victims. Of course Danny, being the scumbag he is, outed her by name a while ago with the help of his ding bat publicist Jenni Weinman. The Church of Scientology has been harassing us since last year when she pressed charges.

Our phones and computers have been tapped and the Church has been outsourcing private investigators and various thugs to follow and try and intimidate my family under the policy known as fair game. If anything happens to my wife while I'm gone on tour then you'll know why.

All my wife ever wanted was an apology from Danny Masterson for raping her. All she got was a letter from him that would make your skin crawl. Can you imagine how the other three victims feel? Allegations my ass we are stuffed to rafters in evidence. My wife pressed charges against Danny Masterson a year ago after learning of the other victims that he and the Church of Scientology had silenced. Twitter, TMZ, LAPD are all bought and paid for.

Last year around November I got a cease and desist letter from Marty 'The Renfield of Hollywood' Singer because my tweets were too suggestive. I never named Danny once. Marty use to rep Cosby. Need I say more? I predict Danny Masterson will pull a Polanski and flee.

You might wanna go back and re-read my 'nonsensical' lyrics off our last ATDI record."
At The Drive-In released In•ter a•li•a, their fourth album and first in 17 years, in May. Metal Sucks notes that the lyrics of "Incurably Innocent" seem to be targeted at Masterson and the Church of Scientology, since the words reference Franklin Avenue, where the church's first Celebrity Centre International is located in Hollywood:
"He keeps a-hiding your photograph
Of the moment that you needed to emasculate his
Photograph but you locked up in the trance of a memory
Photograph of the moment that you needed to emasculate his
Photograph but you locked up in the trance of a memory

Marching to the coffins on Franklin Avenue
Preyed on the anguish, you better run
Always dragging a finger across his throat
Man is the fixer to sage the ghosts
And the faith that awarded his every move."
Bixler said recently that she "was sick" when she heard that Netflix has chosen to continue its relationship with Masterson and his show The Ranch, and that the decision made her "feel unimportant":
"I was sick when I read Netflix's statement on continuing with The Ranch and continuing their working relationship with a man who has violently raped and abused so many women. Four months after the story broke, and the LAPD confirmed a criminal investigation, Netflix ordered another season of The Ranch. […]

For me, what Netflix has done, feels like a continuation of how the Church of Scientology made me feel when I reported my rape to them, as well as how Danny Masterson made me feel when I would beg him for an apology, an explanation, anything. I was made to feel unimportant. I was made to feel like I didn't matter. Like what Danny Masterson did to me didn't matter. My body doesn't matter, because it doesn't belong to me. The trauma and emotional pain doesn't matter, because I just don't matter."
The Huffington Post reported earlier this month that despite "overwhelming" evidence, the charges against Masterson "have not been approved for filing." Netflix responded to the publication, "We are aware of the allegations and the subsequent investigation, and will respond if developments occur."
Find Bixler-Zavala's tweets below.
(Via Huffpost / AV Club / The Daily Beast)