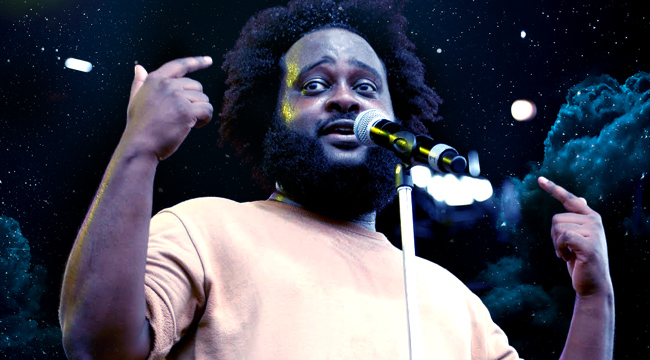 Bas has a keen, 21st century artist's understanding of how to grow and maintain a loyal audience. The genial conversational style that the Dreamville rapper has cultivated between himself and his most ardent fans comes naturally — because it's the same one he uses when talking to close friends. One particular shorthand that his supporters have latched onto is the word "milk," both he and they use the word liberally.
In some darker corners of the internet, the "glass of milk" emoji is associated with white nationalist ideology, in the Bas fandom it's far more innocuous, and smashing it on the keyboard adds extra emphasis to online conversations. Curious about the expression, at once an adjective, a noun, a state of being and a term that somehow sums up his laidback but self-possessed nature, it seemed like the best place to start a conversation with the rapper on a mid-August evening in Prospect Heights.
"It's a term that originated among friends of mine in the past few years," Bas explained, stoically sipping his drink as the backyard space of the bar where we're seated got louder and more crowded. "It's kind of like 'sauce' or 'drip' […] just a word we use for anything dope. I think that's a Queens thing, we're constantly taking words and giving them new meanings."
Abbas "Bas" Hamad was raised in Queens and was deliberate about being close to home for the release of his third studio effort, aptly titled Milky Way, released this past August. But his story began in Paris, where he was born to Sudanese parents. His father's work as a diplomat led to an itinerant lifestyle and the family — rounded out by his mother, sister, and brothers — moved back and forth between France and Qatar before settling in New York when Bas was eight-years-old. So while he does consider himself a New York rapper, it has more to do with the city's melting-pot reputation than loyalty to regional signifiers.
A pair of mixtapes — Quarter Water Raised Me Vol. 1 and Vol. 2 from 2011 and 2013, respectively — set the stage for his full-length debut, Last Winter, in 2014. His most commercial release up to that point, the album introduced Bas to a wider audience. Its tracklist, featuring songs like "Fiji Water In My Iron" and "Donk Of The Day", teased a lighthearted approach to music, but it was far from a parody album. Last Winter was a window into the life of a rapper coming to terms with life as a rising star. Bas raps over beats inspired by salsa music, trap, electronic music and piano-driven melodies with equal ease, detailing the excesses of life on the road. He also found inspiration for it far from Queens; the beat for "My N—- Just Made Bail" was unearthed in Belgium, while Bas was on tour with Dreamville founder J. Cole who features on the song.
But international travel isn't strictly a perk of new-found fame. Thanks to his father's job, young Bas was able to travel the world and could count running through the deserted aisles of the United Nations General Assembly as a childhood hobby. As a kid, he didn't always look forward to trips to Sudan during summer holidays while his New York friends stayed behind to attend basketball camp and the like, but in retrospect, he knows that those journeys gave him invaluable perspective; this globetrotting history and broad international outlook still guide his creativity.
"My music is very globally inspired," he said. "My family is from Sudan and I'm the youngest of five siblings, they were all into different types of things: French house, UK garage, east coast, west coast and down south hip-hop, West African music. When I make and listen to my own music I can spot all of those influences."
Aside from helping to shape his musical tastes, some of Bas' siblings also led the way into the industry. One brother performs as DJ mOma, bringing music and culture from the African continent to wider attention. Another, Ibrahim, was friends with J. Cole from college and introduced the future multi-platinum-selling rapper to his younger brother years before either of them knew how far music could take both. Ibrahim also helped Cole build the Dreamville record label, where Bas is now signed.
In addition to Last Winter, Bas has released two further albums via Dreamville and distributed by Interscope: Too High To Riot in 2016 and this year's Milky Way. He is aware that in today's musical landscape two years between albums can seem like an eternity, but growth and maturity through trial and error are his chief concerns, and he stated that his music will never be "microwavable," or released without careful attention to form and substance. "Every time I come out with something, I want it to feel new and that takes time," he explained. "[I need to] work with different people, have different experiences and I'm still working on my craft."
Milky Way does indeed represent a departure from his past work by showcasing more uptempo production and warmer tones. On the lead single "Boca Raton," Bas and A$AP Ferg glide over a shimmering riff produced by Sango, delivering an anthem for summer insouciance. That sam bachelor bravado is present on other tracks like "Front Desk" and "Fragrance," but "Infinity + 2" and the tropical house cut "Sanufa" reveal something of a bleeding heart. Two interludes which sample dialogue from the films White Men Can't Jump and A Bronx Tale bridge the gap between the two modes, and it's clear from the album's romantic offerings that he has been working on his singing voice. When asked about his love life, he deflects graciously: "Those songs are [written] in the moment," he said. "You have to live through things that inspire you… I couldn't have written those songs two or three years ago. You go through some things, you get grounded and humbled."
While he didn't give much away about what exactly "grounded and humbled" him as we talked, he is slightly less coy about love on Milky Way; it's one of the ways in which Bas is trying to peel back more layers of his personality and progress as a songwriter. Derick Okolie, Head of Strategy at Dreamville and Bas' friend since high school, has witnessed this eagerness to advance his craft in real time. Okolie was the person that convinced him to try rapping, during a memorable house party in 2010, coincidentally on Bas' birthday. "[His] dedication to making music is what gave me a sense of purpose," Okolie explained in an email. "It's really one of the few things I've ever believed in. We went from goading him into recording a freestyle, to watching him perform for thousands of people at festivals around the world."
Thankfully, advancement doesn't have to mean abandoning old formulas or replacing his inner circle. Bas' tour manager Matty P, who sat nearby during the interview, has known Bas since college. Some of his former collaborators like Dreamville-affiliated producers Ron Gilmore, Kurzweil, and Cedric Brown all have credits on Milky Way, and it's his second album to be mastered by Kendrick Lamar's engineer Derek "MixedByAli" Ali, who Bas cites as one of his closest friends in Los Angeles (where he now lives). It's also his second album to boast vocals from British duo The Hics, who previously featured on Too High To Riot.
Bas describes his previous album as "moody and introspective," but this time around Okolie thinks the rapper is trying to convey conviction and love on Milky Way. "[The album is about] confidence in who you are, the path you've chosen, in love and in sharing that love with the most important people in the world," Okolie said. This dovetails with an anecdote that inspired one of the album's angstier tracks, "Barack Obama Special." Before the first verse, Bas dedicates the song to his "b*tch ass neighbors" whose racist antics drove him out of his previous house in Los Angeles. He referred jokingly to the affair as "part of upward mobility," but I privately marveled at his resilience after listening to him recount the threats and harassment he endured.
There's nothing to begrudge about Bas' zen, which feels stark against the buzz of the crowd that kept gradually filling up space around us. Our interview was unwittingly scheduled at the same time as the finale to a series of lively happy hour events, and poetically, at one point, the rapper's J. Cole-featuring single "Tribe" wafted through the glass door separating the party at the bar from the terrace. When Matty headed inside to check out the crowd, a bemused but proud Bas carried on speaking without missing a beat. He was back in the city he loves with a new project Milky Way clearly making its way into the lives of those who lived there. Life was good, or surely, as he and his fans would say that's "milk."
Milky Way is out now via Dreamville Records and Interscope Records. Get it here.