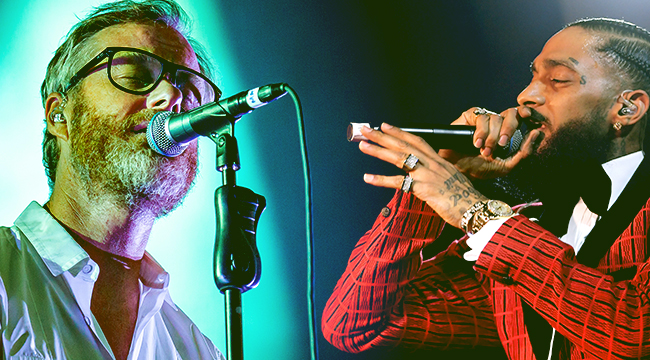 Keeping up with new music can be exhausting, even impossible. From the weekly album releases to standalone singles dropping on a daily basis, the amount of music is so vast it's easy for something to slip through the cracks. Even following along with the Uproxx recommendations on a daily basis can be a lot to ask, so every Monday we're offering up this rundown of the best music released in the last week.
This week saw Nipsey Hussle's first posthumous song (alongside DJ Khaled and John Legend), as well as The National continuing their run as one of the most essential indie/rock bands of the past two decades on their new record, I Am Easy To Find. Yeah, it was a great week for new music. Check out the highlights below.
The National — I Am Easy To Find
The eighth album from Matt Berninger and company is their most cinematic yet, both in terms of its sound and based on the fact that they released it alongside a short film of the same name. Longtime fans of the band should be pleased by the tracklist, as it features "Rylan," a previously rare song that has become a favorite since the band first performed it in 2011.
DJ Khaled — "Higher" Feat. Nipsey Hussle and John Legend
Nipsey Hussle was a star on the rise when he passed away, and sadly, he was taken while he still had plenty left in the tank. A few days before he death, he was filming a video with DJ Khaled and John Legend for a collaboration called "Higher," and now, Khaled, with the blessing of Hussle's family, has shared the clip. It's a fitting tribute to one of hip-hop's most beloved, and hopefully just the start of posthumous material from Hussle.
Carly Rae Jepsen — Dedicated
For a long while, the status of the upcoming album from the finest in Canadian pop was a mystery, but now, Dedicated is here, and it shows Jepsen adding another gem to her increasingly impressive discography. Jepsen rides in multiple lanes on the album, borrowing influences from different categories of pop past and present, but it all comes together in a way that only Jepsen can deliver.
Read our review of Dedicated here.
Charli XCX — "Blame It On Your Love" Feat. Lizzo
Charlie XCX is a modern pop master, so combine her with the rising star that is Lizzo, and odds are you'll have a bona fide bop on your hands. That's precisely the case here: Although more Lizzo beyond her one fun verse towards the song's end would be welcomed, this is still an exemplary pop anthem as is.
Tyler The Creator — Igor
Tyler The Creator has become a hip-hop auteur over his past few albums, and that's a trend he continues on his newest. Based on the advance teasers, fans knew they had a diverse and fascinating record in store, and Tyler has delivered that. He also brought guests like Kanye West and Playboi Carti along for the ride, and what a ride to be on.
Alex Lahey — The Best Of Luck Club
On her sophomore record, Lahey proves herself to be a captivating and vulnerable storyteller, like on "Am I Doing It Right?," on which she undergoes deep self-reflection about her career path, and on "Unspoken History," where she discusses a complicated relationship. For the record, on a personal level, I attest that the latter is one of the strongest songs of 2019 so far.
Read our review of The Best Of Luck Club here.
Aminé — "Places + Faces"
It's been a fascinating ride for Aminé since his debut/breakout 2016 single "Caroline," and that's the journey he documents on his fun new "Places + Faces Freestyle." The video is a delightful slice of life as well, comprised of various bits of film shot while roaming the world in pursuit of his dream, a dream that he's apparently living.
Megan Thee Stallion — Fever
Over just the past few months, Megan Thee Stallion has emerged as an absolute hip-hop star thanks to her breakout December 2018 mixtape Tina Snow. Aside from a couple features, she is mostly by herself on the record, free to swim around in her enrapturing flows and demonstrate why she's blown up as much as she has in such a short window.
Read our review of Fever here.
Ryan Pollie — Ryan Pollie
Some of the best music comes from intense personal experience, and that's something Ryan Pollie would know well. He made his new self-titled album while undergoing chemotherapy in 2018, and he emerged on the other side as strong as ever and with a vulnerable and impressive album. He said the process of making the album helped him get through hard times, and maybe songs like "Aim Slow," in which he contemplates the challenges of humanity, can help others do the same.
Chance The Rapper — "Groceries" Feat. TisaKorean & Murda Beatz
Ever since Chance The Rapper revealed he'd have a new album out in July, fans have been thirsty for new material, and now he has delivered with "Groceries," a bouncy and thumping single featuring Texas rapper TisaKroean and Murda Beatz. If this is an indication of how Chance's "owbum" is going to sound, July is going to be great. Bonus: If the song inspires you to dance super well, Chance might buy your groceries for a year.
Some of the artists mentioned are Warner Music artists. Uproxx is an independent subsidiary of Warner Music.