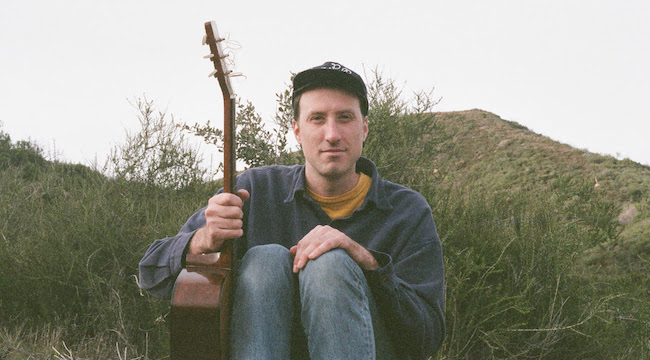 Ryan Pollie has shed his former Los Angeles Police Department moniker, and now he's just making music as himself. That's fitting, because his upcoming self-titled album (out on May 17 via Anti-) is a personal one. He made the record while undergoing chemotherapy, and he previously said that completing it was huge for his morale: "I finished the record while I was sick, and that was a big thing for me, being sick and being able to finish something. It made me feel strong."
He documented his hospital visits in the video for "Aim Slow," a beautiful song about the unfortunate side of life. That's some heavy stuff, but that said, Pollie is a real fun guy. That becomes obvious after a couple minutes of talking with him, which makes Pollie an ideal candidate to answer an assortment of random lighthearted questions. Pollie's self-titled album is out in May, so to mark the occasion, he talked about his favorite music, his Google search history, and what meal he'd make Kanye West for the new installment of Indie Mixtape 20.
What are four words you would use to describe your music?
Very Ryan, happy sad, honest, vulnerable.
Years from now, how do you hope people will remember your work?
I hope people remember my work years from now! That would be so cool.
What's your favorite city in the world to perform?
I think my favorite memories of being on the road were in the Pacific Northwest, going from Seattle to Portland to Vancouver. the drives were magnificent, and the cities were so cool. Can't beat house shows filled with all my friends, though. Best shows I've ever played.
Who's the person who has most inspired your work, and why?
It's hard to pin down a single person that I hear most in my music. I think my new record to me, I hear Chu Kosaka, Jackson Browne, Carole King, and Graham Nash the most in the production/songwriting style. But my friends and family and other musicians have inspired the way I work, the choices I made to complete the record, and my devotion to my art. Brendan Lynch Salamon, Will Fox, Big Air, Brian Rosemyer, Rob Schnapf, Jonathan Rado, Kenny Husband, and Kosta Galanopoulos are all friends that have taught me so much. Bands like Drugdealer, Weyes Blood, and Sam Evian have been freaking me out recently with how dialed they are.
Where did you eat the best meal of your life?
Cafe Brazil.
What album do you know every word to?
Quadrophenia, Enema Of The State, Late Registration, Abbey Road, Pet Sounds, Harvest, Late For The Sky, Music For Airports.
What was the best concert you've ever attended?
Rivers Cuomo solo at The Hi Hat, Blink-182 at the Wiltern in 2013 with Tom [DeLonge] — check out this setlist. Recently got rocked by Acid Mothers Temple, and Sufjan Stevens' Carrie And Lowell tour at Dorothy Chandler Pavilion. Holy hell.
What is the best outfit for performing and why?
I like when I can tell a band isn't trying too hard and looking in the mirror too much before a show. Granted, if you have a nudie suit like Kevin Morby does, rock it. But I like seeing friends play that wear what they always wear. All that said, I'm trying very hard to get my guitarist Brendan to wear a Canadian tux at every show. Please sign my petition.
Who's your favorite person to follow on Twitter and/or Instagram?
@harrychronicjunior, @catatonicyouths, @william.alexander.iv.
What's your most frequently played song in the van on tour?
I think The Beatles are always a nice compromise .
What's the last thing you Googled?
"blink 182 wiltern 2013 setlist."
What album makes for the perfect gift?
I try to pick up Songs For Beginners, Tapestry, Late For The Sky, and anything else I always see for like 3 bucks that I love giving people. I've given two Willie Nelson records to friends most recently, Red Headed Stranger to one Chris, and Phases And Stages to another Chris. Chris got the better deal.
Do you have a favorite hotel you enjoy staying at when you tour?
My parents' place in Vermont. We once did a show in Boston, went to Vermont to sleep, then Connecticut, went to Vermont to sleep, and then New Hampshire and went to Vermont to sleep. Only drawback was our bassist ate a handful of smart food that he didn't realize had expired months ago.
What's the story behind your first or favorite tattoo?
I don't have a tattoo — but I really want one of the gnomes from my first LAPD record that my friend Christian Escalante drew. Matt from Forged Artifacts said he'd get it with me next time in LA. Sign my petition.
What artists keep you from flipping the channel on the radio?
I have an old Jeep Cherokee, and the scan button doesn't work for the radio. So I carry a lot of cassettes in the car — right now I have Sam Burton, Nebraska, Descendants, Tom T. Hall, the last Mat Cothran record, and Grabbing Clouds' The Village Green Preservation Society Preservation Society compilation.
What's the nicest thing anyone has ever done for you?
For my last birthday, my friend Brandi put together a book full of notes written by all the important people in my life at that time. She made the book from scratch and contacted all the people she could think of without stealing my phone. I was an absolute puddle.
What's one piece of advice you'd go back in time to give to your 18-year-old self?
Art can be but shouldn't be a career — you might make some money, but that should never influence any artistic decision you make. However, I do jingles.
What's the last show you went to?
Weyes Blood and Jackie Cohen at the Masonic Lodge. She played movies and I transcended, brah.
What movie can you not resist watching when it's on TV?
What's a TV? I can't resist watching Oh Hello On Broadway every time I open Netflix. There should be a streaming service that only streams Oh Hello On Broadway. If there is no sequel, I will cry. Sign my petition.
What would you cook if Kanye were coming to your house for dinner?
Oh man, I don't cook real good. I'd probably Postmates pupusas from Las Cazuelas and beg him to write a song with me. Probably before pupusas, 'cause it's hard doing anything after pupusas.
Ryan Pollie is out 5/17 via Anti-. Pre-order it here.