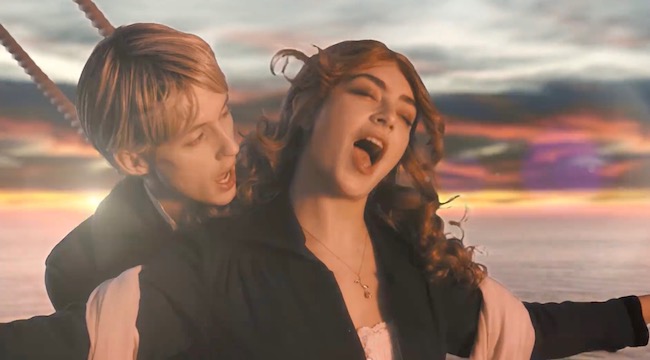 Sometimes the music is only half the story. Would Michael Jackson's immortal pop ballad "Thriller" have been the runaway success it was at the dawn of MTV if not for the extended video filled with zombies, werewolves, and Vincent Price? Probably not. Though MTV's clout has diminished significantly in subsequent decades, artists are still releasing videos at a stunning clip, sharing them on Youtube, Vevo, and pretty much every streaming service out there.
Videos not only offer another side of the person making the music, but also of the music itself, adding in context clues and visual cues that enrich the sonic material. They can also be fun, funny, weird, and shocking. Collected below are some of the most interesting and compelling videos released over the last week.
5. St. Vincent — "Savior (Piano Version)"
Just last week, St. Vincent dropped a full-length, piano-rendered version of her stellar 2017 album Masseduction, called Masseducation. Perhaps to give fans and the generally curious alike a peek into what she had in store, she dropped this video of herself performing the song "Savior," accompanied on the keys by Thomas Bartlett of Doveman. The clip was directed by beloved comedian turned acclaimed director Bobcat Goldthwait and really captures the lounge act vibe of the album as a whole.
4. Ariana Grande — "Breathin"
An artist of Ariana Grande's caliber can really do anything that she wants when it comes to something like music videos. She could, theoretically, sink a mili into a high production, CGI rendered clip, filled with ornate shots and movie stars, or, she could just paste her music over three minutes of footage of her pet Piggy Smallz living his best piglet life. Thankfully, for all of us, she chose to do the latter.
3. Bad Bunny Featuring Drake — "Mia"
Drake has been on a music video tear in 2018. Along with the many videos he released as part of the official Scorpion album rollout, Drizzy has popped up as a guest in several as well. Just last week he made it onto this list while logging an appearance in French Montana's single "No Stylist." Now we have "Mia," Bad Bunny's Spanish-language banger that's destined for mega-sales and probably some epic chart dominance. The video itself, directed by Fernando Lugo, is everything you want it to be and more, showing Drake and Bad Bunny crooning the night away during a party in progress surrounded by Cuban flags, overflowing solo cups, and… is that a parrot?
2. Smashing Pumpkins — "Silvery Sometimes (Ghosts)"
Shoutout to Billy Corgan. The Smashing Pumpkins frontman has spent three decades producing weird, sometimes incomprehensible art, and if we're judging just off the video for "Silvery Sometimes (Ghosts)," doesn't show any signs of stopping now. Directed by the singer himself, the clip opens with Sugar Ray singer Mark McGrath explaining the band is about to spend a night in a haunted house as part of a radio contest for charity. What follows is a creepy and kind of hilarious collection of ghosts, pianos playing themselves, ventriloquist dummies, and Corgan donning what appears to be a black onesie with bunny ears on the hood. Stay weird Billy. Stay weird. You bet your ass it is.
1. Charli XCX & Troye Sivan — "1999"
Charli XCX's collaboration with Troye Sivian "1999" is so far and away the best music video that dropped this week that it's almost hilarious. The entire thing is an over-the-top love letter to the late '90s — as opposed to Jonah Hill's upcoming theatrical love letter to the mid '90s, mid90s — filled with scenes of Charli decked out as Steve Jobs, one of the Spice Girls, and a member of TLC. Sivian shows up as Justin Timberlake, Eminem and Marilyn Manson. The best moment, however, is when they link up to turn into Jack and Rose on the bow of the Titanic. Bravo!