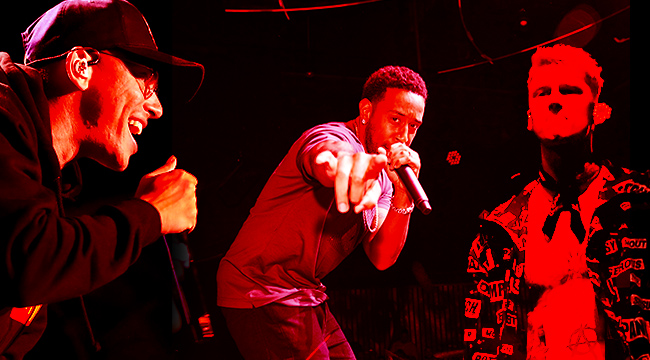 Hip-hop is moving as quickly as ever. Luckily, we're doing the work to compile the best singles of the past week and highlight them in one space for you. Between Eminem being embroiled in a beef, T.I. dropping a pair of singles, and "Welcome To Atlanta" being played, it may feel like the early 2000s all over again — but trust, we're in the waning days of Summer. Along with the vets in the fray, we also got some new music from artists like Logic, Machine Gun Kelly, and Earthgang, who were in varying stages of childhood — and in "socialite" Rico Pressly's case, a whole baby when "Welcome To Atlanta" originally dropped in 2001. But they're all grown now, or at least grown enough to provide some heat for the streets as we head into September:
Logic, "Everybody Dies"
Logic continues to gear up for Young Sinatra IV with another high-speed display of his hyper assonant, Eminem-inspired flows over a militant beat produced by CuBeatz & 6ix. "You are watching a master at work," says a vocal sample throughout the track. Logic wants you to understand that he is an uncommonly gifted rapper extraordinaire, and Young Sinatra IV is going to feed everybody — "the boom bap, the trap, and the radio," as he spits on the verses.
TI, "Jefe" (Feat. Meek Mill) and "Wraith" (Feat. Yo Gotti)
Last week, it was E-40 with 25 albums, and this week it's TI preparing his 10th. The 10th album needs to be a special one, if not for any other reason but the reality that most hip-hop artists don't get that far into the game. T.I.'s been making sure everything is right around his Dime Trap album and gave us two tracks to get anticipated. "Jefe" is a collaboration with onetime signee Meek Mill in which the two celebrate their boss status, and "Wraith" is a banger with fellow southern vet Yo Gotti celebrating the toys that boss status affords you.
Machine Gun Kelly, "Rap Devil"
There was a time when Eminem's skills and musical output was so impeccable that no one dared challenge him on the mic. After the polarizing response to his Recovery and Kamikaze albums, it's safe to say that time has passed, and Machine Gun Kelly is taking his shot. After being one of the numerous people called out on the album, Machine Gun Kelly replied with "Rap Devil," an impressive track that's better than the "white rap beef" jokes would have you. He cogently laid out how a lot of people are feeling about Em, hilariously rhyming, "F*ckin' dweeb, all you do is read the dictionary and stay inside." Even as a writer who does just that, I found that hilarious. Who knows when Eminem's inevitable response will come, but check in next week.
Young Dolph, "Major"
Young Dolph has long been one of hip-hop's best beacons of independence, but after signing a lucrative deal with Empire, he's "Major," as the trapstar noted on his latest hit. Dolph rides the 808-dominated track with the finesse that demonstrates what Empire saw in him, bringing along fellow Memphis rhymer Key Glock along for the ride. Dolph has come up as one of Gucci Mane's many mentees, so let's see what kind of empire he can create on Empire.
Ludacris & Jermaine Dupri, "Welcome To Atlanta (Falcons Remix)"
Way before Future, Gucci Mane, and Migos were the flagship artists of Atlanta, Luda and JD were putting the city on the map in big fashion. The duo decided to breathe new life into their 2001 "Welcome To Atlanta" classic by celebrating their beloved Falcons, who some believe may have a shot to right their wrong and get back to the Super Bowl — being held in Atlanta's Mercedes-Bens Stadium. If the Falcons manage to become the first host team to reach the Superbowl, it will be a travesty if Ludacris and JD don't get to perform this.
Earthgang, "Up"
New Dreamville signees Earth Gang recently debuted their new "Up" track, a song they debuted during their recent session at the Colors studio. The duo took turns unleashing their southern twang over the thumping production, showing why J. Cole saw the two fellow North Carolinians as musthave residents of Dreamville.
Keith Ape Feat. Wifisfuneral, "Ninja Turtle"
A pair of upcoming artists teamed up on "Ninja Turtle." Wifisfuneral and 88Rising member Keith Ape took turns corraling the colossal 808 and spacey synths on the jam.
Joey Purp, "Elastic"
Weeks after jumping on "Reboot" with KAMI and Chance The Rapper, Joey Purp is doing his own thing. He's decided to drop his "Elastic" single, in which he swags over some bass drums that are speaker candy.
Rico Pressley Feat. Swae Lee, "Betty Boop"
Rico Pressley may be next up out of Mike Will's Ear Drummers camp, and it's only right that he collaborated with some of the stable's established stars in Swae Lee. Swae lent his melodic gifts to "Betty Boop," a quirky track