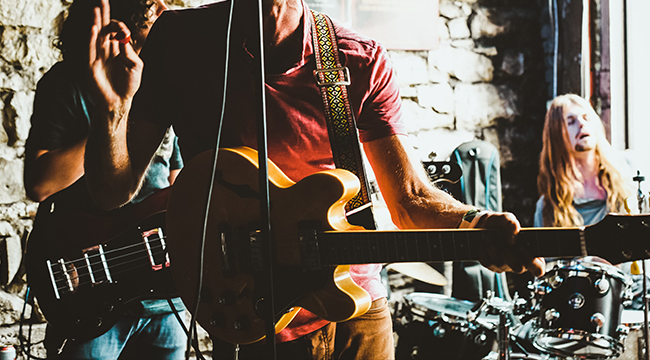 Every month Uproxx Cultural Critic Steven Hyden compiles a playlist of his favorite songs from new albums.
The 1975, "Love It If We Made It"
It looks like 2018 is shaping up to be A Year In Which People Argue About The 1975. I like them, but I get why people hate them. In fact, I think part of liking The 1975 is appreciating that there's a young rock band that's brash enough to actually inspire intense feelings one way or the other. As far as I'm concerned, though, this song slaps.
Wild Pink, "Love Is Better"
This is my favorite song from one of my favorite albums of the year. Two albums in, Wild Pink are already masters of sensitive-guy rock, like a missing link between Jackson Browne and Death Cab For Cutie. Play this song loud the next time you see teenagers having a melodramatic moment in the rain.
Deafheaven, "Near"
This is the least metal-sounding song from Deafheaven's least metal-sounding album, Ordinary Corrupt Human Love. You could play it at a nursing home and soothe the bingo players. It's perfect for the dog days of summer.
Wilder Maker, "Impossible Summer"
This Brooklyn band can be broadly described as heartland-inspired indie-rock, though the sprawling epics on the group's latest, Zion, resist easy classifications. Featuring the distinctive vocals of Katie Von Schleicher and the band's songwriter Gabriel Birnbaum, Wilder Maker tunes tend to start off sleepy and smoldering before winding slowly but steadily to unlikely conclusions.
Thin Lips, "Gaslight Anthem (The Song Not The Band)"
If you are a punk band that aspires to sound like an arena band I will probably like you. If you happen to also be from Philadelphia, I will definitely like you. And if you reference the Gaslight Anthem in one of the songs from your latest (super fun!) album, Chosen Family, I will invite you to crash at my place when you're in town.
Mike Pace and the Child Actors, "Everyone Out of the Car"

Normally I hate press releases. But when Mike Pace, formerly of the '00s indie trio the Oxford Collapse, recently reached out about his new, enjoyably off-kilter yacht-rock homage, Smooth Sailing, he said the record sounded "like if Runt-era Todd Rundgren had a baby with Hejira-era Joni Mitchell, delivered by Jeremiah Johnson-era Robert Redford." And then I put the album on and it sounded exactly like that. So, now I love press releases. Thanks, Mike.
Eric Church, "Desperate Man"
Country music's biggest arena star has been in the news lately for his political beliefs, because that's the world we live in now. However, I would like to remind the court of public opinion that Eric Church's primary function is to execute back-porch patio music that makes you feel buzzed even before you crack the first beer. And "Desperate Man" delivers the buzz.
Amanda Shires, "Leave It Alone"
To The Sunset, Amanda Shires' excellent fifth album, will be out at the end of the week. This is maybe the fourth or fifth song on the record, and it's truly a twangy alt-pop gem, like Emmylou Harris collaborating with Johnny Marr.
Chastity, "Children"
This Canadian band, led by singer-songwriter Brandon Williams, is capable of drawing on an eclectic range of indie-rock styles, from post-hardcore to pop. The first track on the band's latest, Death Lust, is a thick, heavy-riffing bruiser that's reminiscent of beloved Miami alt-metal act Torche. Just don't expect the rest of the album to similarly beat you over the head.
Nathan Salsburg, "Impossible Air"
For those who seek out instrumental guitar music, Nathan Salsburg is one of the scene's biggest stars. But unlike fellow guitar wizards like Steve Gunn and Ryley Walker, Salsburg doesn't appear interested in crossing over to mainstream indie. His latest, Third, remains rustic and enigmatic, an ideal soundtrack for enjoy another month of summer at dusk.