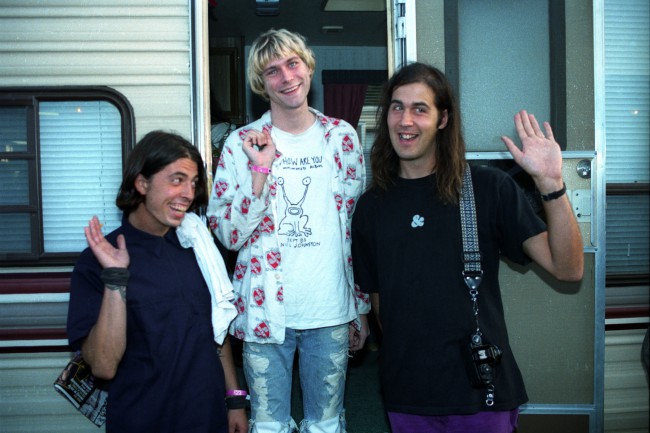 I am of the opinion that the best configuration of a band is a good ol' fashioned power trio. For the most part, these trios consist of a bassist, drummer and guitarist, with either the bassist or guitarist handling vocals. The drummer can sing, but only backing vocals.
The trio is rock 'n' roll at its most real, most true-to-its-roots form – pure, honest, and simple. You can't have a weak link in a power trio, everyone involved has to uphold their end of the bargain. If you want to be in a band, it all starts with the number three.
And you have amps to thank. Bigger and louder amps – along with the rise in popularity of the electric bass in the mid '60s – helped open the door for bands to eschew fourth and fifth members. The electric bass could help stabilize things in the basement, while a louder amp could make one guitar sound like two. Drummers probably weren't overly stoked about this, but it's a widely known fact that no one cares what drummers think. And this is coming from a drummer. Also, volume should never be a concern for a drummer. If it is, get more cymbals.
Two of the best trios in rock history are celebrating anniversaries this week. Green Day's rock opera American Idiot turned 11 on Sept. 20 and Nirvana's cultural behemoth Nevermind turns 25 on Sept. 24. We could get hung up on technicalities here and point out that in each band's later stages fourth members were added, but save the technicalities for fantasy football scoring and calculating the interest on your student loan. Green Day will always be considered a power trio; same for Nirvana (sorry, Pat Smear).
But where do Nirvana and Green Day rank among the best power trios ever?
That sounds like something we should look into.
First though, let's give some shoutouts. These trios didn't crack our list of the 10 best in rock history, but we wanted to acknowledge them regardless.
Honorable Mentions
Sleater-Kinney, because they were pioneers for women in rock, and also because they rock. Hard.
Morphine, because they subbed out the guitar for a baritone sax and, on bass, they ditched two strings.
Emerson, Lake & Palmer, because they got weird with it and took the rock trio into uncharted prog-rock territory.
Motorhead, because they are probably one of the only metal power trios out there, and Lemmy is a God among men who we also hope gets better soon.
Ben Folds Five, because they took an old-school concept (piano, stand-up bass, drums) and created a new-school sound.
Dispatch, because if you didn't listen to them in college, your roommate did, and even though they rarely release material anymore, they are still able to sell out Madison Square Garden.
Dinosaur Jr., because endurance is always a redeeming quality.
Now, onto the list!
10. Primus, Husker Du (tie)
I couldn't decide which of these bands to leave out of the top 10. Doing so to either just didn't feel right. Primus is one of the craziest bands ever, and Husker Du were punk trail-blazers. They both deserve to be included, so they both are included.
Primus, led by uber-bassist Les Claypool, plays what can only be described as acid-jazz circus metal. They also set themselves apart by being so bass-driven, like somehow the instrumentation is different. Primus definitely feels bigger than only three dudes.
Husker Du, hailing from Minneapolis, started out as a hardcore group, before softening slightly. They were indie-rock forefathers, one of several bands on this list whose influence birthed a litany of other amazing power trios, one of those bands being Nirvana. Krist Novoselic once shrugged off claims of Nirvana breaking new ground, saying that what they were doing was "nothing new; Husker Du did it before us."
9. Blink 182
Blink 182 appealed to skaters, bros, ladies, and cubicle dwellers. They made super fun music, paired with super fun videos and married with super fun antics. And they were incredibly popular, with a litany of platinum albums and high-charting singles that have become icons of their era. When they were contemporary it was hard to find anyone who took Blink 182 seriously, but their influence on pop punk is now undeniable.
8. ZZ Top
Yes, they have beards. Yes, the one member without a beard oddly enough has the least name Beard. Getting that out of the way, ZZ Top are power-trio purists, in the sense that they play guitar-driven rhythm & blues. It's just soaked in Texas blues and barbecue. ZZ Top peaked in 1983 with their album Eliminator, which featured both "Legs" and "Sharp Dressed Man." They were never able to best the success of the album, yet they were able to maintain a steady pace, similar to the go-ahead style of their music. Their catalogue is also much stronger than the novelty of those two hits would suggest.
7. Sublime
The cruel twist of fate that befell Sublime – that success for them came after the death of frontman Bradley Nowell – notwithstanding, the legacy of Sublime runs deep. They were a band, but they were definitely Nowell's band, acting out his vision and dream – a mix of the roots reggae, ska, and hardcore punk that informed Nowell's childhood. It's hard to imagine what the band's future would have been like if Nowell hadn't died (it would not have been whatever Sublime with Rome is), a trickier thought exercise than doing the same thing with Nirvana if only because Nirvana experienced success and Nowell never truly did. But you can't underestimate the amount of bands Sublime inspired – bands with drummers hammering on sixteenth notes and high-pitched snare drum hits, low-key bassists and guitar players striking sharp, reggae-tinged upstrokes on their guitars.
6. Green Day
I really think the evolution of Green Day is fascinating, especially if you go back to their early days, even further back than Dookie, when they were ripping through 3-minute roller coasters like "Going to Pasalaqua." Compare that to a song like "21 Guns." The band definitely grew up, but in doing so, never lost the spunk they had when they started out. They were in a sense, the grandfathers of the pop punk revolution. And yeah, like anyone's grandfather might be prone to do, sometimes they get a little drunk and surly in public, but we love 'em just the same. The fact that Green Day is still around and still popular some 20 years after they made it big is really nothing short of a miracle.
5. Rush
For me, the appeal of the power trio is the simplicity of the whole thing; that it is ultimately just three people left to their own devices to entertain. Rush, however, is anything but simple. They spit in the face of the idea that a trio can only do so much musically, with each song creating a massively rich tapestry of sound made of chord and tempo changes. I don't necessarily like Rush, but I sure do appreciate and respect Rush.
4. The Police
The Police drummer Stewart Copeland wanted to get into punk, and wanted Sting to get into it with him. Sting wasn't all that interested, but saw the commercial potential and decided he was in. Andy Summers was nearly a decade older than them and an established guitar player. The combination of Sting's determination, Summers' skill and Copeland's manic time-keeping are what made The Police the dynamic, combustible rocket ship they ended up being, hitching their wagon to punk, but bringing along elements of reggae, ska, and jazz; helping to then usher in the New Wave era.
3. Nirvana
Perhaps you've heard of them? Nirvana is a perfect example of what makes a good power trio.
A talented front man who can shred on guitar when needed
A solid & reliable bass player
A hammering, beat-centric drummer
Time has shown that, individually, the members of Nirvana could more than stand up alone on their own talents. But those talents pooled together created something bigger than each of them could create on their own. There is also a wonderful simplicity to Nirvana. The songs, at their core, are straight-ahead rock songs with pop sensibilities. The importance of these songs has understandably grown over time, but if you were to burrow down into each of them you can see why someone like Weezer's Rivers Cuomo studied Kurt Cobain's songwriting so much, as well as hear the influences a band like the Beatles had on Nirvana.
2. The Jimi Hendrix Experience
Chas Chandler, the manager for Jimi Hendrix, knew what he was doing when he brought Hendrix over to England in the mid '60s and surrounded the young prodigy with a talented backing band. Mitch Mitchell and Noel Redding were meant to be just that, Hendrix's backing band. Their talent put that notion to rest early on, and it became clear that they were very much a band, just one fronted by a once-in-a-lifetime talent. Today Hendrix would be surrounded by hired guns, a revolving door of session and touring musicians. But Hendrix, with Mitchell and Redding behind him, was able to get comfortable and through that comfort, truly achieve greatness.
1. Cream
The OGs of the power trio game, as well as what is generally considered to be the first supergroup, Cream made the rock power trio a legitimate enterprise and a force to be reckoned with. Eric Clapton, Ginger Baker, and Jack Bruce were all ex-pats from other bands and came together with massive egos, simmering feuds and lofty goals. They were three sticks of dynamite with a fuse that was roughly three years long. Yet in those three years they established the template that would be used by power trios for years to come. Cream existed and operated on such a high level due to the immense talent of the band's members; all three owned their respective corners and had little problem carrying their own weight. They actually had such little problem doing so that handling their own business internally became more important. Clapton frequently complained about the volume of Bruce's bass amp, and during one show, stopped playing just to see if the rest of the band noticed. They didn't. Yet the world noticed when Cream disbanded because they had witnessed a comet, a rarity that's stay was brief, but had a significant impact and left a lasting legacy.