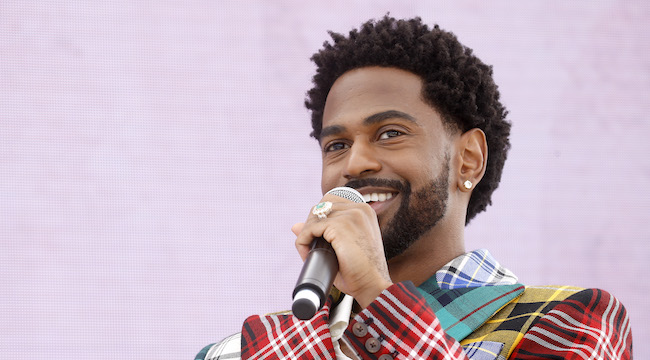 Big Sean has decided to generously give back to his Detroit neighborhood. The singer's philanthropic Sean Anderson Foundation hosted a block party weekend of free events, carnival rides, haircuts and braiding, and a self-care panel. He also donated a $100,000 production studio to the Detroit's west side Boys & Girls Club. Big Sean met the kids, watched them make music, and answered audience questions.
According to the Detroit Free Press, Big Sean explained his funding decision during a Q & A after passing around hugs and taking selfies with the children. "The west side of Detroit is my old neighborhood," he said Saturday. "It's a full-circle moment when your neighborhood supports you and holds you high, and you're in a position to be able to hold it up in your own way and take it further."
The singer also said he believes organizations like Boys & Girls club is fundamental in the lives of many children. "I think it can save somebody's life if they have somewhere to go. I think it can change somebody's life," he said. "It can be the start of million-dollar companies. It all starts here. I think there are going to be a lot more millionaires and billionaires from Detroit, and I think the Boys & Girls Club is going to have something to do with that."

Big Sean took to Twitter to continue the celebration. "Today was one of the most bossed up things we ever did!" he wrote on Twitter.
Today was one of the most bossed up things we ever did! Threw a block party w/ free rides, food n everything BUT also had rooms where we introduced people n kids to yoga, self healing, computer coding/engineering, Music programs n lighting and more right in our hood! #DONweekend pic.twitter.com/LQDaxYXVZf

— Sean Don (@BigSean) August 18, 2019
Spent my whole life bossing myself up, but I realize helping others find what they're passionate about and giving them the resources/inspiration is more bossed up than anything I could do for myself. Facts! Our mental health panel tomorrow Detroit #DonWeekend pic.twitter.com/vPocRltsDf

— Sean Don (@BigSean) August 18, 2019
Big Sean wanted to support the creative and professional lives of the children but also wanted the emphasize the importance of mental health. The singer's block party weekend will hold a panel on mental health and self-care. "I think that it used to have a little taboo or something, definitely a stigma to it," Sean said about mental health. "But I only talk about it because I know other people go through it."
"One of the things I go through on a daily basis is learning how to take care of myself properly — that includes not just physically, not just spiritually, but also mentally, also emotionally," he continued.
The Boys & Girls Club location Big Sean donated to is one of only five in the region. The organization is looking to update facilities in the upcoming years and hopes to raise $15 million in three years in order to complete the project. Big Sean's donation surely helps the club get closer to their goal and also helps kids discover their passion for music and creativity.