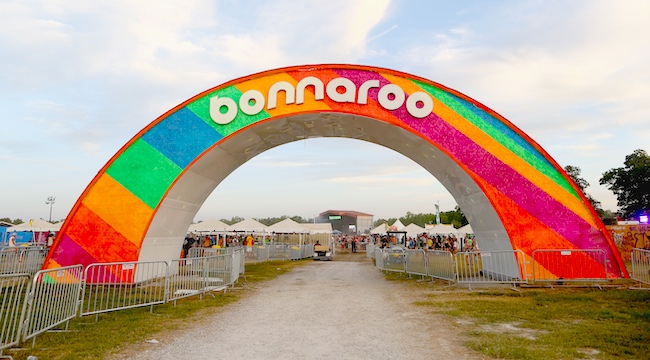 Most major music festivals have some sort of on-site landmark that has become part of the event's visual identity over the years, and for Bonnaroo, that is the arch. The arch is a vital part of the festival's past and present, and now Bonnaroo is getting ready for the arch's future by burning down the old one.
Yesterday, Festive Owl, a music festival news Twitter account, shared a photo of something on the Bonnaroo farm festival grounds that appears to be the arch engulfed in flames. The account then shared a screenshot of a direct message from the Bonnaroo account, in which they said, "The arch had recently discovered significant structural issues and needs to be dismantled/replaced."
The good news is that this was a controlled fire, as this was a planned move from Bonnaroo. The festival wrote in a Facebook post that there will be a new arch for this year's festival, saying, "Goodbye old friend! This incarnation of the Bonnaroo Arch had some significant structural issues and needed to be removed. The arch has evolved and changed throughout the years, but one thing that will never change is the welcoming feeling when you arrive on The Farm. We're excited to share its newest incarnation for 2019, so stay tuned."
The 2019 edition of Bonnaroo will be taking place from June 13 to 16, and the lineup features Childish Gambino, Post Malone, Phish, and others. Check out the day-by-day schedule and set times here.