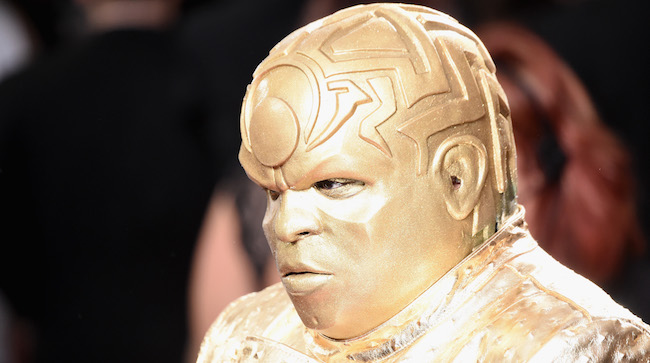 Cee Lo Green was unexpectedly the talk of the 59th Annual Grammys on Sunday night, but that's what happens when you show up looking like a bad guy from the Guardians of the Galaxy or The Power Rangers and that's exactly what Cee-Lo did. It was odd, for a guy who has kind of always been strange but it turns out, there's some sort of explanation.
Yeah, Cee-Lo, or Gnarly Davidson, is promoting something. Duh. As Gnarly he dropped a new video back in December for the oddly titled "F*ck Me I'm Famous." Odd because, you know, the stupid stuff he said about rape and his no contest plea to drugging a woman without her knowledge and then having what he claims was "consensual sex" with her. She claims otherwise.
Despite all this, Green still returned with the song, and a phone exploding in his face because marketing ain't the same as it used to be and now the Goldar outfit and it's all because he wants you to know he exists, as Gnarly Davidson and has music on the way.
I think.
An Instagram account purporting themselves to be Gnarly has surfaced, and they're letting the world know it's not Cee-Lo anymore, it's Gnarly.
And they're posting those cool things where nine separate Instagram posts make up one giant post on your profile.
So yeah. Gnarly wants you to know the transition has begun, and it's happening via outrageous outfits at the Grammys. And listen to or buy this song. And watch this video.