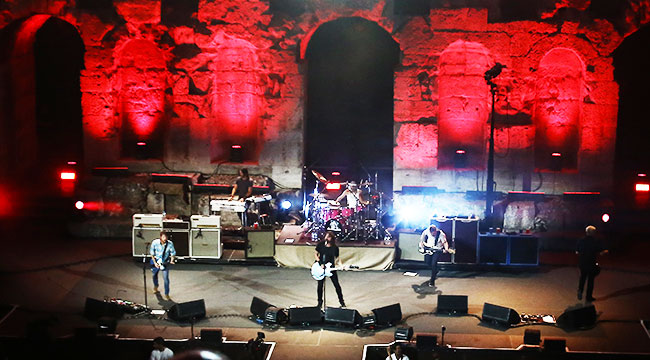 "We've done some crazy things over the last twenty years, but I think this might be the craziest thing the Foo Fighters have ever done," Dave Grohl says as he stands alone on a stage, looking out incredulously at the wall of people filling out the historic Greek Acropolis in the first few minutes of his band's Landmarks Live In Concert episode. "There have been moments in this band that we'll remember forever, special moments. But I think that tonight will be a night that we'll never ever ever forget because of how special it is."
Soon, Grohl is joined by the rest of his band, and they launch into "Times Like These," marking the beginning of the Foo Fighters' first-ever performance in Greece, and the first-ever rock show to be held at the 2,500 year-old Acropolis. Watching the footage of the historic performance, it's easy to understand why the moment was so monumental.
"You're standing in part of the beginning of the Big Bang of western civilization," Landmarks Live host and Red Hot Chili Peppers' drummer Chad Smith told me over the phone. "Even stuff that we have today in our democracy, the Supreme Court, stuff like that, all started there. The Parthenon as well. But the Acropolis itself, the Olympics and so many plays and theater that were very political in many different times throughout the history of Greece and Europe happened there. Really important thought-provoking things that changed the way people went about their lives and that influenced so many people in Europe and all over the world. It was a little more intimate, which made the energy more palpable. It was very magical. The people came in and the way it was lit and then you stood on stage, and at the top over the crest at the top of the Acropolis, there's the Parthenon lit up."
For the performance, the Foos cut their normal three-plus hour rock fiasco by an hour, in an attempt to prevent another seismic issue while playing such a unique space.
"There were some permits, a little bit of red tape, and the lovely Greek people were very accommodating and it all worked out," Smith recalled. "Nothing of the ruins got ruined. All rock was in one place." Across their set, they performed the hits, as well as cuts from their latest album Concrete And Gold, including the Taylor Hawkins-led "Sunday Rain," an exclusive clip of which we are happy to be premiering below in celebration of the episode's release.
Smith got involved with Landmark Performances about a year ago, when the show's creator Daniel E Catullo pitched him the idea for having iconic artists and bands perform in these landmark, legendary venues, all over the world, with the Chili Pepper as the host. "I was like, 'You mean like a game show host?'" Smith joked. "I think of Bob Barker or something."
In reality, Catullo wanted Smith involved because of his unique ability as an artist to relate to the performers and make them feel comfortable telling their story in a way that they might not were they talking to a journalist. "The thing that's interesting to me that I didn't find out until I started doing it was that it's really interesting and rewarding for me to see how these artists think and tick and how they work and how they approach their art," he said. "I just want them to tell their story. Everyone's been really great like that."
Since taking on the role of the show's host, Smith has brought Alicia Keys to the Harlem Apollo and Brad Paisley back home to the Appalachian Mountains, and an upcoming episode will feature the Kings Of Leon returning to their roots in Memphis and performing at Beale Street.
When he was approached about doing an episode at the Greek Acropolis, Smith immediately pegged the Foo Fighters as the band to do it. "I love Foo Fighters," he said. "Those guys are my buddies. I always wanted to have them on the show, and it worked out timing-wise that they were in Europe finishing up a festival tour. They were gracious enough to add that show to the end of their tour. I just felt like… the Hammer of the Gods! It needed to be a real energetic heavy rock band. Those guys do their thing and they do it well and I thought they would be the band for that venue. As well, they've never played Greece, so that was another first."
Smith's relationship with the Foos goes back almost twenty years, when Grohl and Co. were opening up for the Chili Peppers on the Californication tour from 1999-2000, an experience that turned the Foo Fighters from a club band into an arena band.
"They kind of feel like younger brothers, and we've always taken bands with us that we really admire and want to expose our audience to great music," he said. "But they've obviously surpassed that quite a bit, they're doing quite well on their own. I'm like a proud dad when I see good things about the Foo Fighters. It makes me happy. They're always very thankful and appreciative, and we have a mutual admiration for each other."
As for what comes next for Landmarks Live In Concert, Smith says he is still trying to figure out a way to get the Red Hot Chili Peppers on the show. The only question is: Where would they play? With the band's hometown of Hollywood playing a big role in their growth, Smith thinks there might need to be a Los Angeles-centric episode.
"Maybe we just rock right in front of the Hollywood Sign. We'll zipline down from the 'O' of Hollywood over to the Whiskey [A Go Go], then zip line over to the Troubadour. I don't know." A joke, maybe, but after seeing the Foos at the Acropolis, anything seems possible.
Foo Fighters' Landmarks Live In Concert at the Acropolis airs on PBS tonight at 10 PM EST, and will be available to stream online for a week after the broadcast.