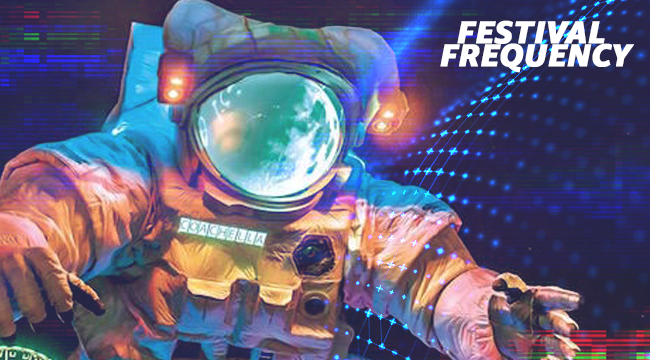 Festival Frequency is a monthly look at music festival-related topics that step beyond the shadow of the Ferris wheel, discussing everything from the performances to the inner workings that make this a global phenomenon.
This weekend, music festival season will kick off in earnest. Sure, the music festival industry has become a year-long enterprise, especially with Houston's Day For Night now owning the month of December and events like Okeechobee, Treefort, South By Southwest, and Ultra already in our rearview mirror. But you don't need to work in the music industry to be aware of Coachella's symbolic meaning. It's oftentimes the launch of what many artists will be bringing to festivals around the world for the year, with this installment featuring the likes of The Weeknd, Eminem, and Cardi B unveiling their big, new shows. In Beyonce's case, it will be a performance that won't receive an accompanying tour, as her summer stadium run with husband Jay-Z will be a different beast entirely.
Of course, the focus this week isn't entirely on the live performances and summer style that is set to debut this weekend. A report circulated yesterday that Coachella is facing a lawsuit from Portland, Oregon event Soul'd Out Festival regarding Coachella's long-established "radius clause." For those unfamiliar, a radius clause is a contractual stipulation for an act to not play within a certain region within a certain timeframe as the festival that employs it, and isn't a rarity among the biggest players of the industry. And on paper, it is a little questionable that an event that takes place more than 1,000 miles away from Coachella could be affected by the event, but things are a little murkier than what is being displayed in many of the reported stories, leading to an outrage that isn't entirely informed.
First, let's get the facts straight. According to the court documents, the radius clause of Coachella runs from December 15 through May 7, directly applying to "music festivals or themed events," and encompasses the states of California, Nevada, Arizona, Oregon, and Washington. That doesn't mean standalone concerts aren't subject to stipulations, too, but that's not really what we are discussing here. But a number of publications that rolled out this story are blurring those facts.

In Pitchfork's tweet of the story, they make it seem like all concerts, not just festival performances, are subject to the same clause, which is simply not true. If it was, then seeing St. Vincent at a Live Nation venue, as Uproxx did just a couple months back, wouldn't happen. Yes, there are surely clauses and provisions regarding local concert touring leading up to the festival (along with bands announcing later local dates), but simply looking at the tour dates of this year's Coachella artists reveals a wealth of performances in all the aforementioned states. In fact, Coachella's two weekends actually allows for an influx of concerts around the West Coast. In the next couple weeks, Portland fans will be treated to shows from Post Malone, Django Django, Flatbush Zombies, Jorja Smith, and many more Coachella artists.
Other places have simply been misreporting the actual length of the radius clause. The Outline opened their article on the lawsuit with this paragraph.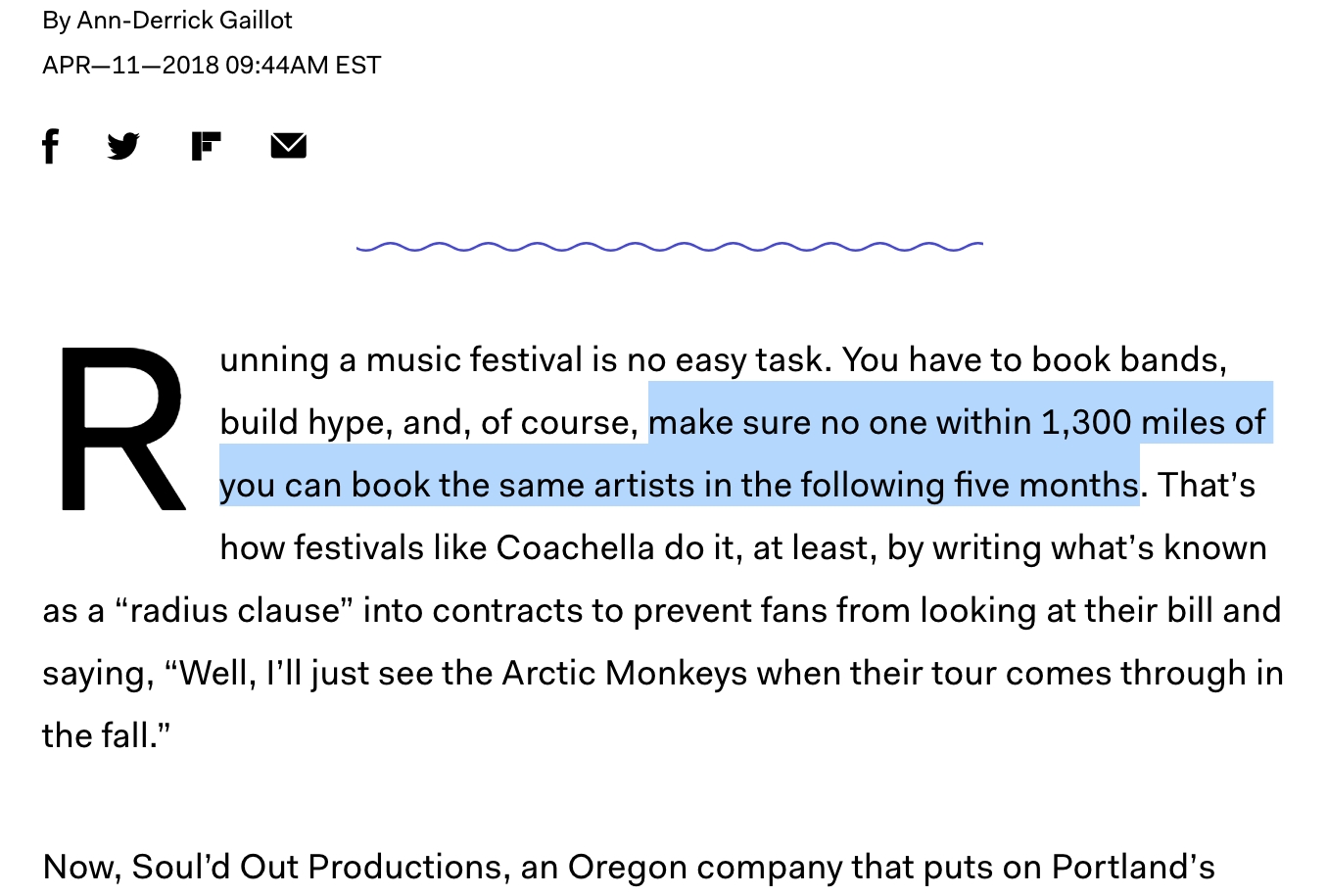 Now it could just be an honest mistake, but saying that the radius clause runs five months following Coachella is wildly untrue, then bolstering it by saying people have to wait until the fall to see these acts. Coachella's radius clause ends on May 7, just a couple weeks after the festival concludes, and still leaving open the majority of spring and summer, when music festivals thrive. If not, a festival like Sasquatch in Central Washington would struggle to put together a bill, when in fact it features Vince Staples, Tyler, The Creator, David Byrne, and many other Coachella artists.
This bending of the facts has led to massively misinformed tweets and stories, leading to an outrage that feels falsely placed.

The thing about radius clauses with regards to Coachella or other events is that it provides protection for the festival. Without it, it would be possible for another fest to sprout up in Seattle or Portland or Phoenix and cherry pick the talent that Coachella has worked hard to wrangle, compromising any semblance of specialty that Coachella has formed. This is the worst case scenario and the reason why the clauses are in place. And it might be another case altogether if Coachella enforced this with an iron hand, but that is also not the case.
In February, Japanese Breakfast appeared at San Francisco's Noise Pop festival despite being booked for Coachella, while Russ headlined Pot Of Gold Fest in Chandler, Arizona in March even though he's also on this year's Coachella bill. And though Soul'd Out claims that Coachella barred them from booking SZA, Daniel Caesar, and Tank And The Bangas, Noname is appearing at the Portland event, despite also being booked for Coachella.
There are a number of reasons that Coachella could have barred these artists, but consider that fact that Soul'd Out isn't just a festival within the same few months as Coachella. It is literally the same weekend. If you were one of the biggest music festivals in the world, would you be pumped in having a couple of their biggest artists also trying to squeeze in another festival up the coast concurrently? But really, who knows why Noname gets to play this fest and not SZA. Maybe SZA didn't really want to and used the radius clause as an excuse? Maybe Coachella didn't like the way Soul'd Out approached them about it. There are countless possibilities, and everyone is merely speculating based on a one-sided lawsuit. The only response from Goldenvoice has simply been to defend the use of radius clauses in predictable lawyer speak to The Hollywood Reporter.
"Radius clauses are an industry standard used by festival, concert and tour promoters designed to protect the integrity and exclusivity of their events. While Coachella is a marquee brand, with close to 250,000 people attending from across the world and is a premier performance stop for 120 artists and bands, there are hundreds if not thousands of artists available to perform at venues around the country. The producers of Coachella will vigorously defend ourselves against this lawsuit, which calls into question the common industry practice employed by promoters and producers throughout the year."
It remains to be seen whether the lawsuit against Coachella holds any water (and I'm hardly the legal expert to try and speculate here), but it seems the big part of the outrage here has to do with fairness. There has to be a system in place that finds a common ground that is fair to Coachella, the artists, competing markets, and fans. And despite what is being reported with this lawsuit, the evidence strongly points that Goldenvoice tries to be evenhanded with their decisions regarding the radius clause.
In terms of artist relationships, the festival pays very well and offers the exposure that makes artists feel like the contract is worth it, but there are surely plenty of artists who decline the invitation to play. Still, there isn't really a documented case of any artist boycotting Coachella because of business practices they deem unfair. Are there a lack of Coachella artists touring the winter months on the West Coast? Sure, but there are still numerous tours rolling through Los Angeles and other Pacific regions. It is not a live music draught.

In a rare interview with Indio's local paper The Desert Sun, Coachella founder Paul Tollett recently spoke about the festival's relationship with Beyonce, and how she and Jay-Z have attended the festival even when not performing. In the interview, he spoke to the fact that Beyonce already has a local stadium show announced, something that would typically be off the table for Coachella artists. Tollett said:
"Because of the timing of her postponing to this year, they had a whole tour set up, her and Jay-Z. Generally, I won't let an artist announce a local (Los Angeles) show if they're playing Coachella. I want them to concentrate on this show. That was the intent here, too, until I started thinking: There have just been so many extenuating circumstances on this one. I can't even add them all up.

I'm not looking to put lines in sand right now on Beyonce. She's been great to us."
All the evidence from the past years of Coachella speaks to a similar sense of reason. It's the kind of thought that allowed for Guns N' Roses to play warm-up shows at The Troubadour and in Las Vegas ahead of their Coachella reunion, or for LCD Soundsystem to appear in New York right ahead of their Coachella appearance. Surely, an exclusive first performance at Coachella could have been written into the contract, but it's also about doing what's right by the artists, and doing what's best for the festival (a warmup show can only benefit the quality of the eventual Coachella set even if it makes it a little less noteworthy).
Goldenvoice isn't mad with power or hurting other events simply because it can, it's just protecting the Coachella legacy and guarding against further watering down a festival market that has already been widely scorned. As festival fans, it makes no sense to be criticizing the homogeny of festival lineups on one hand, and then criticize radius clauses on the other. Over the past 20 years, Coachella has learned how to make their music festival feel special, and it is certainly their right to do whatever they legally and ethically can to preserve that.