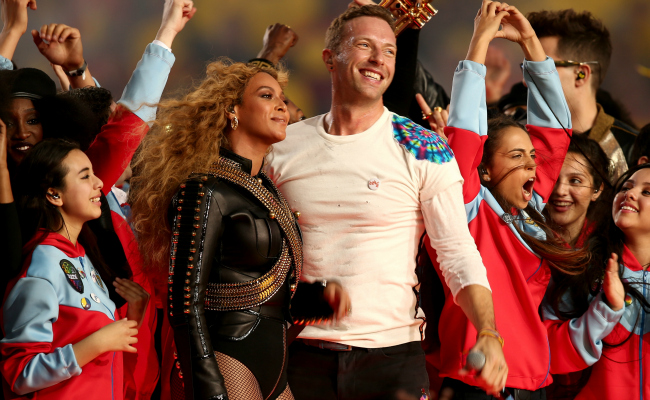 Here's something I never thought I'd say: I feel bad for Coldplay. Those four wonderful gents from England have gotten unjustly hammered and ridiculed on social media following their performance during halftime of Super Bowl 50, and it's really not fair.
Is it fair that they shared a stage with Beyonce? No.
Is it fair that they also shared the stage with Bruno Mars? No.
But here's the thing: Is it fair that halftime at the Super Bowl has become a venue that is no longer friendly to rock bands? Also no.
So, let's start with that last bit. The Super Bowl Halftime Show has become a pop star's playground and a rock band's minefield. First and foremost, this is a TV production and any producer would very quickly tell you that as a draw, they'd much rather have throngs of dancers and choreography instead of the only choreography being a guitar player doing windmills to his or her guitar. It's an excitement thing and energy thing. The rock bands simply can't compete. They can try as hard as they want, but in modern times, rock 'n roll has taken a back seat to pop when it comes to getting the people up out of their chairs. And in all fairness, it's kind of been this way for a while. Now, it's just abundantly clear.
The first rock band to play the Halftime Show was KISS, who played at Super Bowl XXXIII in 1999. They were flanked by Gloria Estefan and Stevie Wonder. No one remembers KISS' performance, and I bet if social media existed in 1999, KISS would be getting the same pounding Coldplay is currently receiving. Two years later at Super Bowl XXXV, Aerosmith played, but just like KISS, they were flanked by pop stars: NSYNC, Britney Spears, and Nelly. The classic rockers weren't an afterthought, but they definitely weren't the main attraction.
U2 was the first rock band to headline the Halftime Show in 2002, and the first Halftime Show to be billed as a solo gig since Diana Ross headlined Super Bowl XXX in 1996. The group was still at the height of their popularity at the time — they hadn't even dreamed of dropping an album all sneaky-like onto your phone when you weren't looking yet — and to a nation still reeling from the attacks of 9/11, they were perfect to provide some healing. And for what it's worth, it did; they provided what was a beautiful and memorable moment. Call it the right band for the right time or call it a win all the way around, but still, U2 were the exception. The veteran rockers had the ability to provide a catharsis for people and not have it seem cheap or cheesy. Just look at what they did in Paris this past fall.