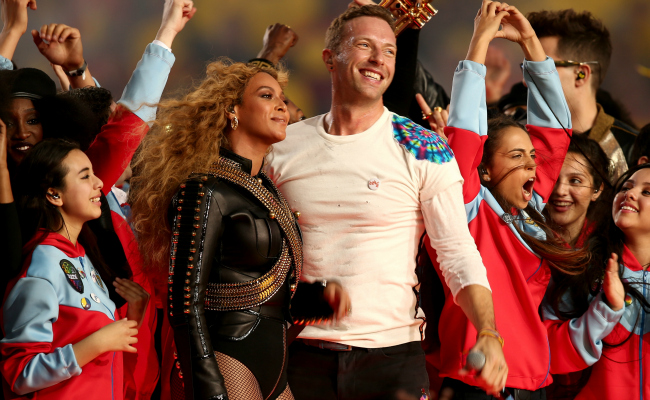 Here's something I never thought I'd say: I feel bad for Coldplay. Those four wonderful gents from England have gotten unjustly hammered and ridiculed on social media following their performance during halftime of Super Bowl 50, and it's really not fair.
Is it fair that they shared a stage with Beyonce? No.
Is it fair that they also shared the stage with Bruno Mars? No.
But here's the thing: Is it fair that halftime at the Super Bowl has become a venue that is no longer friendly to rock bands? Also no.
So, let's start with that last bit. The Super Bowl Halftime Show has become a pop star's playground and a rock band's minefield. First and foremost, this is a TV production and any producer would very quickly tell you that as a draw, they'd much rather have throngs of dancers and choreography instead of the only choreography being a guitar player doing windmills to his or her guitar. It's an excitement thing and energy thing. The rock bands simply can't compete. They can try as hard as they want, but in modern times, rock 'n roll has taken a back seat to pop when it comes to getting the people up out of their chairs. And in all fairness, it's kind of been this way for a while. Now, it's just abundantly clear.
The first rock band to play the Halftime Show was KISS, who played at Super Bowl XXXIII in 1999. They were flanked by Gloria Estefan and Stevie Wonder. No one remembers KISS' performance, and I bet if social media existed in 1999, KISS would be getting the same pounding Coldplay is currently receiving. Two years later at Super Bowl XXXV, Aerosmith played, but just like KISS, they were flanked by pop stars: NSYNC, Britney Spears, and Nelly. The classic rockers weren't an afterthought, but they definitely weren't the main attraction.
U2 was the first rock band to headline the Halftime Show in 2002, and the first Halftime Show to be billed as a solo gig since Diana Ross headlined Super Bowl XXX in 1996. The group was still at the height of their popularity at the time — they hadn't even dreamed of dropping an album all sneaky-like onto your phone when you weren't looking yet — and to a nation still reeling from the attacks of 9/11, they were perfect to provide some healing. And for what it's worth, it did; they provided what was a beautiful and memorable moment. Call it the right band for the right time or call it a win all the way around, but still, U2 were the exception. The veteran rockers had the ability to provide a catharsis for people and not have it seem cheap or cheesy. Just look at what they did in Paris this past fall.
But again, the Irish lads were the exception. In the following years, post-Nipplegate, the Halftime Show would feature Paul McCartney, The Rolling Stones, The Who, Tom Petty & The Heartbreakers, and Bruce Springsteen & The E Street Band. Springsteen was the only one of those performances that anyone would consider memorable and that's because it's Springsteen, a rock star with grand pop sensibilities. He seems to have been the only one who understood that getting up their and just playing the hits wasn't enough. You gotta give the kids a show, man, and Bruce gave the kids (and their thrilled parents) a show and a half. Springsteen was also one of the last acts to go it alone (The Who played the next year and were the last act to get solo billing for the gig). The past few years have featured shows that are like mini-festivals. There's headliners, but there's plenty of guests, too. It's the Black Eyed Peas with Usher or Madonna with M.I.A. and Nicki Minaj. Even Beyonce's first Halftime Show featured a guest appearance by her former partners in crime, Destiny's Child, proving that when it comes to the Halftime Show these days, no one can go it alone. Which brings us back to Coldplay.
When the NFL announced that Coldplay was going to be the Halftime Show performer, the news was met with a resounding "meh." A lot of the criticism was rooted in the very credible argument that they weren't "a Halftime Show band" or framed by the popular question — "was Taylor Swift not available?"
Of course, right from the jump, there were rumors of a Beyonce appearance. After all, it was hard to ignore that she's on their new album. Besides, Coldplay would need help, and who better than Beyonce. Well, as it would happen, Beyonce and Bruno Mars.
By the time Bey had confirmed her part in the year's biggest performance and dropped the incredible "Formation" on Saturday, barely anyone was considering the Halftime Show to be Coldplay's. It was all about Beyonce now. Even Mars was an afterthought, but at least he was an afterthought before Coldplay. Throughout the first and second quarter of the big game, Twitter was on Beyonce-watch.
Sure, CBS kept saying it was Coldplay coming up at Halftime, but Beyonce was the real draw. We all knew it, we all felt it, we all said it.
So, honest props to Coldplay for coming out and doing their thing pretty well. No one expected them to match the carnival-like production of last year's performer, Katy Perry, and they didn't, but man they gave a huge effort. It's not like they got up there and played sad tracks like "The Scientist" or "Magic." They chose to open with a snippet of "Yellow" into "Viva La Vida," then going into "Paradise," which worked out pretty well. Chris Martin was doing his damnedest to be engaging, jumping around like a younger, more athletic version of Bono. "Adventure of a Lifetime" played fantastically live with all of the bursting colors. All things considered, the energy and enthusiasm was palpable. But there weren't any dancers. There were no pyrotechnics. There was really only one stage.
Well, that was until Bruno Mars flanked by his dancers and Mark Ronson on the 1's and 2's (and this dude having the time of his life) livened things up with a super-charged version of "Uptown Funk."
Then Beyonce showed up and the entire stadium (rightfully) erupted. This was soon followed with Beyonce and Mars engaging in a Jets vs. Sharks dance off, which somehow worked incredibly well.
After all of that — if you can remember that they were even there — it came back to Coldplay… and it was still okay! Honestly, the best way to look at this was, it's Coldplay's party and they just happened to invite two of their most popular friends, you know, the friends everyone wanted to hang out with. They knew that with the inclusion of Mars and Beyonce, they would be relegated to the back pages. Coldplay deserves credit for handling the entire shindig with class and grace throughout the entire process.
Yes, I know it's hard to feel too bad for a band like Coldplay, as they are incredibly successful and could play to a crowd of 70,000 in an open field in rural England tomorrow. But the deluge of anti-Coldplay tweets following Halftime did have me feeling at least a little bad for them.
Actually, that last one was pretty funny, but still. Let's all take a moment and ease up on Coldplay. The Super Bowl Halftime Show is a gig for the pop stars now. So, start the calls for Taylor Swift to perform next year now. There's no guarantee that she's going to do it, but there's at least more of a chance of that happening than Foo Fighters, Green Day, or anyone like that plugging in.
Plus, regardless of what we think about Coldplay, Beyoncé, or Bruno Mars, we can all at least agree on one thing: The Halftime Show was definitely better than the actual game.