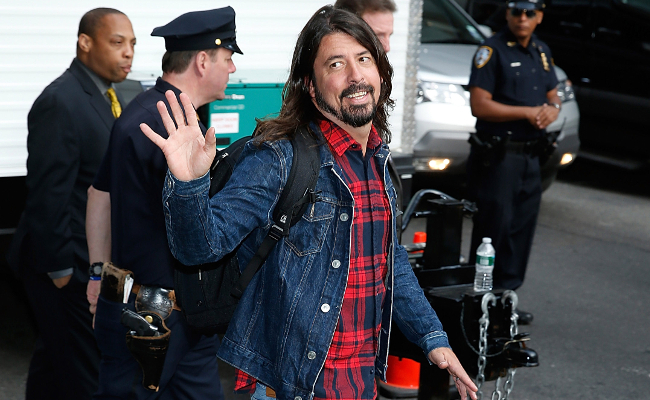 Foo Fighters were set to play the Glastonbury Festival back in 2015, but were forced to cancel due to Dave Grohl's broken leg. While he soldiered on and got back to the stage soon after, Florence And The Machine had to step in to cover for the band at the festival. Grohl and his band mates plan to make up for it with their headlining appearance on Saturday night, but that's not all Grohl wants to do with his time on the stage.
As most likely remember, Adele showed off her potty mouth in glorious fashion at last year's Glastonbury festival, cursing 33 times during her 90 minute set according to the Mirror. The BBC had to send out a warning about Adele's colorful language, but Grohl has made it clear that the broadcaster will have its work cut out during their set this year:
"You aren't allowed to f***ing swear at the show? Good luck. Oh god, they are in for a big surprise with that one. S*** I didn't realise that. We swear the whole f***ing time. I basically say f***ing in every sentence. I think I have anxiety-driven Tourette's."
Foo Fighters will take the stage at 9:45 pm local time (4:45 pm EST) and you can find a livestream through the BBC web site if you're one of the lucky folks who can get past the region lock. Otherwise, you'll have to search for other means to find the band's performance. Grohl has his work cut out, though, if he's trying to top Adele. While she only dropped 33 curse words, she did it with style and really showed just how much fun she can be. A delightfully vulgar siren for a modern age.
UPDATE: Grohl kept his promise and led the entire Glastonbury crowd in a rousing 'f*ck' chant near the end of the set, played to the tune of "Skin And Bones" according to NME:
"We were doing an interview and someone said, 'you know you're not supposed to swear – there's no swearing on Glastonbury.'

"I was like, what the f*ck is that supposed to f*cking mean? And then I guess, Adele holds the record for the most fucks in a Glastonbury appearance.

"Now I love Adele, but guess what."
What followed was a chant that spouted what seemed to be 33 'f*cks' in a row, easily topping Adele from 2016 when you combine it with every other swear used during the show. You can check out that moment below (and the entire set while it lasts).
(Via Mirror / Evening Standard)