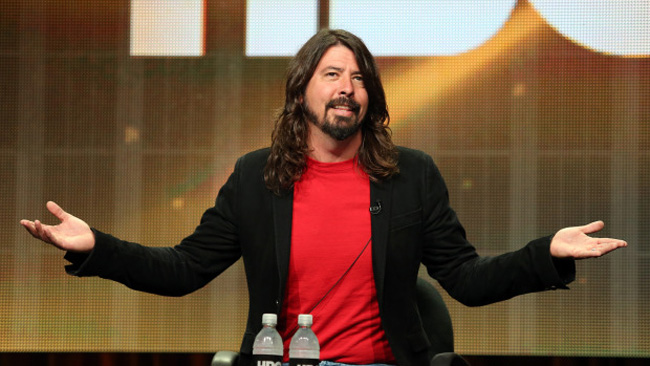 Hey, it's Dave Grohl's birthday! Happy birthday to the Nicest Guy in Rock 'n Roll, a wonderful gentlemen who continues to find new ways to prove how awesome he is. As he celebrates his 47th year on this planet, he's become mostly known as the leader of the Foo Fighters, although there's a decent amount of us who remember his time in Nirvana and a smaller amount of us who got to know him as the drummer of the Washington, D.C., punk band, Scream. Grohl has also spent time manning the drum kit for the Queens of the Stone Age and Tenacious D, as well as the supergroup Them Crooked Vultures. As a result, the dude's discography is pretty legit and pretty lengthy.
So why not rank them all? It's the dude's birthday after all. Ranking just the Foo Fighters' albums is something you'd do on any other day. Birthdays are special occasions and in turn, demand something special be done.
There's the Foo Fighters, Nirvana, Scream, Queens of the Stone Age, Tenacious D, Them Crooked Vultures, as well as Probot and the Sound City sessions- — all projects that produced albums in which Grohl was involved. Twenty five in all. Let's rank 'em!
25. Scream No More Censorship (1988)
Scream's 1988 album was the first to feature Grohl on drums, as he had joined the band and dropped out of high school the year before. There's nothing too remarkable about the album, but it's a decent enough punk/hardcore effort. The fact that it was released by a reggae record label, RAS Records, might be one of the most interesting things about it.
24. Tenacious D Pick of Destiny (2006)
The soundtrack to their movie of the same name, it was more of the same for the D, which isn't necessarily a bad thing. Grohl was again on drums and also added vocals to "Beelzeboss (The Final Showdown.") He also acted in the movie, playing Satan.
23. Sound City: Real to Reel (2013)
In 2013, Grohl helmed a documentary about the legendary L.A. recording studio, Sound City and it's famous Neve console, which he had bought when the studio was closing down. To accompany the film, Grohl brought together a killer cast of characters, all of who had recorded at Sound City at some point, to record new tracks on the console.
The album features collaborations with Paul McCartney, Trent Reznor, Josh Homme, Rick Springfield, Krist Novoselic and more. It took home two Grammys: Best Compilation Soundtrack for Visual Media, Best Rock Song ("Cut Me Some Slack"). To promote the album and the film, Grohl put together the Sound City Players, consisting of people who played on the album, to play a handful of shows live.
22. Foo Fighters Skin and Bones (2006)
Ah yes, the ol' live acoustic album. We all knew it was coming; it was just a matter of time. And it's not bad. It's good, but it's good from the perspective of you're listening to it if you're already a Foo Fighters fan. This album is like having a couple episodes of your favorite sitcom on standby in the DVR — just good to have around, but nothing new.
21. Scream Fumble (1993)
The D.C. punk band's fifth and final studio album was recorded in 1989, but not released until 1993, after the band had long since disbanded and Grohl had moved on to Nirvana. It's the first Scream album to feature songs written by Grohl, and Grohl handles lead vocals for "Gods Look Down."
20. Probot Probot (2004)
Grohl always held a soft spot for heavy metal and Probot was his public declaration of his love for the genre. He wrote and recorded the music by himself in his Alexandria, Virginia, studio, never really intending to release it. That is until he was inspired by Santana's Supernatural, which featured the guitarist working with a variety of vocals.
Grohl liked the idea and ended up imploring some of his metal heroes like Lemmy of Motorhead and Mike Dean of Corrosion of Conformity to help out and add vocals.
19. Foo Fighters Saint Cecilia (2015)
Released as a free download at the end of 2015, the was dedicated to the victims of the Paris terrorist attacks. The four songs are all good time rock songs and hey, if it was combined with 2014's Sonic Highways, an awesome rock album is theirs for the taking. Smart move recording this EP in the first place though — good way to keep the buzz that the band built up throughout the year during Grohl's one legged world tour.
18. Nirvana From the Muddy Banks of the Wishkah (1996)
This album comprises live performances recorded from 1989 to 1994 and was originally intended to be released alongside Unplugged in New York in a two-disc set called Verse Chorus Verse. Nirvana's surviving members, Krist Novoselic and Grohl, weren't emotionally able to put the compilation together, resulting in From the Muddy Banks of the Wishkah to be released a couple years later.
17. Foo Fighters One by One (2002)
An album by the Foo Fighters that has fallen through the cracks, the recording of One by One was rife with problems and drama. The initial recordings were ultimately scrapped and the band nearly broke up. But a performance at Coachella at 2002 brought the band back together and they re-recorded the album at Grohl's home studio in Virginia.
Every band that has more than five albums has the one album that has one or two good songs, but is ultimately forgotten. One by One is that album for the Foo Fighters.
16. Tenacious D Rize of the Fenix (2012)
The band's third album was nominated for the Best Comedy Album Grammy, and Grohl is again behind the drums. It's not as good as the first album, slightly better than the second album. That's literally all I can say about this album.
15. Foo Fighters Echoes, Silence, Patience & Grace (2007)
On the band's sixth album, they went back and forth between traditional Foo Fighters' rock songs and acoustic rock songs. Oddly enough, the results are mixed and ultimately the band gets an "A" for effort, "B-, C+" for execution. The album was nominated for five Grammys, with it winning Best Rock Album.
14. Foo Fighters In Your Honor (2005)
Not even the Foo Fighters are impervious to the perils, pitfalls and temptation of the big rock double album. It seems like it's a disease that affects every group that gets to legendary status. The Foos went with one disc being rock, one disc being mellow and acoustic. The results are uneven and somewhat disjointed. As is the case with most double albums, it's a good album that if cut down, could be great.
13. Queens of the Stone Age …Like Clockwork (2013)
The band's drummer Joey Castillo left the band in the middle of recording and Grohl stepped in to finish the album, which was the band's sixth. The album received three Grammy nominations and debuted at No. 1 on the Billboard 200.
12. Nirvana Insesticide (1992)
With Nevermind taking the world by storm, Nirvana's record label, DGC, needed something to fill the void until the band released a follow-up. Cue the compilation record of demos and previously unreleased material! The album was released jointly by DGC and Sub Pop, Nirvana's first record label.
11. Foo Fighters Sonic Highways (2014)
The band's eighth and most ambitious album was a cross-country jaunt, trailed by a HBO film crew. Eight cities, eight songs and if only it had a couple more songs, it would definitely be ranked higher. The songs sound bigger, fuller and more interesting than traditional Foo Fighters' songs with guest spots from Gary Clark Jr., Zac Brown, Joe Walsh, Rick Nielsen and more.
10. Foo Fighters There is Nothing Left to Lose (1999)
The Foo Fighters third album was their first with drummer Taylor Hawkins. It has a different sound than first two, little softer and more melodic. The album helped the Foos win their first Grammy, Best Rock Album.
There is Nothing Left to Lose was the first to be recorded with the band playing as a three-piece following the departure of guitarist Pat Smear, but they managed to tighten their sound and grow their fanbase even larger.
9. Tenacious D Tenacious D (2001)
The D's first album isn't just a great comedy album, but a great rock album. With Grohl sitting in on drums, Jack Black and Kyle Gass hammered away on 21 solid acoustic-powered rock tracks. The skits are quality too.
8. Nirvana In Utero (1993)
Originally thought to not be commercially viable by DGC, In Utero ended up being certified platinum five times by RIAA, and has sold more than 15 million copies worldwide. So, perhaps DGC was a little off in their projections.
Seeking to go in a different direction following the success of Nevermind, and looking for a rawer sound, the band recorded with Steve Albini for a more raw, bigger sound.
7. Foo Fighters Foo Fighters (1995)
Released in July 1995, Foo Fighters was written and recorded entirely by Grohl, with one guitar spot by Greg Dulli and production help by Barrett Jones. The album was recorded as a way for Grohl to deal with death of Cobain, with nine of the album's 12 songs written while Grohl was in Nirvana.
Overall it was done largely for fun and Grohl has often said that if he thought anything was ever going to come from it he would have picked a better band name. The album was nominated for Best Alternative Music Album at the 1996 Grammys, losing to Grohl's old band's last album, Unplugged in New York.
6. Them Crooked Vultures Them Crooked Vultures (2009)
The only album from the supergroup featuring Grohl, Josh Homme, and John Paul Jones of Led Zeppelin is exactly what you think it would sound like: a wild combination of the drums of Nirvana, the hammering of Queens of the Stone Age and the powerful stomp of Led Zeppelin. It's a giant record, in both sound and feeling. I don't send Grohl several emails a day, asking for him to get this band back together again, but that doesn't mean I don't want to. Or that I might start.
5. Queens of the Stone Age Songs for the Deaf (2002)
For their third album, Queens of the Stone Age brought in Grohl to play drums, who put the Foos on hold amidst the drama surrounding the band at the time. Grohl and Queens' frontman Josh Homme had been friends since 1992 and Grohl jumped at the chance to get back to drumming and take a break from being the frontman. Songs for the Deaf was the band's breakthrough album, earning them their first gold certification in 2003.
4. Foo Fighters Wasting Light (2011)
The band's seventh album was their first with original guitarist Pat Smear since The Colour and the Shape and was recorded over 11 weeks in Grohl's garage in Encino, California, on analog — part of Grohl's attempt to get away from digital dependence.
The Foo Fighters had just played Wembley Stadium, a mountain top of sorts, and wanted to do a back-to-basics album as a challenge. Wasting Light was nominated for five Grammys, winning Best Rock Album.
3. Nirvana Unplugged in New York (1994)
Recorded in New York City in November 1993, the performance for MTV was perhaps one of the most iconic live concerts in rock n' roll history. It would be the first Nirvana album to be released after Cobain's death and would go on to be the band's most successful posthumous release, certified 5-times platinum by 1997. Nirvana bucked the trend of playing only hits and popular songs, instead opting for obscure covers and lesser known Nirvana songs.
2. Foo Fighters The Colour and the Shape (1997)
The Colour and the Shape was the first Foo Fighters album recorded as a full band. Instead of playing all the instruments, as he had with their first album, Grohl simply stuck to vocals and guitars. Or at least, that was his initial plan. He ended up re-recording the drum parts as well, as he was unhappy with the band's original drummer, William Goldsmith's performance. Goldsmith was understandably a little bummed about the turn of events and left the band during recording. The runaway success was nominated for a Grammy for Best Rock Album in 1998 and ultimately became the band's best-selling album, selling more than 2 million copies.
1. Nirvana Nevermind (1991)
When an album you helped create is generally considered one of the best albums of all time, it's going to be at the top of any list like this. It's something I think we can all agree on. Nevermind was Nirvana's first album on DGC Records, as well as their first with Grohl on drums. The iconic rock album has sold more than 30 million copies worldwide and finds itself on numerous Greatest Albums of All Time lists, including Rolling Stone's, who has it number 17 on their list of the 500 Greatest Albums.
Now Watch: Why Everyone Wants To Be Friends With Dave Grohl