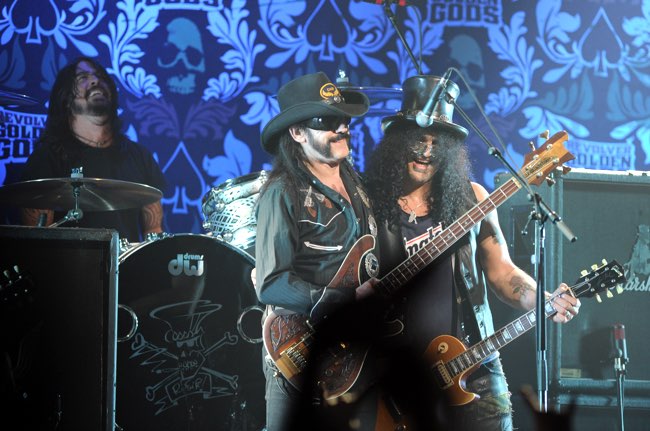 This photo from the 2010 Revolver Golden Gods awards features Lemmy Kilmister onstage with Slash and Dave Grohl. Images like these are a welcome sight for music fans, who are still reeling after Lemmy's untimely passing on Tuesday (mere days after doctors discovered an aggressive cancer). Immediately, Lemmy's friends and fellow rock gods let loose an outpouring of tributes. Motorhead declared themselves done without their frontman, and Metallica's Kirk Hammett wrote a letter about his idol.
Now Grohl steps up with a series of tributes (one of them ultimate), first on Twitter. The Foos spoke of broken hearts in the wake of Lemmy's death.
Dave and Co. also posted a fitting message to Facebook: "We've lost a friend & legend. My heart is broken. RIP Lemmy. Born To Lose, Lived To Win."

Grohl felt so deeply about Lemmy that he spent part of Tuesday nabbing a permanent reminder of his friend. Courtesy of Consequence of Sound, here's a look at the new "Ace of Spades" tattoo on Grohl's left forearm.
This is the perfect tribute, and now Lemmy will always be with Dave. Here are a few pictorial displays of affection between the two old pals. The first photo comes from 2010's Golden Gods awards, and the second one hails from a 2003 Probot Session.

(Via Consequence of Sound)