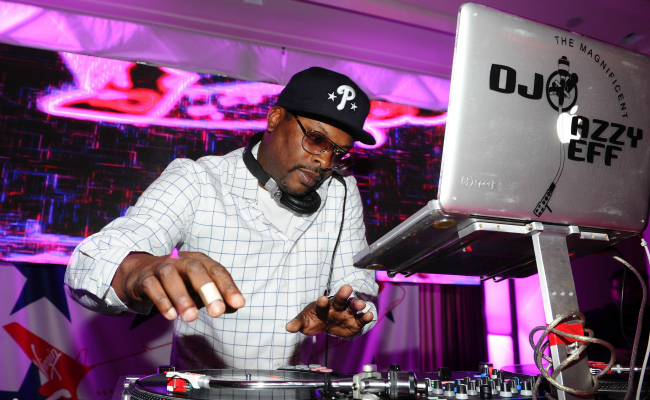 Unlike many DJs that started their careers in the same era, DJ Jazzy Jeff still headlines music festivals regularly and tours the world to stun crowds with his record-cutting abilities in person. However, a lot of his most appreciated work comes when he's side-by-side with his longtime partner, Will Smith, aka The Fresh Prince.
We recently spoke to Jeff about their upcoming world tour and what it's like to make performing together appear almost effortless due to 30 years of history. He also touches on the similarities between the current Academy Awards boycotts resulting from a lack of diversity across the board and the one he helped orchestrate against the Grammys in 1989 for not televising the first ever award for hip-hop music.
It was just announced that you'll be headlining the Light City Baltimore festival at the end of March. How busy do you expect to be during the festival season this year?
DJ Jazzy Jeff: I think it's going to be really good, just the season. Last season was incredible and I think this one is going to be better. I was really excited just to come- — I don't really get a chance to play in Baltimore, the Baltimore/DC area a lot, especially being outside. I was like hey, when the opportunity came up I was excited.
Being the veteran DJ that you are, what's your opinion on current claims that "legitimate" DJing is becoming more of a lost art among the newer group in regards to how they approach it?
DJ Jazzy Jeff: I think it's two-sided. It's not as much of a lost art as the other side of people just — there's another approach that people are having when it comes to DJing. Established DJs look at it like it's not really DJing, and I think people are kind of misconstruing the name. It's almost like the same thing with people saying mixtapes. I grew up in the era where a mixtape was a DJ who actually mixed the records together on the tape. You listen to mixtapes now and they're just free albums, so I think people are using the wrong terminology.
I think when you have these producers who make these records and people want them to be in the festivals to play the records that they made, the only way they can play the records– they cant really perform the records, they have to play them. Then the terminology comes up that just because you play the records, you're a DJ. That blurred line doesn't really bother me, because I don't think that there will ever be enough technology to replace what a real DJ does.
What are the updates with you and Will Smith's plans to go on tour or have an album released this year?
DJ Jazzy Jeff: We know we're going. I was with him about two weeks ago and we laughed because he basically — we've talked, we've always talked about it. He's always wanted to do it. He threw it out there to see if people would care and the response was so overwhelming. It's like we're working in reverse.
It's like now that we know that people really want to see us, let's put together the dates to do it. That's where we're at now. I think it was really hard because when he made the announcement — me and Jeff are going to this world tour, everyone called him. "When are you coming to Dallas?" I was like, I don't know when we're going or where we're going, I just know we're going. We're in the planning stages now. We have about 3 or 4 confirmed dates that will start everything. Everything else is going to be filled in right after that.
So what do you think it is about your chemistry that has kept it going this long and this strong?
DJ Jazzy Jeff:  You know what it is? It's like somebody you know. It's funny because whenever he does movie premieres or things like that, I always will DJ the party and we always get on and end up doing a show. When he was filming Suicide Squad in Toronto, we went up and it was funny because the guys I take on the road now — Dane Jordan and Fern and my current road crew — has never been around during the Jazzy Jeff and Fresh Price era.
We went to sound check and he came and I played a couple records, got the sound. He got the mic. I cut a beat and he freestyled over it, and you could see them very wide-eyed but the rehearsal was a conversation. "What are we doing?" "You know, one or two." We have signals that how many verses of a song he wants to do. What am I coming out with? Do I want to extend it? Do I want him to talk.
It was almost like a quarterback in a huddle. We left and came back at the show and did an hour long show off of eye and hand signals and they were blown away. It was kind of like, "You guys haven't been on stage in three years and you just go to the hotel, have a conversation and put together a full show." That's chemistry.
If you'll allow it, I actually have a couple Fresh Prince questions. To my knowledge that trademark handshake between you two was something that you all brought over from the tour to the show. How did that actually happen?
It was one of our dancers.  He made the handshake up and we started doing it on tour. That was basically the Jazzy Jeff and Fresh Price tour handshake. When the TV show came, you know, it was like from the very first episode and Will and I greeted each other, we greeted each other like we had always greeted each other on tour.
Do you two still do that in public or is that more of a private thing now?
DJ Jazzy Jeff: We haven't done it for a very long time. The funny thing is that I will absolutely not do it with anyone other than Will.
Is there any chance we might see it on the next tour?
DJ Jazzy Jeff: I'm pretty sure. At the way everybody knows it, we've talked about bringing back a lot of the stuff. You know, being blessed to have our career span over so much time I think we want to put periods in to show of all of the ground we've covered. I'm very sure that not only that, but some other stuff will kind of make it's way into it.
Did you ever consider taking another shot at acting?
DJ Jazzy Jeff: Yes. Not seriously. I fell into the role [on The Fresh Prince of Bel-Air]. I looked at the Fresh Prince of Bel Air as Jazzy Jeff and Fresh Prince on screen. I never looked at it like "I'm an actor." This is me and Will. Someone asked me to be me and Will on screen and people liked it. There's times that I will always joke with him. "If you do another Bad Boys movie, I want a role."
I just needed to satisfy my music part. We all talked about how Will wanted to be the biggest movie star in the world and I wanted to produce music for movies, television and other artists. I just couldn't go down the acting path before I pursued what my passion was.
Would you consider taking a role in making an appearance in the movie remake of Fresh Prince of Bel Air that is currently being whispered about right now?
DJ Jazzy Jeff: If everybody would do it, I would love to do it. I don't think I would do it if everyone else wouldn't.
You talked about how you wanted to produce music for movies and everything. To the best of my knowledge, you actually did some of that for Straight Outta Compton. Do you mind expanding on that a little bit?
DJ Jazzy Jeff:  I got a text in the summer that said "Jeff, Dre is trying to get you." I thought it was a fake text. About 10 minutes later I got a text from someone else. "Hey Jeff, I'm Dr. Dre's assistant and he's trying to reach you." and I thought it was an elaborate hoax. Then I got a call from a former manager friend of mine in Los Angeles. He was like, "Hey you know, Jeff, Dre is trying to get you." I know it was real then, so I was like "Sure, give him my number." About 30 seconds later the phone rang, and it was him.
We'd seen each other maybe two years ago in Hong Kong. He was over there doing some Beats promotion; him and Snoop and Kurupt. They were doing it in a place that I normally play in Hong Kong, and I happened to be over there on tour. We just happened to be in the same place, same night. We sat down and caught up, because we hadn't really seen each other in about 20 years.
They ended up doing a full show in the club and he ended up staying the entire night and hearing me play. I congratulated him on the Beats deal, he laughed it off kind of like "Can you believe it? All in the name of hip hop." Then he was like, "Hey man. I finally signed off on doing the NWA movie because this is so dear to my heart. But this has to be authentic. I need someone who can take me back to those days and the first person I thought about was you."
It was definitely an honor. They would send me the scenes and tell me what they wanted to do. They sent me a bucket list of music and I just did a whole bunch of routines and sent it to them. In situations like that, when you don't hear anything back it's good news. It was to the point where I would do the cuts and they were like, we're filming the scene tomorrow. It would just go like that.
It was cool, I went to the screening of it and saw [F. Gary Gray] and saw Cube and they really elaborated on it. "Dre requested Jeff. He was like 'I'm not doing this if Jeff is not going to do it.'" It was cool. I did a pass and I did some 1986 cuts on it and Dre was like, "I need you to make me look good." So okay I need to turn it up a bit. Watching the movie, it was great. I gave me chills because it fit so well and the actor (Corey Hawkins) pulled it off so well.
Before we wrap up, I have a couple questions I'd like to ask you about what's been going on in entertainment lately. Do you find any similarities between the current boycott building around the Academy Awards and the one that you and Will orchestrated in 1989 for the Grammys?
DJ Jazzy Jeff: Yeah you do. I think what it has more to do with is your art not being recognized and let me clarify this. It's not the fact that you want recognition. It's more of the fact that you're giving recognition to everything but you. You know what I mean? We didn't make music to try to get a Grammy, but if you're giving Grammys out and we know that we have done something very credible — you feel like its a snub. It's a little bit different if you're not really sure. When it starts to be a little bit blatant, when the odds start to look a little bit off, you're like, something is not right just by the numbers.
I'm not even going by emotion I'm going by pure logic. That's where the similarities were. We were very, very excited to get the nomination because at that point in time hip-hop was something that we were fighting for the legitimacy and just to be accepted that we're here. Especially for the Grammys, at that point in time to acknowledge  the art form we were extremely excited. A week before they make the announcement that "We're not going to televise your portion of it." It's like wow. You told everybody in the world you were inviting me to the party but when I got there, you won't let me in.
How do you feel knowing that there is still a noticeable problem with diversity and inclusion more than 25 years later?
Well I think what happens is it makes you pay more attention to the smoke and mirrors. It's very easy to make someone think that things are different or there's not a problem or issue with certain things. People don't realize what goes on in the cities if they never travel to them. Especially me going around the world and traveling, there are places that you go and you hear some of the issues that they have and you go, "I can't believe that this is going on but a lot of it has to do– I don't live there." The source of my information is very much filtered. It is so much of that that you turn a deaf ear to things that you don't really know the full magnitude of. I feel like a lot of that is by design.