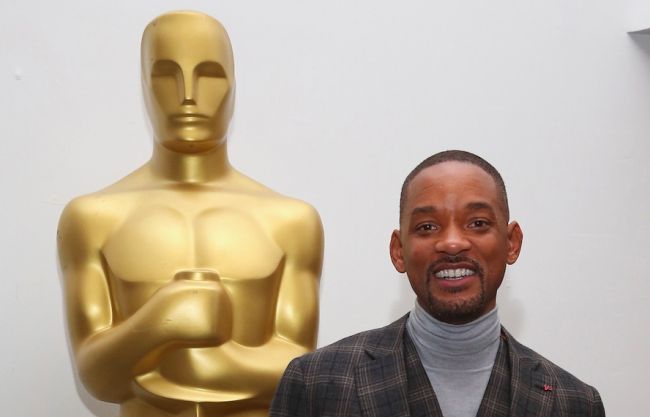 Will Smith appeared on Good Morning America earlier today to say that he's standing with his wife Jada Pinkett Smith in not attending the 88th Academy Awards. Always going against Aunt Viv's wishes, that Fresh Prince. Smith told Robin Roberts that he's "uncomfortable" with the lack of minority actors nominated in major categories this year (#OscarsSoWhite), including notable omissions for Michael B. Jordan in Creed and himself in Concussion.
"My wife's not going. It would be awkward to show up with Charlize (Theron)," he said. "We've discussed it. We're part of this community. But at this current time, we're uncomfortable to stand there and say, 'This is OK.' " (Via Variety)
The real reason he doesn't want to attend the Oscars with Theron is because no one needs to be reminded of The Legend of Bagger Vance.
"There's a position that we hold in this community and if we're not a part of the solution, we're part of the problem. And it was [Jada's] call to action for herself and for me and for our family to be a part of the solution. [For] my part, I think I have to protect and fight for the ideals that make our country and our Hollywood community great," he continued. "And so when I look at the series of nominations of the Academy, it's not reflecting that beauty." (Via Variety)
It's a fair question to ask whether Smith would still go through with the boycott if Concussion hadn't been ignored. To that point, he said, "This is so deeply not about me," it's about "children that are going to sit down and watch this show and they're not going to see themselves represented" (the two years Smith has been nominated, he lost to black actors: Denzel Washington in Training Day and Forest Whitaker in The Last King of Scotland).
Besides, Will isn't the one who got snubbed — Jada is, for her scene-stealing, magnetic performance in Magic Mike XXL. It'll be interesting to see whether the Smiths return to the Oscars in two years, when son Jaden's Age of Adaline remake is nominated for Best Picture.
(Via Variety)
Now Watch: Hollywood Weighs In On The #OscarsSoWhite Controversy