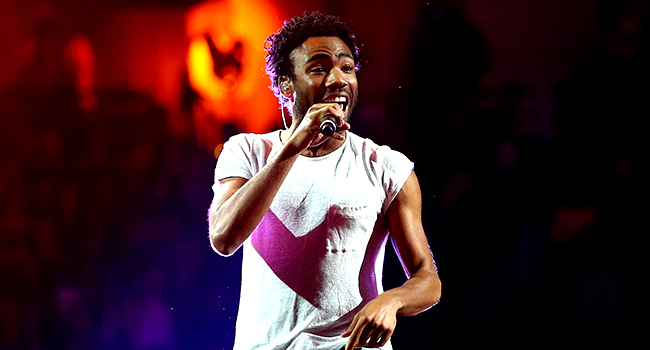 In the quest to win 2018, Donald Glover is already blowing out the competition early in the second quarter. Last week, Glover wrapped the second season of the brilliant Atlanta, a series that has only grown funnier and queasier as it's progressed. This week, his latest single as Childish Gambino, "This Is America," debuted at No. 1 on the Billboard Hot 100, buoyed by near-unanimous praise on social media and from professional pundits. And next week, Glover will star as a young Lando Calrissian in Solo: A Star Wars Story, a film he stole the moment he flashed that mega-watt grin in a teaser that aired during the Super Bowl in February.
In terms of sheer numbers — dollars, media coverage, worshipful fanboys — Solo has outsized importance for Glover's career. But when it comes to less tangible properties, like buzz and prestige, "This Is America" put Glover and Childish Gambino (Glover often refers to his hip-hop alter ego in the third person) on a whole new level.
Sure, Childish Gambino's most recent album, 2016's Awaken, My Love! was nominated earlier this year for an Album Of The Year Grammy. But that can't quite compare to the "spokesman of a generation"-style praise that "This Is America" has garnered. The song — which comments on America's gun epidemic and the undue burden it puts on this country's black communities to cope, grieve, and survive — and accompanying video directed by Atlanta co-conspirator Hiro Murai has been declared, among other superlatives, "a true picture of America," "a powerful portrait of black-American existentialism," and "proof that Glover can thrill and challenge audiences in any medium." That's a lot to pull off in just four minutes and four seconds.
With Glover's rise coinciding with Kanye West's bizarre public decline, Childish Gambino has suddenly been positioned as the new figurehead of the cultural, political, and artistic zeitgeist. But not even Kanye has ever had simultaneous success in as many different mediums at once as Glover. This is like Whitney Houston at the peak of The Bodyguard or Prince during the reign of Purple Rain, if only Whitney and Prince had also created and starred in visionary TV shows at the time of their concurrent music/film triumphs.
Most incredible of all of Glover's recent achievements is "This Is America," which instantly felt like a signature pop culture moment of the year when the video debuted the same weekend that Glover hosted Saturday Night Live. (Which, it should be noted, was one of the best SNL episodes this season. Dude is on a serious "George Segal in California Split"-level roll right now.) It was especially amazing if you happened to remember that Childish Gambino was once, to quote Noisey, "one of the most automatically hated rappers currently in the game." That's honestly not an exaggeration. If a music fan from 2011 time traveled seven years in the future and read this week's headlines, we would all have a lot of explaining to do, even after the Trump shock wore off.
"Childish Gambino? Really?" the traveler would inquire. "How in the hell did this happen?"
Because our brains are fried by consuming content 24/7, it can be difficult to remember what happened seven months ago — like the first reporting on Harvey Weinstein's sexual assaults — much less seven years ago. The Pitchfork review of Childish Gambino's 2011 debut Camp by Ian Cohen, one of the most memorable critical eviscerations of the decade, is a handy refresher.
Cohen unsparingly lays out the criticisms that would dog Childish Gambino for years afterward: "Glover's exaggerated, cartoonish flow and overblown pop-rap production are enough to make Camp one of the most uniquely unlikable rap records of this year (and most others)," Cohen writes. "What's worse is how he uses heavy topics like race, masculinity, relationships, street cred, and 'real hip-hop' as props to construct a false outsider persona. On record, he paints himself as a misunderstood victim of cultural preconceptions who is obviously smarter and funnier than his primetime material suggests. Unfortunately, it's a position that holds up to absolutely no scrutiny whatsoever."
An off-brand Kanye who is both pretentious and callow — that was the view of Childish Gambino held by many critics, including me. In my review of Gambino's second LP, 2013's Because The Internet, which I flat-out called a "bad record," I accused Glover of smarmily calling out the usual vices of online life — blinkered solipsism, mindless consumption, numb indifference — while embodying those very same traits on dreary, self-pitying songs that lacked even the humor that partly redeemed the lamest parts of Camp.
I was hardly alone among critics in my dislike of Because The Internet. Spinwas even harsher than I was, likening the album to a superficial meme that merely "offers only unintentional LOLs." When you read reviews of Childish Gambino's first two studio albums — Glover also released numerous mixtapes and EPs in the late '00s and early '10s — you notice some common themes, including a tendency to view his work through a "joke rap" lens. There was also, paradoxically, a perception that Glover used Childish Gambino as a vehicle to criticize the excesses of mainstream rap. In the view of many critics, he was both a clown and a killjoy, the worst possible combination.
So, what happened? Well, obviously, Atlanta happened. An instant critical sensation upon its premiere in 2016, Atlanta was compared to other iconic television shows in sometimes hackneyed ways: A hip-hop Twin Peaks, a southern Wire. The truth is that Atlanta wasn't off-brand anything — it was as wholly original as Childish Gambino was derivative.
Two new collaborators proved crucial in helping Glover find his voice on Atlanta: Murai, a video director adept at creating sensuous imagery that is simultanously whimsical and nightmarish, creating an off-balance feeling analogous to the experience of being black in America that became the show's core raison d'être; and Donald's brother Stephen, the show's other most prominent writer.
"I don't like talking about race," Donald Glover confessed to Grantland's Rembert Browne in a 2015 profile, around the time that Atlanta was announced. Stephen's influence on his brother when it comes to the thorniest, most painful parts of Atlanta — like the beating of Earn's cellmate by prison guards in the second episode of season one — was noted by Donald in Tad Friend's viral New Yorker profile from earlier this year. "My consciousness began to change when I hung out with Steve as an adult," Glover said, "because he's scarier to white people. It made me super-black."
The genius of Atlanta is that the show hardly ever talks directly about race or racism; rather, it seeks to embody the physical and emotional sensations of systemic inequality. Instead of lectures, there are stomach aches caused by an off-kilter rhythm of belly laughs and fever dreams. Glover's core concerns haven't changed much from Camp — he's still addressing "heavy topics" from an iconoclastic perspective. But his execution improved dramatically with Atlanta.
At the same time that Glover and his compatriots worked on the first season of Atlanta, he also worked on the third Childish Gambino album, Awaken, My Love! He claimed in a 2016 Billboard interview that he "never saw them as separate things," though the album owes a much steeper debt to its influences, including iconic music from the '70s (P-Funk and Sly Stone) and a few of Glover's less famous contemporaries (Thundercat and Flying Lotus).
Unsurprisingly, Atlanta set the table for Awaken, My Love! to get a better critical reception than previous Childish Gambino releases. If Community caused Camp and to a lesser extent Because The Internet to be judged instinctively as jokey postmodern trifles, Atlanta had gifted Glover enough goodwill for his classic funk homages to be received as vital artistic statements. Even Pitchfork offered up a relatively generous 7.2, only .2 lower than the combined scores for Camp and Because The Internet.
Elsewhere, Awaken, My Love! ushered in a wave "Childish Gambino Is Actually Good Now" reviews and thinkpieces that were more reflective of a general critical shift, rather than any changes in popular opinion. Plenty of people already thought Childish Gambino was good back when he put out Camp; the number of angry emails and tweets I received after trashing Because The Internet speak to that album's impact on fans as well. For those who have been with Childish Gambino from the beginning, Atlanta and Awaken, My Love! aren't reboots or breaks with what came before, but continuations of the earnest idealism of, yes, an industry outsider who now, in fact, does appear to be smarter and funnier than many of his peers.
I can buy that wholeheartedly when it comes to Glover the actor, writer, and filmmaker. As for Glover the musician, however, I remain unconvinced. Awaken, My Love! is better executed than Glover's previous albums, retaining a glimmer of the eccentric, foreboding pulse that courses through Atlanta. But Glover is still susceptible to some of the old criticisms, chiefly his habit of making transparent allusions to his record collection that are rarely as compelling as the source material. (The hit "Redbone" is an exception.)
"This Is America" is where Glover's long-time boosters and many of his former detractors finally meet in the middle. It's not that much of a stretch to imagine "This Is America" appearing on any of the previous Childish Gambino records. Like the bulk of those albums, "This Is America" was created by Glover with frequent musical partner Ludwig Göransson. Ultimately, it's a grab-bag of interesting but disjointed sections — trap verses, a gospel bridge, a smoke break — in search of a coherent song.
The video for "This Is America" (directed by Murai) has garnered far more attention than the song for a reason. Glover's performance — which veers from ecstatic dance to brutal violence to pure terror — is nearly as virtuosic as his brilliant turn as the chilling titular character in Atlanta's infamous season two episode "Teddy Perkins," destined to be the most indelible 41 minutes of any scripted show in 2018. "This Is America" showcases the full extent of Glover's talent: his charisma, his humor, his vulnerability, and his willingness to leverage all of those qualities in service of completely screwing with an audience's expectations. You simply can't take your eyes off of him. Listening to him seems less essential by comparison.