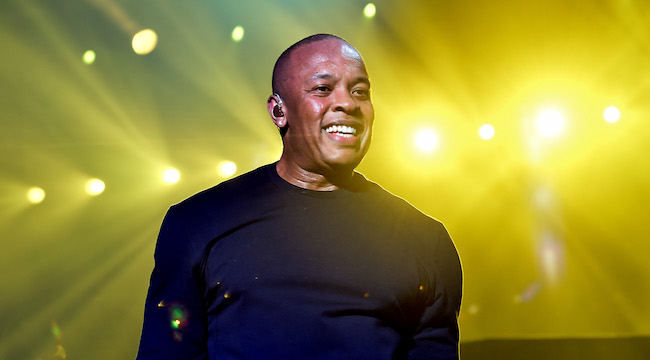 The Defiant Ones, director Allen Hughes' documentary detailing the rise of Dr. Dre and Jimmy Iovine was immensely successful. So successful, in fact, that Dr. Dre, Netflix, and Beats By Dre are actually taking the series on "tour" with a special, invite-only screening at the Ritzy Picturehouse in Brixton, London this Thursday, March 15.
It's rare for a television docuseries to experience this kind of treatment — even one that originally aired on HBO. Not only has the series been picked up by Netflix, it was also nominated for and won a Grammy Award for Best Music Film. Of course, plenty of that success can probably be attributed to the film's highly recognizable subjects.
Dr. Dre and Jimmy Iovine are two of the biggest names in music today and between Aftermath and Interscope have been directly responsible for some of hip-hop's greatest successes including 50 Cent, Eminem, and Kendrick Lamar. It's safe to say that without Dre and Iovine, there is probably no hugely successful Black Panther soundtrack, Twitter-melting anti-Trump performance, or ceaseless trolling from rap's biggest internet bully.
Of course, it helps when many of their business endeavors, including the Apple partnership that turned into the near ubiquitous Beats By Dre brand, are such huge hits as well. The Defiant Ones documents both the successes and the struggles and is worth a look when it comes to Netflix March 23 (outside of the US and Canada, where it can still be streamed via HBO's services).