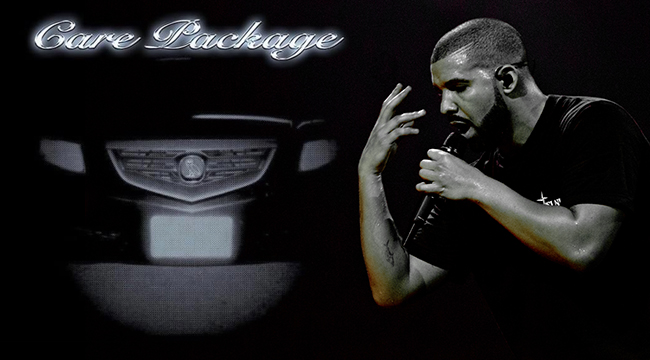 Only Drake can release an "album" made up of all B-sides and loose freestyles and make it an event. On Friday, the Canadian superstar dropped Care Package, a 17-song collection of standalones he'd previously released to Soundcloud or file sharing sites over the last ten years which had never been available outside of bootleg streams and the original downloads.
The compilation contains fan favorites like "Club Paradise," "Draft Day," and Drake's infamous "AM/PM" series which consists of "4PM In Calabasas" and "5 AM In Toronto" ("9AM In Dallas" and "6PM In New York" appeared on two of Drake's albums, Thank Me Later and If You're Reading This, It's Too Late). The fact that Drake was able to release Care Package as a standalone project is a testament to Drake's stardom and position in hip-hop. It's also a reminder of just how unique and unusual a position that is. Few rappers could release a collection of what basically amounts to 17 throwaways and still have the same sort of cultural impact.
Hip-hop artists have taken advantage of the tools provided by the internet to maintain their relevance for a long time, but almost no one is as good at it as Drake. From his ability to literally break the internet with new releases to dominating the discussion online whenever he makes moves to expertly flipping every meme about him to his advantage, Drake epitomizes the modern rapper using social media conventions and streaming to maximize not only his public profile, but also his profits.
Take, for instance, the loose tracks "Charged Up" and "Back To Back," which do not appear on Care Package, presumably because Drake values his repaired relationship with former rival Meek Mill to risk reopening old wounds. Whereas rappers engaged in battles had always simply dumped their diss tracks on file-sharing sites and let the social media buzz spread them, Drake dropped the two diss singles, days apart, to Apple Music and Spotify, ensuring that every play would also put money in his pocket. The tactic ensured that even if Drake lost, he'd win. You almost have to wonder how differently his tiff with Pusha T would have turned out had he used it again.
Drake has always been able to generate discussion by simply releasing new music and letting Twitter and Instagram captions do the work of promoting it, even when both platforms were in their most nascent forms. Twitter barely had a retweet function in 2011 when he originally released "Dreams Money Can Buy," "Club Paradise," and "Free Spirit" with Rick Ross as buzz singles to promote his then-upcoming sophomore album Take Care. That didn't stop all three singles from instantly becoming fan favorites and sweeping the internet, which is what made their exclusion from the final tracklist so confusing to so many fans. While those tracks were kept alive via fan uploads on Youtube — and eventually, by official uploads to Drake's own Youtube account — many wondered why they were never included on Take Care in the first place. Now that they've been included in Care Package, fans have instant access and Drake has another revenue stream, but what changed?
In 2018, Drake scored his first Billboard Hot 100 No. 1 single with "God's Plan," another dead-of-the-night release that he originally packaged as a two-song single with "Diplomatic Immunity." It's a strategy Drake has long used — as seen by the success of the Take Care buzz singles — but it was notable as the first time one of Drake's buzz singles performed so well that leaving it off the album would be a mistake. "Diplomatic Immunity" was later re-uploaded as a solo track and "God's Plan" was transferred to the final Scorpion tracklist, along with all its many, many plays and accolades. The quirk in Billboard's chart counting rules that allows previously released singles to be counted as plays towards albums definitely incentivizes artists to ensure those singles make it onto the albums they're promoting. Meanwhile, another rerelease of older tracks likely helped to convince Drake that Care Package would be worth the effort.
When Drake re-released So Far Gone, his smash debut mixtape, to streaming services for the first time in its entirety on its tenth anniversary, he likely hoped that the fan-pleasing gesture would be well-received, but probably had no idea it'd compete alongside brand-new albums as his tenth top 10 album, rivaling Ariana Grande's Thank U, Next and A Boogie Wit Da Hoodie's Hoodie SZN. Its success, and likely that of the subsequent re-release of Chance The Rapper's Acid Rap, were probably more than enough to prove to Drake that Care Package would provide a return on investment — enough so that fans have begun to speculate which other artists could do the same.
The truth is, though, that no other artist has so many random singles floating around the internet that dominate discussion the way the Drake does. While some, like Chance, Big KRIT, and Wiz Khalifa, have fan-favorite mixtapes from a decade ago that weren't available on Apple Music and Spotify until this year, the truth is, the only one that was able to dent the charts was Chance's Acid Rap. Every other member of Drake's would-be Freshman class has already made their seminal mixtapes available — think Big Sean, Kendrick Lamar, J. Cole, and Wale — and none of them have ever dropped singles the way Drake has. J. Cole has his early, pre-Cole World: The Sideline Story singles, but the point of those getting dumped is that they never did all that well to begin with. Kendrick has "Look Out For Detox," but considering Detox is officially never coming out now, that one has aged about as poorly as Drake's "Draft Day" — and doesn't have a "Jodeci Freestyle" or "Paris Morton Music" equivalent in Kendrick's catalog to buffer it.
Care Package really is a sign that Drake is without peers. You don't have to like it. If anything, it's a reminder that Drake relies on pop singles and production a lot more than the rap skills that first established him, a fact purists have long held over his head as a critique against him. But it's also a reminder, in both content and its success, that Drake can and regularly does rap about as well as any of his contemporaries. He's also just better at marketing himself and finding opportunities to raise his profile that others just don't. The "best rapper" title will always be subjective, but there's just no denying that right now, Drake is still hip-hop's top boy — and likely will remain so for at least a little while longer.
Care Package is out now via OVO. Get it here.